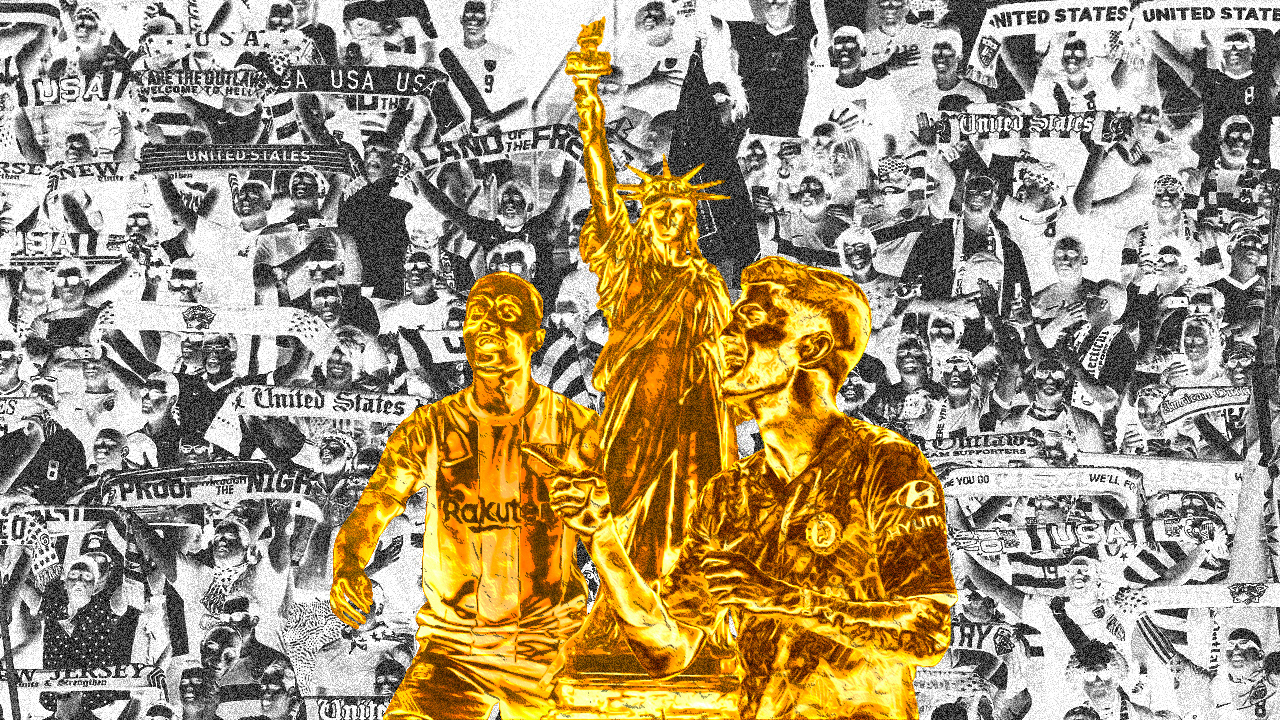 November the 3rd is a date likely to be remembered as a momentous day in American history. An unfathomably polarised nation went to the polls in what many considered the most important election of their lifetime. The blues would, some days later, rejoice in the relief of a clear but, by no means resounding, rejection of the reds. The reds, bracing themselves for the end of the world, called it a steal, a coup, a revolution. 
4,000 miles away, another important milestone in a very different revolution - now beginning to bare the fruits of decades of hard work - was reached on this same date. Sergino Dest, the latest in a bewilderingly talented lineage of Ajax players to make the move to Barcelona, celebrated his 20th birthday. His headline move in October immortalised Dest as the first U.S Mens National Team player to join the Catalan giants. 
On the same date, Gregg Berhalter announced the latest United States squad for friendlies against Wales and Panama. As well as a welcome birthday gift for Dest, Berhalter handed call ups to eight other players who currently play for clubs competing in this seasons' Champions League - a U.S. Mens record. And whilst the past few months back in the States have been defined by the usual sloganeering and empty rhetoric that is part and parcel of an election campaign, the national team motto: 'The Future is Us' - a bold but fitting mantra for a squad with an average age of just under 22 - takes on all the more significance. Perhaps this group is a 'Golden Generation'-in-waiting. 
To be crowned a 'Golden Generation' is more often a curse than a blessing. With the exception of the incumbent Golden Generation - Belgium, who finished a respectable third at the last World Cup - almost all have failed to meet expectations. The mythical nature of these rare teams, the fact that some ill-fated quirk of the universe or the beat of a butterfly's wing would make it so they would all play together at the same time, makes the responses to their shortcomings equally as dramatic. 
One response is that of eternal cult status: to be woven into the tapestry of footballing folklore. Think of Socrates and Zico's 1982 Brazil team. Think of a Colombia side of Asprilla, Escobar and Higuita, led by Valderrama. Think of Cruyff and Resenbrink's total football. 
Their shortcomings are all Shakespearean tragedies in their own right. But these teams are arguably so revered precisely because of their shortcomings - that something so seemingly pure could be, in the same breath, imperfect. 
The other outcome, of course, is desolation. Discarded into the abyss and never to be spoken of again. But like the elephant in the room, the memory of failure will build and build and weigh down all the teams that follow. For England, that feeling is all too familiar. A decade or so categorised by underachievement has left deep scars and  lasting memories of disallowed goals, winking Portuguese wingers, a (since exorcised) penalty shoot-out hoodoo, eternal midfield dilemmas, WAG-related tabloid scandal and incompetent managers with umbrellas. 
Yet the anticipation that follows this group of players is entirely justified. Beyond Dest, some of Europe's best teams currently feature young and talented American players who have started this season like mad horses bolting from the stables. 
A strong core of this new wave of talent is currently playing in Germany. Enigmatic RB Leipzig star Tyler Adams (21) can play almost anywhere. Julien Nagelsman has deployed him as a right-back, a wing-back, a fully fledged winger, a centre-back and a holding midfielder - a testament to the roundedness of his game and his footballing brain. 
Giovanni Reyna picked playing for the United States over Portugal, Argentina and England. In the end, he chose the same path as both of his parents, and earned his first cap against Wales this week. At Borussia Dortmund he is surrounded by talented youngsters, but his dynamism, intelligence and his near-telepathic relationship with Erling Haaland has earned him the reputation of one being of the most exciting players in Europe. He is just 17 years old. 
These are the standout two of a handful of players, including another in Wolfsburg's Josh Sargent, who have chosen to develop under the energetic and progressive brand of football that has come to define the coaching of the top Bundesliga sides. 
In Italy, 22-year-old Weston McKennie is a nod to a forgotten era of box-to-box midfielders. A natural leader both on and off the pitch, McKennie's relentlessness and discipline, paired with a knack for arriving late into the box, has earned the faith of manager Andrea Pirlo - an admirable accolade in itself. 
And then we get to Christian Pulisic. Despite his unassuming frame and deftness of touch, he's not a timid player. At full speed and with the ball he moves like a strobe light: both there and not there at the same time, like he's entered another dimension altogether. Despite his Road Runner legs moving so impossibly fast that it looks like he could fall over at any point - he never does - and just as you approach to flatten him, he's zig-zagged a path you never thought was there through your defence, leaving the smoking, scorched earth and a disoriented, shell-shocked set of defenders behind him. When he does eventually grind to a halt capable of capture by cameras, you'll notice he wears the burdensome number 10 for club and country with ease, and the national team captain's armband with statesmanlike pride. It is not a stretch to predict he will define the next decade as one of the world's best players. 
These are just the notable mentions from those in Europe. Across the Atlantic, the MLS is packed with young players seeking to capitalise on an exciting moment for the national team, and of them are worthy of helping shape its future. 
It is one thing to have an outstanding group of young players, it is another to support them with infrastructure and, most importantly, ambition. If developments in the MLS are anything to go by, there is no shortage of both of those things. It is a long-stated aim of the MLS to be as thrilling, successful and marketable as leagues in Europe. The managing director of one of its newest clubs, Los Angeles F.C, predicted earlier this year that by 2030 the MLS would surpass baseball and hockey in the nation's sporting hierarchy. An impossible prediction to quantify - but what the hell - wouldn't that be something? The addition of teams from Austin, Charlotte, Sacramento and St. Louis will mean that, by 2023, the MLS will have 30 teams - a meteoric rise for a league that played its inaugural season in 1996 with just 10. With debutants Inter Miami and newly founded Austin FC being birthed by serious businessmen and general all-round charmers David Beckham and Matthew McConaughey, shows the direction the league is heading. It also shows that the appetite for a famously-derided sport, engulfed by the NBA and NFL, is growing. The average attendance for Atlanta United during the 2019 season was just over 52,000. The history and culture is not comparable to other parts of the world yet, but with every game that goes by, more and more is written. Imagine - in 50 years time - being able to visit Atlanta or Miami or Austin and calling it a 'soccer city' like so many in Europe or South America. 
All this is complemented by improved infrastructure at the level of the national team, too. The high standards have already been set by having a Women's team that, aside from four World Cup triumphs and four Olympic Gold medals, has blazed a trail for the sport for at least two decades. Their unmatched success has contributed to the growth and investment of the United States Soccer Federation, which in turn has developed its coaching standards, talent acquisition and its funding and outreach programmes. 
Bigger fan bases expand the league: generating investment and development of the game as a whole; inspiring better-coached youngsters; who, maybe one day, turn out for their country at a World Cup. So spins the footballing merry-go-round.
The 2024 World Cup might just be too soon for this group. But with the 2028 World Cup set to joint-hosted by the United States, Canada and Mexico, many will be hoping that 'The Future is Us' will transform from a slogan to a self-fulfilling prophecy.