This away day was a funny old one, and an experience that was definitely unplanned. It was the trip of a lifetime, taking in 3 countries, all starting in a nation known for its astonishing mountain ranges, not its footballing spectacles. People go to Nepal to hike, to absorb the beauty of the Himalayas and the surrounding scenery, which is considered to be some of the most breathtaking in the world. Let's not beat around the bush here - and keep things honest - people don't go to Nepal to watch games of football. 
Fortunately through, with no forward planning, we were able to wind up in a country known to some as the 'roof of the world' and were able to catch a game, through sheer luck invoked by the eavesdropping prowess of my mate. 
Oddly enough, this story starts in a barbershop, In Pokhara, Nepal. Like all good stories do, of course. 
Now, this was about 9 years ago, with myself and a mate 10 weeks into a holiday that had seen us traipse through Myanmar, Thailand, India and then Nepal. Despite keeping up with the results of  my beloved Gooners wherever I could, outside of this, football definitely wasn't a key driver on this trip until we got wind of the beautiful game, whilst in the city of Pokhara.
We'd been over in India previously, cruising from the south to the north, before we made the call to mosey on over into Nepal. We'd got the visas back home to give ourselves the option of doing this and as much as we were loving India the allure of the Himalayas, the Annapurna circuit and mountain ranges were calling. After folding ourselves into a very cramped car in Varanasi,  13 or so hours later, we arrived in Pokhara. Pokhara really is something. It is considered by many to be the home of Nepalese tourism (Not the home of football, I might add). It's a key base for anyone looking to take on the very manageable, yet extremely stunning, Annapurna circuit and this is what had brought us here in the first place. 
The story of how my mate ended up in the barbershop to get his beard and barnet sorted, is a tale within itself. There's something about holidays that brings out the need for young blokes to chase very questionable haircuts. Keeping in line with this mantra, we'd spent the previous 10 weeks prior finding ridiculous photos of celebs, taking them into barbershops throughout South-East Asia and seeing who could walk away with the most outrageous 'do or beard. I'm talking rude over-manicured beards, dirty moustaches and haircuts you'd never, ever run at home. This is what led my mate into a Nepalese barber's, with a dodgy photo of Zac Efron sporting a sharp trim alongside a very questionable beard. This is also what proceeds in leading him to overhear some locals discussing a big game that was going down that day, between what we thought was India and Nepal. Whilst not on the same level as India v Pakistan, he thought it would be pretty cool to see a couple of local rivals go at it, so he got the details to the ground and the game. Once he had his super-sick fade sorted, he arrived back to fill me in and see if I was keen. After receiving a resounding yes, we were on our way to see the two neighbouring countries duke it out for bragging rights.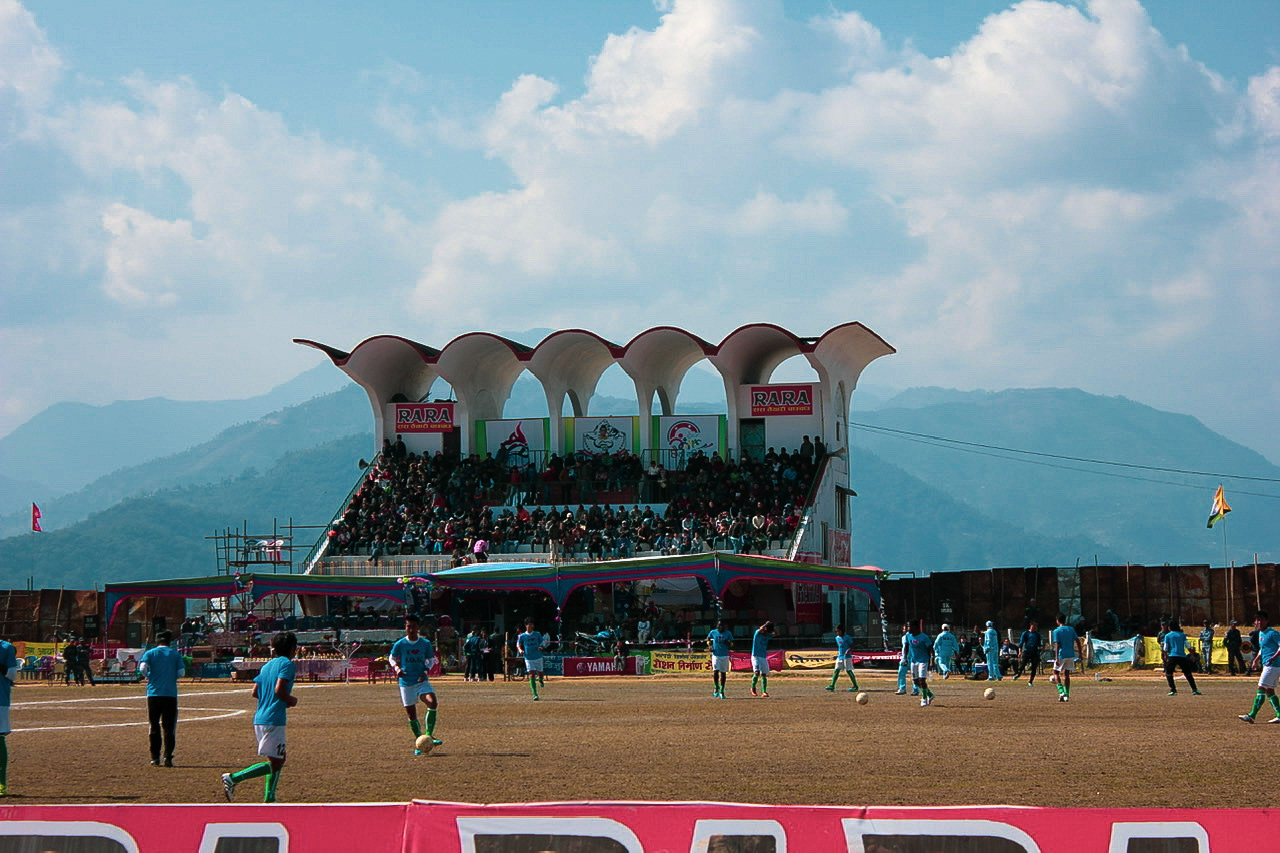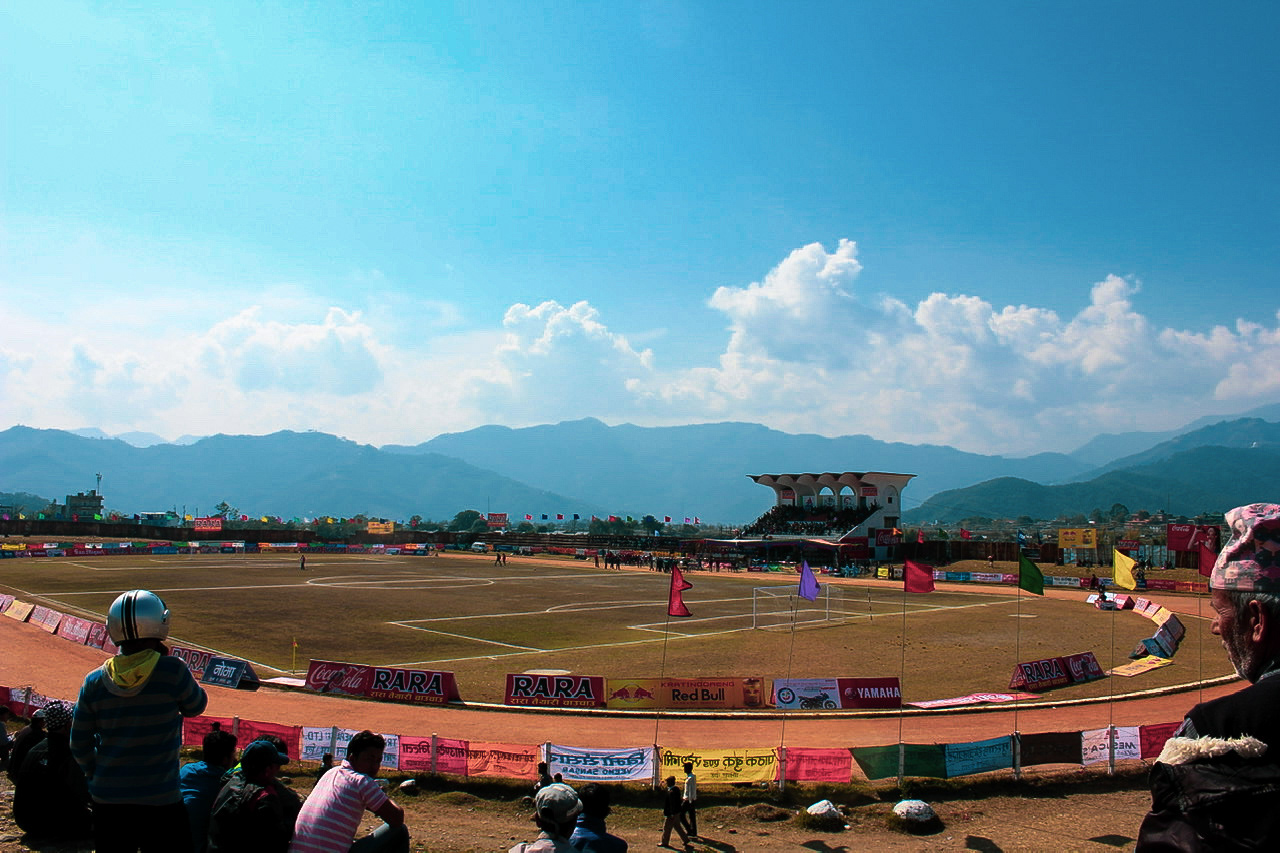 Compared to some of the rides we ended up taking throughout Nepal, the journey to the ground was pretty straight forward, as Pokhara isn't exactly a bustling metropolis. Not being fluent in Nepali, we were a bit concerned about sorting tickets, but the football gods were smiling down upon us and after a short wait to get our hands on some admission, we were strolling into the ground. With only one grandstand in the ground - which we definitely weren't getting into - we decided to plonk ourselves on the grass with the rest of the crowd. Despite being a long way from the comfort of the Emirates, we were pretty relaxed, with a view that gave us a nice Captain Cook of the ground and the Annapurna mountain range. 
With the teams lining up to get proceedings underway and the vibes around the ground building, we did double-take as the teams were announced (via our man over the loudspeakers) were most definitely not India or Nepal. Instead we came to realise that we'd rocked up to a local Nepalese league match instead!
To this day, I'm still not 100% sure as to exactly who we saw to be honest, but what I can tell you is that whilst the standard wasn't great, the atmosphere was vibrant with the crowd getting into it and the game being complimented by one of the best backdrops going, which more than made up for the lack of a decent first touch! 
Whilst we didn't get to witness the derby we expected, we instead got to enjoy a spectacle that showed the true stretch of the world's game and how at the foot of the Himalayas, the love for the beautiful game was on full display in and amongst all of Nepal's breathtaking natural scenery.