The man sat next to me on the plane has his legs spread so wide I can smell his balls. I'm resisting the urge to nudge him in the arm to let him know that we have to share this little slither of space on the back row while we're 11,000 feet up in the air. I don't say anything, obviously, but I tip my drink over him instead.
I wish I could say this was premeditated, but I can't, it was my own clumsiness and now I'm frantically apologising to him. He doesn't want a napkin, he just wants me to forget it, but I can tell he's seething. Is it hot in here?
We get up and he's now noticed that most of my early morning gin and tonic has spilled over his bag and now he's raging, so much so that he pulls the hair of the girl that sat on the other side of him when she asks him to calm down. 
Now voices are raised, he can't believe that I can't "drink like a man" and he seems to think I'm only 20, but I'll take that. The cabin crew are calling the police, and they turn up at the door. One has his hand hovering over his weapon. 
Shame really, because the flight had been quite pleasant up until that point. The girl is mortified that this is what I think Italy will be like, but don't worry, I've dealt with worse in Wetherspoons on Erdington high street.
I've been to Italy before, but never to Bologna. My first visit to Italy was to Pisa as a three-year-old. Where I threw a tantrum in a public toilet and ran outside to chase pigeons but ran too far into the road and a Pisano man had to react quickly to scoop me out of harms way.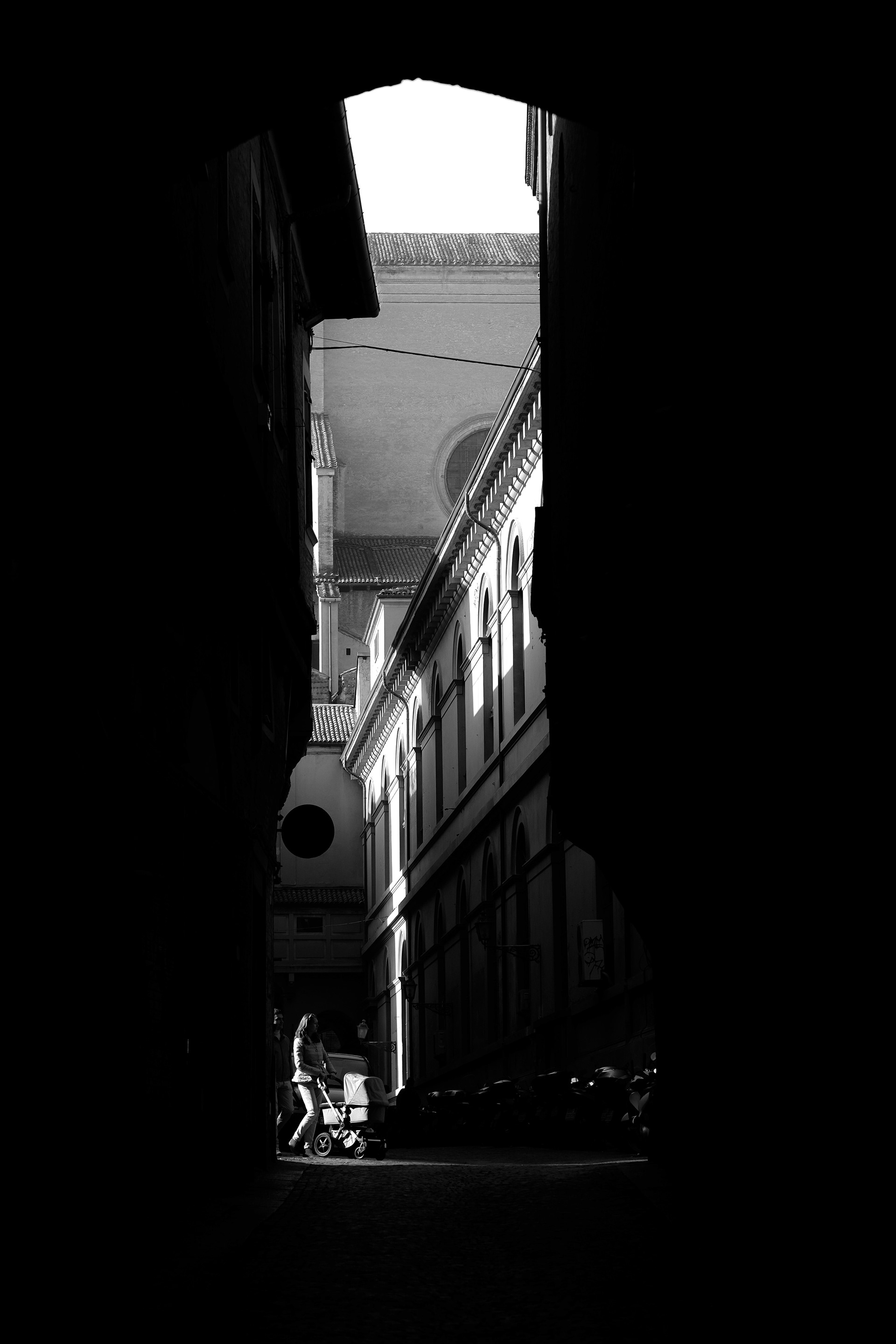 Since then I've been to Rome, Genoa, Milan and the Cinque Terre, but this will be my first taste of Serie A. It's only been 22 years in the making. As part of the Gazzetta generation, it's long been an ambition to get to a game. I'm so excited that I want to jump the first bus into town to find the nearest Piazza, grab a copy of the pink paper and pretend I can read Italian whilst supping a frothy coffee.

Bologna did alright this season. They finished 10th. One of their biggest causes for celebration was holding Inter to a draw. It's been one of those seasons. But I've been drawn to the Rossoblu since Roberto Baggio made the surprise decision to leave AC Milan to join them in 1997. From then, I was sold. They replaced Baggio with Beppe Signori, and for a while it seemed that this small provincial club could continually replace one big star with another.

That, of course, didn't last. These days, the club's most well known player is Mattia Destro. Now 28, he's in danger of not fulfilling the potential he showed as a youngster at Roma, where 29 goals in 68 games made him stand out as one to watch. He's only bagged one this season, with injuries robbing him of all but 12 appearances — and most of those coming from the bench.

Still, this team has enough good players to get them out of the sticky spot they're in. Roberto Soriano and Nicola Sansone, both on loan from Villarreal, have been capped by the national team, while Andrea Poli, who inexplicably is still only 29, marshals the centre of the pitch. Federico Santander, who hasn't found the goals as easy to come by as he did in Denmark backs up the ageing but still effective Rodrigo Palacio up front, and highly-rated Juventus winger Riccardo Orsolini continues to make a name for himself out wide.

It's a shame they're in this mess, but it's lucky that today's opponents, Cagliari, are sat in mid-table with nothing to play for and nothing to worry about. The Sardinians will come here for the draw. A leisurely kick around on what is turning out to be a lovely day.

It's been forecast that the weather will reach 19C today. And as I walk down the Via Andrea Costa, the sun flirts with the portico-lined streets. Bologna is beautiful, but it does tend to stay dark unless you're in the middle of a Piazza.

Bologna is a worker's city, and it is evident in the Quartiere Saragozza. It's quiet, but it's still Sunday morning. It's also a student city. They're everywhere. Some are acting the part by cramming into cafe's with their faces buried in laptops, while others act their age and intermittently scream in the middle of the street while riding each other's backs.

Kick off is at 12:30, and there are sprinklings of fans in the bars and cafe's that align the main road on the way to the ground.Most stadiums are visible from a distance, but not the Dall A'ra. It's tucked behind an intersection of apartment buildings and a massive pharmacy and placed on a cross road. And it's only when you turn a corner and see its keep, that you know you're there.

I'm early, so I walk around the stadium. True to form, there's a portico that flanks around the Distini, where the tower sits, and extends around to the Curva San Luca. Around the corner, there's a bridge, the Arco Del Meloncello, that's attached to a public garden that looks like somewhere a pre-Raphaelite painter would have taken his muse, but the further round you go, you realise how far back the stadium is from the streets.

It's time to go in. The crowds are arriving and there's an added layer of security to get through that doesn't exist in English stadiums. A man with a metal detector scans me and demands I explain the presence of everything in my pockets. He confiscates the Bologna lighter I bought from the club shop, saying I can't take it in, but luckily there's another hiding underneath my phone. He points me in the direction I need to go, up three sets of stairs. At base level, the stand is skeletal, and there are no kiosks or toilets in sight. This is horrifying, because I'm both hungry and in need of a piss. I could go looking for both but I want to claim my seat, to avoid any potential bilingual seating mishaps.

Though I've been in bigger stadiums, the Dell A'ra is by far the steepest. If I suffered from vertigo, I'd be fucked. The rows of seats have a Rizla paper's width between them and I've already banged my shins on the seat in front. I hope the person sitting there enjoys getting softly knee'd in the back of the head.

The ground begins to fill up quickly. The playing surface smooth and lush, save for a lighter shade of turf in each six-yard box, and Cagliari have brought a handful of fans with them, sitting just to my left in their perspex enclosure, and they're waving flags and signing. The noise coming from the Curva Bulgarelli is increasing. The colours, smoke, tifos and atmosphere is giving the early afternoon a dreamy technicolour reverie. This feeling, of being at the stadium, looking forward to a match and soaking up the sights, sounds and anticipation, has always been a drug for me. I look forward to it like nothing else. The moments before kick off, where days are made or broken, are too overwhelming for the senses for anything else to really come close. The football should never ruin a good day out at the football.

The first half starts quietly. Neither side are particularly threatening, and Bologna aren't playing like a team three points adrift from safety. Midway through the first half, the hosts win a penalty, just as both teams are coming into their own, but nobody in the stadium cheers the fact with any real gusto, and when Chilean international midfielder Erick Pulgar converts, the cheers are still subdued. The announcer takes the mic to announce the goalscorer, screaming his first name three times to let the crowd shout his surname. I've always wondered why more British club's don't do this.

At half time, everyone around me pulls out giant meaty sandwiches wrapped in tin foil from inside their jackets, like illicit babies they had to smuggle across a border. I'm still hungry and don't know where to look. A boy with dreadlocks comes and sits next to me. He lights a joint and looks nonchalant. Everyone around us is smoking cigarettes so he blends in. The man sitting behind me leans over and talks to him. I can't understand what they're saying, but he's asking for some, and the dreadlocked boy, I think, tells him he needs it to help his vision. Once he's smoked his joint, he gets up and leaves.

The second half starts and both teams pick up where they left off. Rodrigo Palacio flashes a raspy half-volley across the face of goal from a tight angle, and the keeper gets his tips to it. Cagliari hit the bar and force goalkeeper Łukasz Skorupski into an acrobatic save. It's getting lively. The game is put beyond doubt when Roberto Soriano manages to get the ball from under his feet to fire into the roof of the net from five yards. The announcer starts again.

"Roberto!…Roberto!…Roberto!"

There's not long left, but my phone keeps vibrating. As I'm watching Bologna, it appears Jack Grealish has been punched in the head by a Birmingham City pitch invader during the second city derby. I'm ignoring this as best I can. I don't need to be watching this game while worrying about a game being played some 980 miles back in my hometown.

The whistle blows and we leave. Before I can find out what's happening at St Andrews, I try to navigate my way through the Piazza della Pace without being killed. This concrete square of nothing has transformed from a vacant lot into a Vespa park and now everyone is trying to leave at the same time by not giving a stuff about which way they go. I feel like walking through here is a rookie error.

It turns out Jack Grealish has now scored, and frankly, I don't know what to do with myself. I've stopped, and perched myself against a wall, frantically refreshing my Twitter feed for more info, taking advantage of having no roaming charges for one last time before Brexit fucks it up for everybody. Game over. Six points in total today. It's time to celebrate.

I don't know where I'm going. I want to find a cafe somewhere and order one of those massive sandwiches and wash it down with a big glass of gin. I've never been in this position before, completely alone in another country and with nowhere to go. I wasn't expecting to feel this worked up.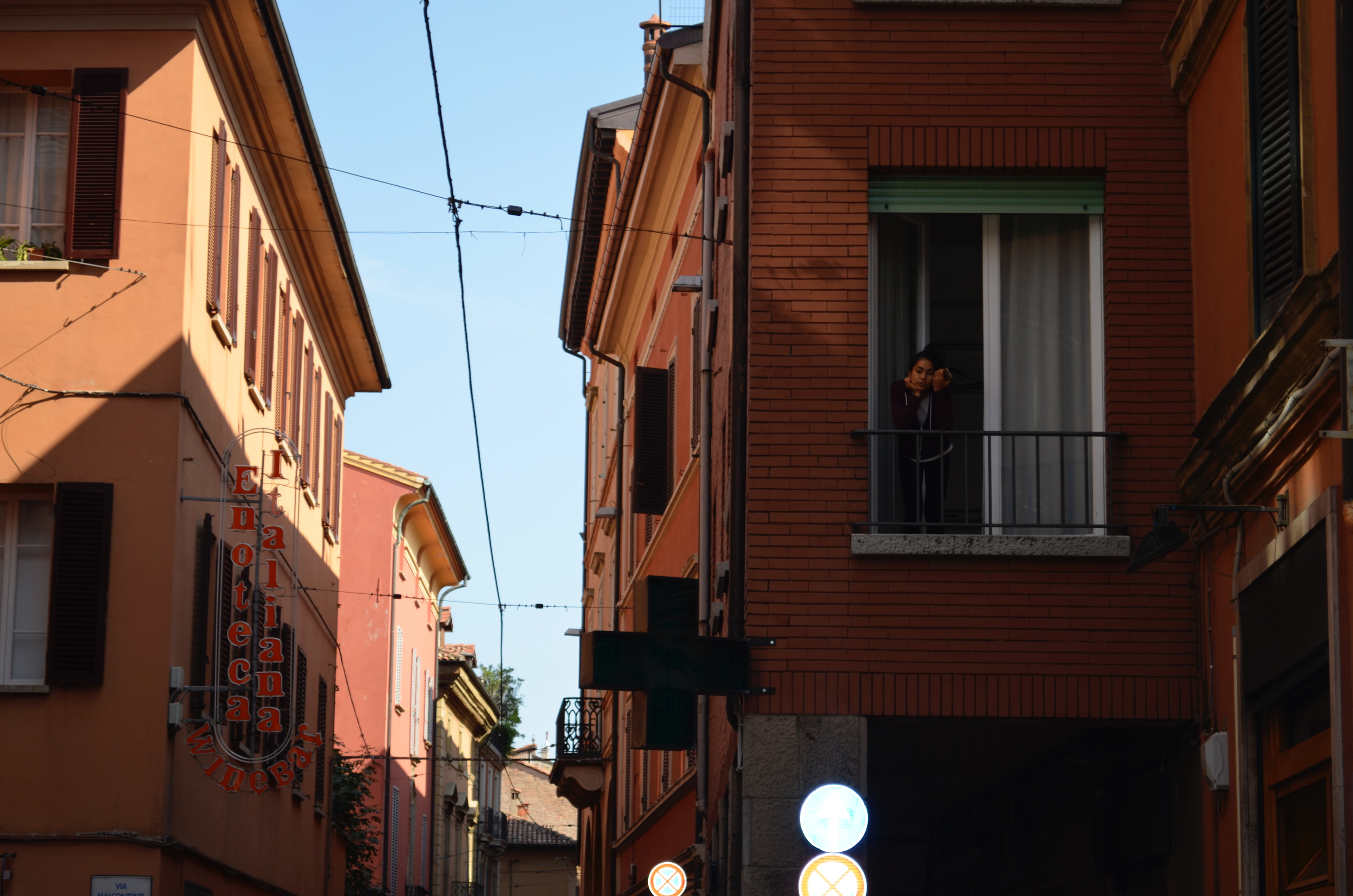 I found a bar with a terrace, I found a massive gin and I found a massive, sweaty sandwich and let myself unwind. I'd just got everything I wanted in the space of two hours. Once I'd calmed down a little bit, I realised I was at a loss. Everyone I know in Italy (all two of them) are located in Milan, so calling them up for an impromtu hangout isn't really an option.

The night before, I'd spent watching football from San Marino on TV. The quality of the filming and of the play was as you'd imagine, but I enjoyed it, and best of all, they had an actual general doing the analysis, but it would be too great a shame to waste another day doing that in a hotel room with the curtains drawn.

I can't really explain why I did what I did next, but I got up to take a walk around, finding myself back at the Piazza Maggiore. The sun is out again and reflecting hard off the umber and vermillion buildings that make up the square. Despite the warmth, most people are still wearing bubbler jackets and scarves. Mad. I'm one step away from going topless! I walked into the Basilica di San Petronio with my top still on. A lot of Italy's beauty is based around religion and its places of worship, and I was at a loose end. I lit a candle for a friend who is no longer here and placed a Euro in the slot. I don't really know why I did this, not being religious and all, but given the setting, it felt like the thing to do.

I walked around the hall. Churches freak me out ever so slightly, and by slightly I actually mean a lot. Halfway down its huge hall, though, I spotted a row of confession booths. I wasn't raised in a religious household so the sight of them fascinated me. I began walking towards them, and before I knew it I was sat inside with a priest on the other side of the wall.

" Ciao, padre, parla inglese?" I asked.

"No," came the reply.

I slid my phone out of my pocket and typed a message into Google Translate. "Non parlo italiano, quindi sto solo andando a parlare," I said.
I didn't know where to start, but I told him everything. Everything. My anxieties, the sham that is my personal life, the imposter syndrome I get at work, health concerns, things I've never told my closest friends, and things I wouldn't dream of telling my parents. It all came out in one long word vomit. When I stopped, the priest said something, it was short and I didn't understand, but instead of sliding my phone through the small gap for him to type his own message, I threw him the sign of the cross as a way of saying thanks for listening, before exiting as quickly as possible with my collar pulled up and hat pulled low, as though I'd just been spotted feeling the fabric in the lingerie section of a department store.

Once outside, I was frustrated that I didn't feel any lighter for getting everything off my chest. I walked for hours, mostly in circles, smoking cigarettes and hovering by the Bologna FC Superstore, debating whether I wanted to drop €85 on a replica shirt (I did, but I didn't). I was a long way from home, and felt it, still burdened by the secrets I'd been holding, but no closer to any solutions or answers. The sun was setting and all that walking made me hungry. Bologna is reputedly the home of Spaghetti Bolognese, so I'd have to get some before calling it a night.
The mayor of Bologna was in the news recently, bemoaning the tourists asking for spaghetti bolognese. He says it doesn't exist, like half the menu at a Pizza Express, which has been dreamed up to sound continental, but every menu board I pass has it emblazoned. I hadn't had dinner yet, so I find the nearest trattoria and order a gigantic plate of single man's special. It's good, very good. Though you'll probably have to pay much more than I did to get the real experience, a bit like having a Guinness in Dublin.

Bologna, unlike a lot of city break destinations, doesn't feel like a tourist hotspot. There's no groups of camera-flashing backpackers, and everyone walks around like they belong. Wedged in between Florence and Parma, it can be overlooked, but it has its own charms.

It's small, and there isn't much to do, but it is beautiful and hospitable, though in truth, three days there was too long. But for better or worse, it's a city that now knows me better than any other, it's a city that took a piece of me and kept it to hide under a stone.