As I returned to the Panini World Cup sticker album completion quest for Russia 2018 a maths professor calculated that through increased costs of 80p per packet and the probability of duplicates whilst having nobody to swap with it could cost me a slick £773 for the privilege.
As I purchased my sticker album at a local newsagent I was also putting the final touches to the itinerary of my upcoming trip to Russia taking in a few games whilst travelling around the country. The motivation to complete the album stemmed from the fact I was attending the tournament and it would become a nice piece of memorabilia to look back on in years to come when reflecting on my experiences.
Now being 27 years old, time has certainly moved on since I was in primary school during the 2002 World Cup in the Far East, the last time I was an avid collector. The lack of classmates to swap with and not being daft enough to ask my dad for packets every other day I was well and truly on my own as I set off collecting in early 2018.
Antoine Griezmann marked the 1st sticker to be placed in my book as he was one of six freebies to come with the purchase of the album. 6 down, 676 to go… Easy! Let me explain how I defied a maths professor and went on the complete my album for a much smaller sum of money (exact cost unknown) over the following weeks leading up to the tournament itself.
It was with great satisfaction that my collection got of to a flying start. As you would expect with me seeking so many stickers I initially ripped open packet after packet resembling a younger version of myself opening presents on Christmas day to reveal a constant stream of 'needs' – the colloquial term for a sticker not yet part of one's collection. My luck was in, amongst the players there were stadiums, host city posters and of course quite a few of the infamous 'shineys'. Each nations badge comes on a gleaming silver background and for whatever reason they are placed much higher than any player in terms of importance regardless of who they are, Messi doesn't get a look-in! The reckless manner I opened the packets was soon completely transformed into utter concentration and precision as I placed each sticker where it belonged ensuring every single one was neat, straight and bang on the borderlines. Things were taking shape nicely and I had no doubles.
Inevitably as I purchased more and more packets the doubles pile was slowly but surely increasing, although not with enough pace to cause any alarm. I was still far outweighing my doubles with needs, comfortably on track to keep costs below the seven hundred pound mark! Much like all of society, sticker collecting has moved with the times as I found out on Instagram. The hash tag '#gotgotneed' was gathering momentum so I decided to follow it and before long many others across the country were on the same boat as myself. Each facing a lack of people to swap with and an increasing doubles pile we helped one another out and a deal was struck. Addresses exchanged, envelopes and stamps purchased and boom the collection takes another step in the right direction. Well over half way complete and doubles back to minimal thanks to the power of social media.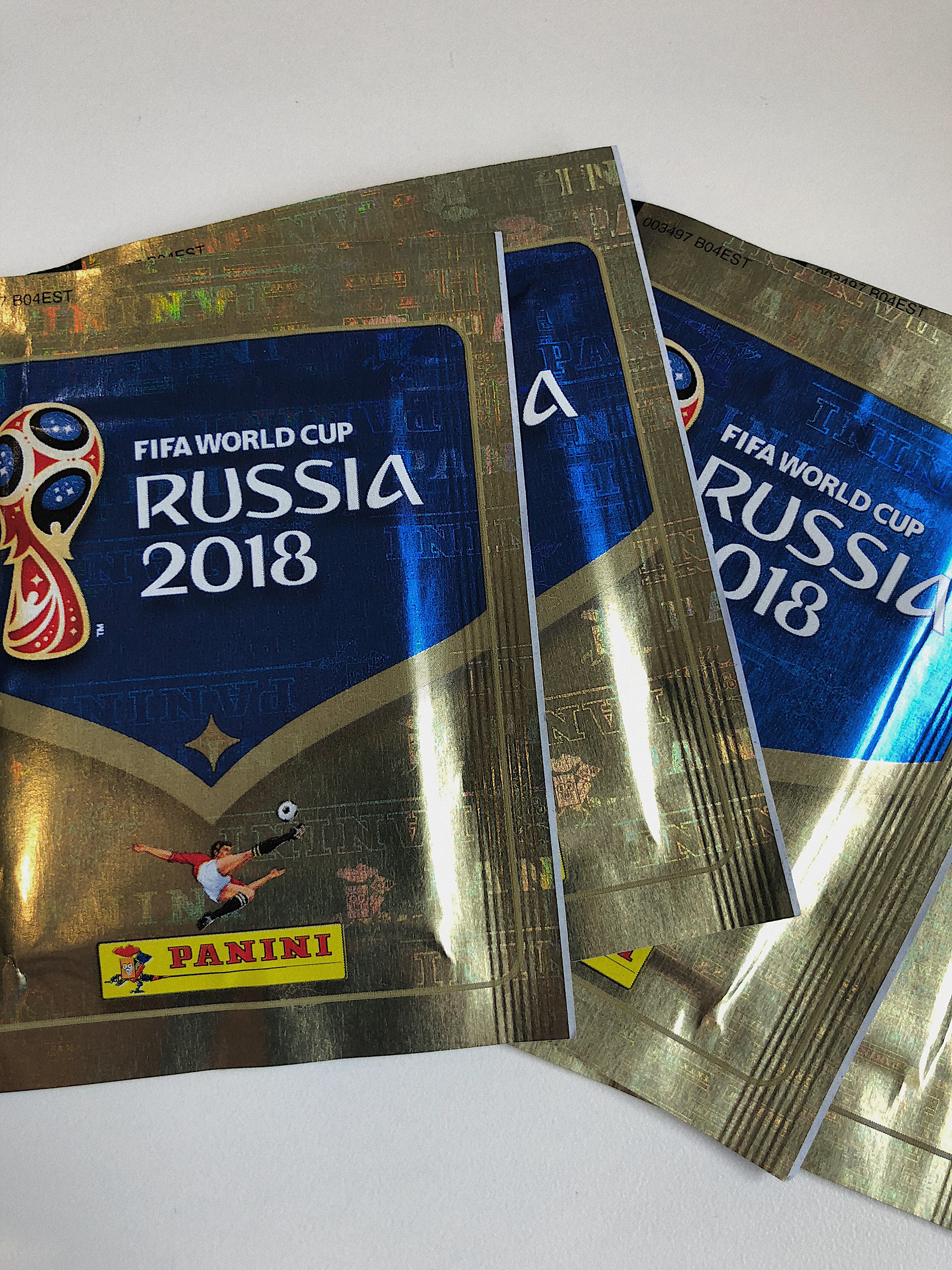 As my number of needs was fairly quickly reducing so was the number of days until I departed for Moscow. The trip was at the forefront of my mind and regularly came up in conversation with both friends and colleagues. As we discussed the upcoming tournament at work along with everything else happening in relation to the then present footballing world my sticker collection would eventually come up in conversation. This would lead to my next move in achieving completion as many of my work mates happen to be parents who are growing up football crazy. I momentarily though about what football crazy kids do in the build up to a World Cup - they collect stickers, I know I certainly did! I now had a few middle men so my doubles were passed out to workmates, who then passed the pile onto their sons, who then passed the stickers around their classes, who then returned my needs from their piles to their dad, who then completed the final exchange thus putting a further dent in my needs number! A seamless journey resulting in numerous happy collectors, I was getting closer now.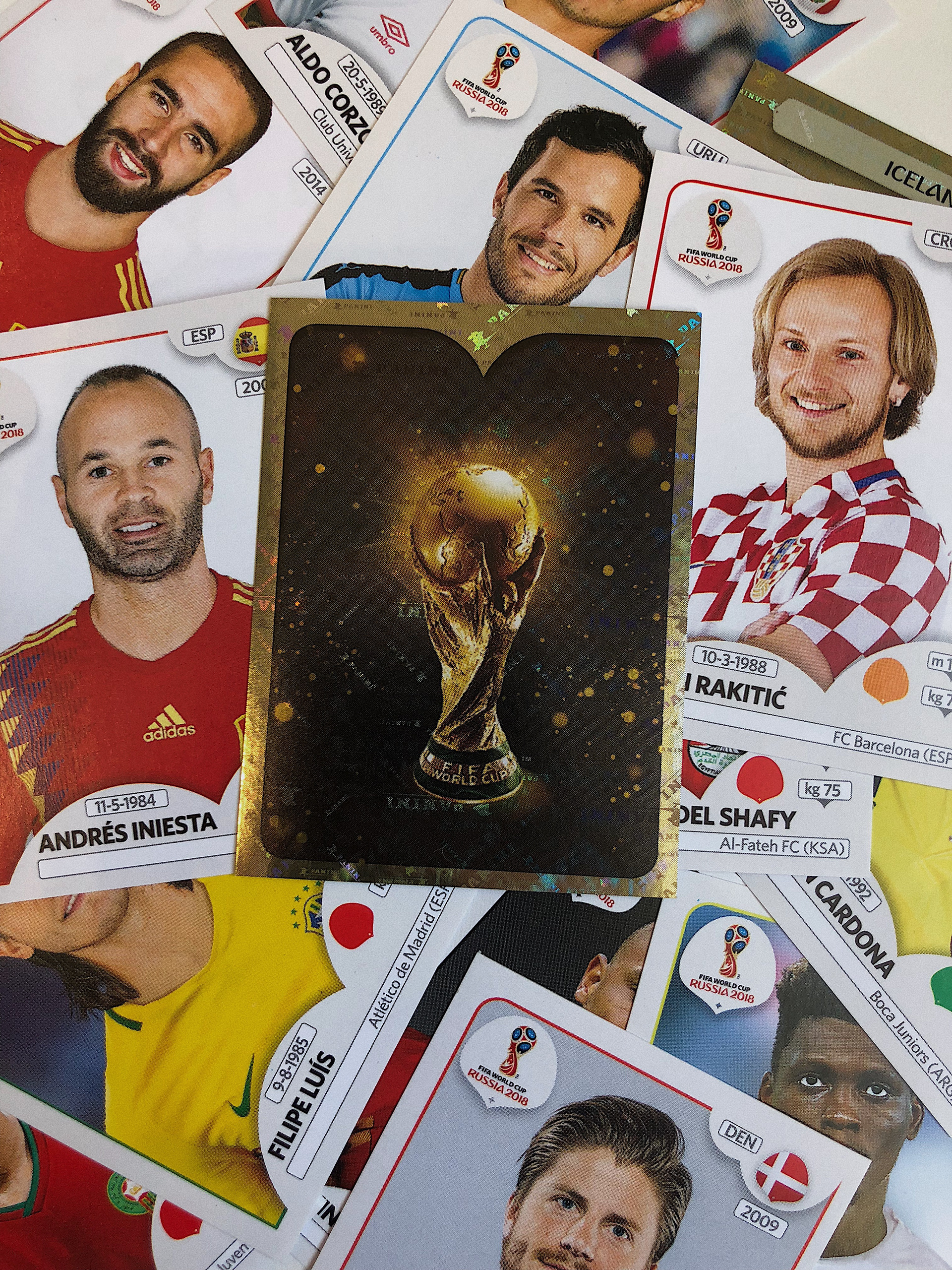 My final and by far most controversial aid was the big boost I needed to get over the line. Please don't try this at home, but what is a story without a good bit of controversy. My closest friends were fully aware of my progression with my sticker album. I had tried repeatedly to encourage them to join me collecting but unfortunately, they felt this was a hobby for someone twenty years their junior! One particular friend had no intentions whatsoever to collect stickers, but he is the man I must thank for supplying me with the stickers I thought I would never lay eyes on. With morale and desire fading fast and doubles starting to rear their ugly head all too often I felt my luck was out, but that was about to change. A few of his colleagues were also collecting, they had the advantage of working near a supermarket. Before long lunch breaks included a pit stop  at the panini stand. A self imposed five finger discounted resulted in the packets finding themselves inside their pockets – certainly one way to make things cheaper, if not a little risky! When I was made aware of this I found it amusing and I was quickly offered the doubles pile to flick through. Desperate times call for desperate measures right?
A doubles pile I could hardly clutch in one had was soon scattered across my floor for me to pick out the stickers I needed. Any collector knows that unless you are ultra determined, 50 is the magic number. Once you drop to 50 needs you can send away to Panini and they will send you the remaining stickers for you to complete your album. I decided to quit while I was ahead and stop buying new packets and send away when I reached the mid 40 range. A few weeks later I was now the proud owner of a completed album just in time before I headed off on my travels. It was a great journey full of ups and downs, elation and despair. Only 3 years until the next album is released, roll on Qatar and defying odds once more.