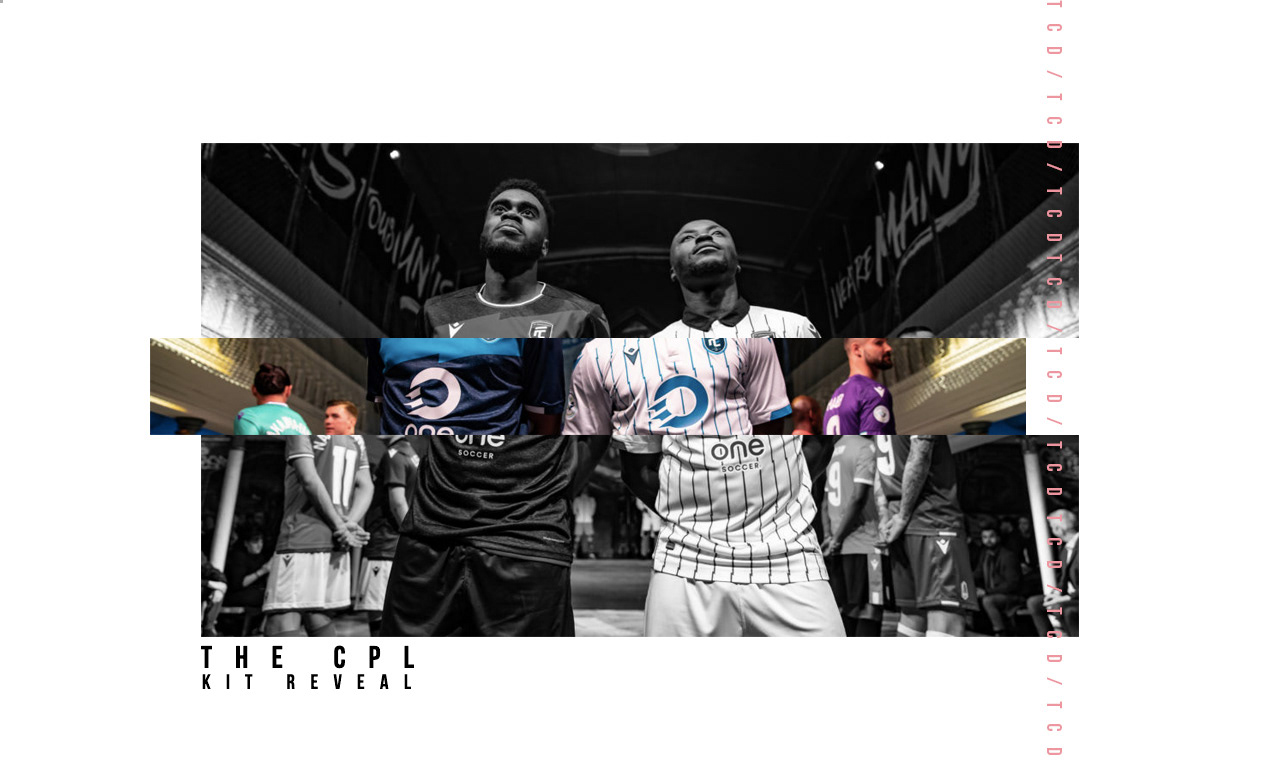 Since the closure of the Canadian Soccer League in 1992, the world's coldest country found itself in the soccer wilderness. And while prominent clubs like Toronto FC, Vancouver Whitecaps, and Montreal Impact popped up over the following years, they all joined MLS, the American-based league.
But on June 13, 2018, FIFA awarded the 2026 World Cup to a joint bid between Canada, the United States, and Mexico. And, suddenly, with Canada automatically qualifying for the soccer world's biggest tournament, they needed a plan to develop more Canadian players for the national team.
Enter the Canadian Premier League. A fully professional seven-team league that began play in late April 2019, the CPL spans across many of Canada's biggest markets and gives fans something they've long asked for: their very own Canadian soccer league.
Here, we're taking a look at the 14 kits that'll be worn by the league's clubs in 2019. All are produced by Italian brand Macron, who's already helped turn the CPL into one of the world's most colourful leagues. Let's dive in.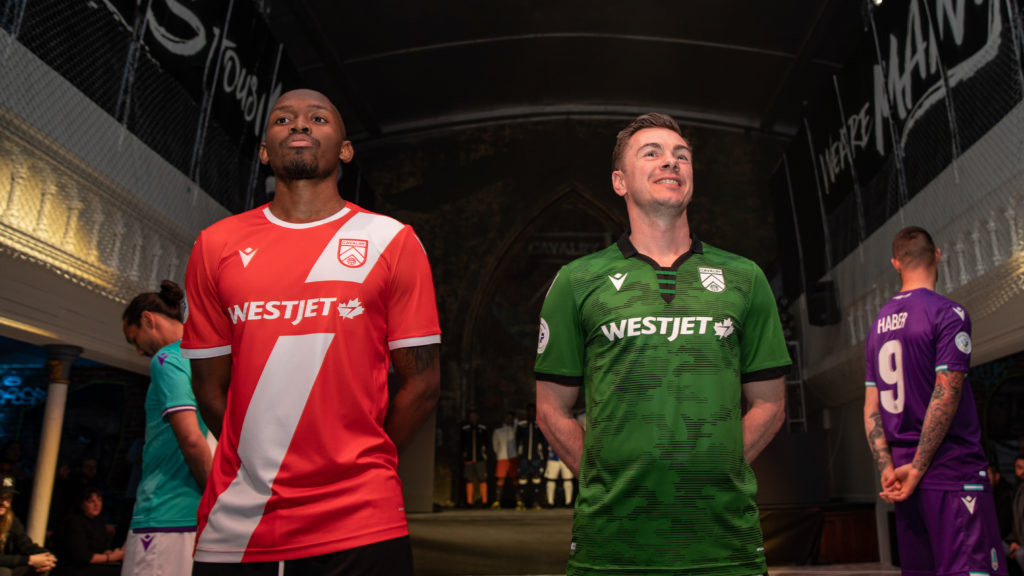 Cavalry FC
Sporting a traditional crest and an untraditional name, the Cavalry from Calgary is a fascinating place to start this rundown. Interestingly, the club counts red and green as its two primary colours, but they choose not to wear both at the same time. But perhaps the most important thing to note about Cavalry FC: they have as charming of a home ground as you'll find anywhere. Now THAT'S a way to kick off a list.
Home
(Red (White Sash)/Black/Black)
I LOVE a good sash kit. This is quite the nice full kit here, with the simple red-and-white shirt being offset with the black shorts and socks. Should there be more on the shirt? Maybe. It's pretty one-dimensional as it stands. But it's a good dimension, so it works.
Away
(Green/White/Green)
North American sports teams love their military-themed uniforms. But in the wild world of camouflage sports kits, these aren't too bad. Sure the camo isn't amazing, but it's far more restrained than most efforts. Plus, the collar does a lot of heavy-lifting here, with the interesting shape and three-stripe motif adding a lot to the shirt. This camo kit is honestly almost wearable, which is an accomplishment in and of itself.
Verdict
This could've been way worse. Win.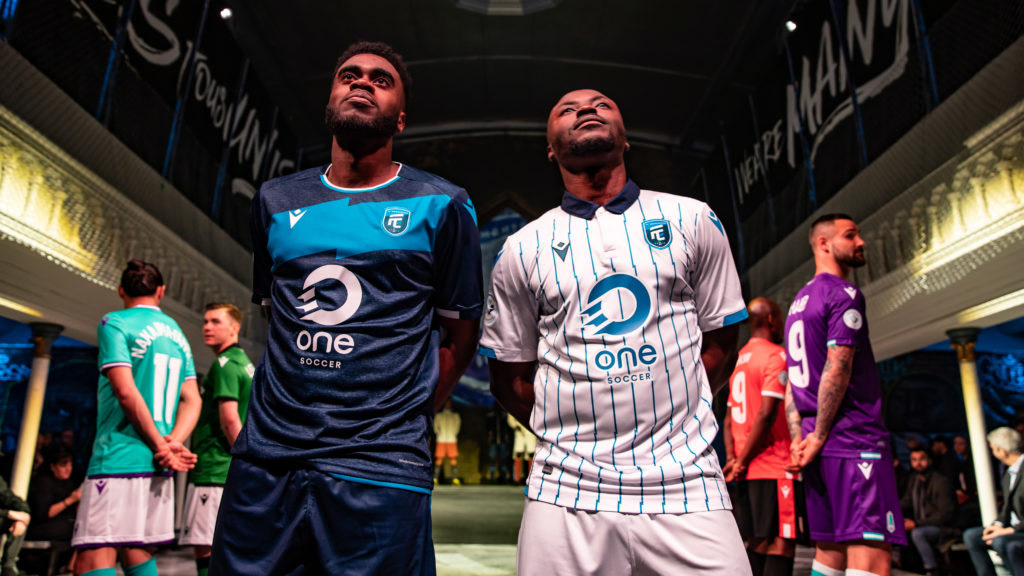 FC Edmonton
Charmingly nicknamed "The Eddies," FC Edmonton is one of the less remarkable CPL clubs. The crest isn't much to write home about, and they share their colours with HFX Wanderers, while also having a more boring name. But, interestingly, Edmonton is the only club that existed before the founding of the CPL, making them the old hat of this young league. It's something, I suppose!

Home
(Blue/Blue/Blue)
I see what they were trying to do with this kit, but I'm not sure it comes off. The lightning-ish stripe on the chest reminds me a bit too much of the mid-90s Cleveland Cavaliers, and it's awkwardly placed on the chest, so the Macron logo scrapes the top of the stripe. I've been largely impressed with Macron's efforts with the league's kits as a whole, but I think this is the cheapest-looking kit in the bunch. It's missing something.

Away
(White/White/White)
One of my favourite kits in the whole league. The pinstripes (with a little jaggedness to them) look amazing on the white background, and the navy collar brings it all together. From top to bottom, this is a winning kit right here.

Verdict
Needs more pinstripes.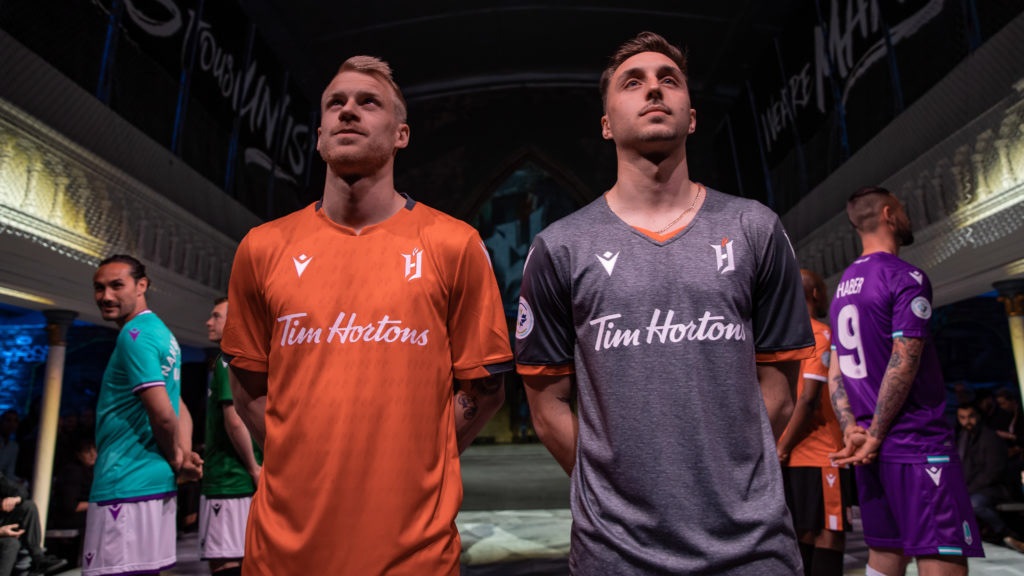 Forge FC
If this team didn't have FC in its name, I would've assumed it was an e-sports team. Supposedly, the crest (more of a logo, really) is a combination F (for "Forge") and H (for their home city, Hamilton), but you have to stretch it a bit. Plus, the team's rolling with a rarely-seen orange-and-grey color scheme with very interchangeable home and away kits. There's not much traditional about this club, but I think that was the goal.

Home
(Orange/Orange/Orange)

I'll give Forge this: they chose a pleasing shade of orange. This shirt also features the spark from the crest sublimated across the torso, which, while sensible, doesn't actively improve things. It's a fine shirt, imo, but it's missing a wow factor outside of the hue.

Away
(Grey/Orange/Grey)
The same goes here, except that the texture of this shirt gives it an extra dimension. I am curious, though, about what combinations we'll get from Forge on the road, since their pieces are extremely mix-and-matchable between the home and away kits. Grey/Orange/Orange is one to keep an eye on when they play at Cavalry.
Verdict
The orange-and-grey team needs more flash? Somehow?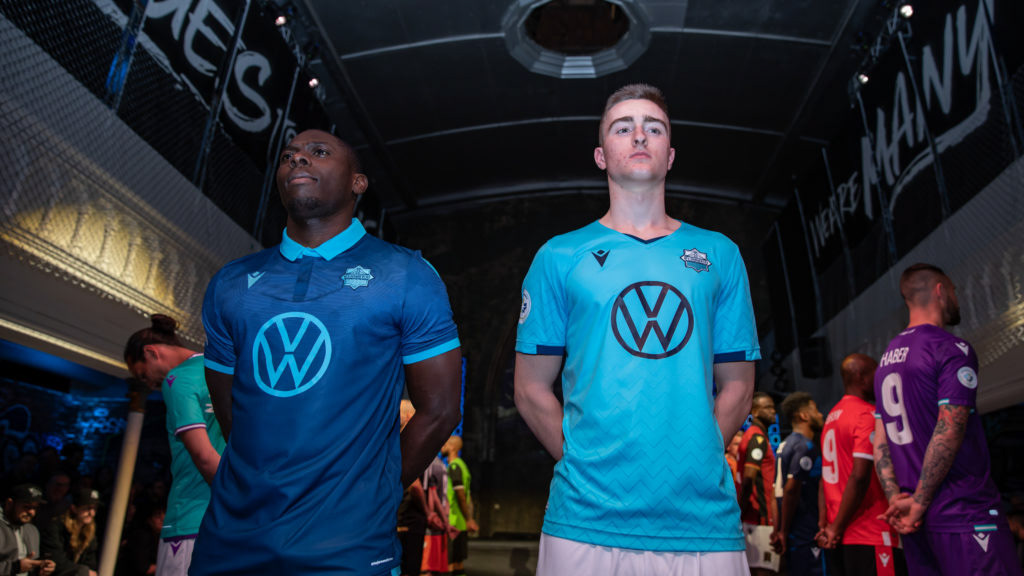 HFX Wanderers FC
Sporting a delightfully maritime crest and the always fun Wanderers name, HFX has the tools to be a lovely visual brand. But what in the world is up with "HFX?" Shouldn't they have just spelled out Halifax, since that's where the club is located? Regardless, the crest contains the club's motto: "Our Harbour. Our Home. Our Soul." But, coolly, it's here in Scottish Gaelic, since it's a language still spoken in Nova Scotia. Neat!
Home
(Blue/Blue/Blue)
This is, factually, a really nice-looking kit. The two shades of blue look wonderful together, and the collar brings the whole thing together. But it really messes with me for one reason: it has an alternate-colour crest on it! Such things are fine and dandy on away shirts, sure, but a crest in alternate colours on the home shirt feels wrong. That's gonna drive me crazy all season.
Away
(Light Blue/White/Light Blue)
This has the pieces to be a really nice kit. This shade of light blue is really nice, and the zig-zags from the crest are used to great effect here. I just wish the whole shirt had the zig-zag pattern; few things worth doing are worth half-doing. In speaking of, perhaps an all-light blue variation of this kit is the best one. I'd at least want to see it.
Verdict
Pieces are there, but the curious decisions are glaring.
Pacific FC
With an audacious pairing of purple and aqua/teal, Pacific FC has one of the standout colour palettes in the CPL. It also has one of the standout locations as well, with its stadium on Vancouver Island being about as close to America as you can get. It's a fascinating team with equally fascinating aesthetics. Did I mention the abstract-as-hell crest? Or its obsession with trident iconography? What a delightfully bizarre club.

Home
(Purple/Purple/Purple)
The colours of this shirt are IMMENSE. The purple shades (dark and rich on one side, lavender-ish on the other) are wonderful, and the aqua-teal colour throughout the kit pops beautifully on the purple base. My only issue? The sublimated trident on the bottom of the shirt, which is awkwardly placed and a bit unnecessary. Fortunately, that's about the only problem; this is a wonderful kit from top to bottom.

Away
(Teal/White/Teal)
And this kit isn't bad either! The collar is a highlight, with a nice scalloped design and some lovely purple-and-white racing stripes around the back. The overall shade is also quite nice, even if I'm not the wildest about the paint splatter chevrons (???) running down the shirt. I find them pretty distracting honestly, which is a real shame, since this kit is otherwise a winner.

Verdict
Incredible colours, imperfect kits. Close to greatness, though.
Valour FC
Sporting maroon, black, and gold, Valour FC is the CPL club of Winnipeg. Owned by Winnipeg Football Club (the parent organisation for the Canadian Football League's Winnipeg Blue Bombers), Valour uses a distinct visual style from its Canadian Football counterparts. There's something very blacksmith-y about the colours and crest, giving the whole package a rustic yet tough aesthetic. It's all quite nice!

Home
(Maroon (Black Sleeves)/White/Maroon)
This is undoubtedly one of the top shirts in the CPL. The colours of this shirt combine together quite nicely, and the maroon-and-gold cuffs on the sleeves bring a lot to the shirt. Some won't like the pseudo-collar combined with the V-neck cut, but it has an intriguing shape I don't mind. And above all else, it's stylish; pair this shirt with black skinny jeans and white sneakers and watch it thrive in your day-to-day life.

The shorts and socks don't add a ton, but they don't take away either. In this case, that's a good thing.

Away
(Black/Black/Black)
This shouldn't work, but it kind of does. Then again, it's hard to do all-black wrong. Gradient patterns are often a bad idea, but here it adds a lot of visual interest to an otherwise plain black shirt. I also appreciate the diagonal stripes inside the gradient design, as they call back to the diagonal lines that are so prominent in the logo. It's a nice touch.

Verdict
Top to bottom? The most sophisticated (and best?) look in the league.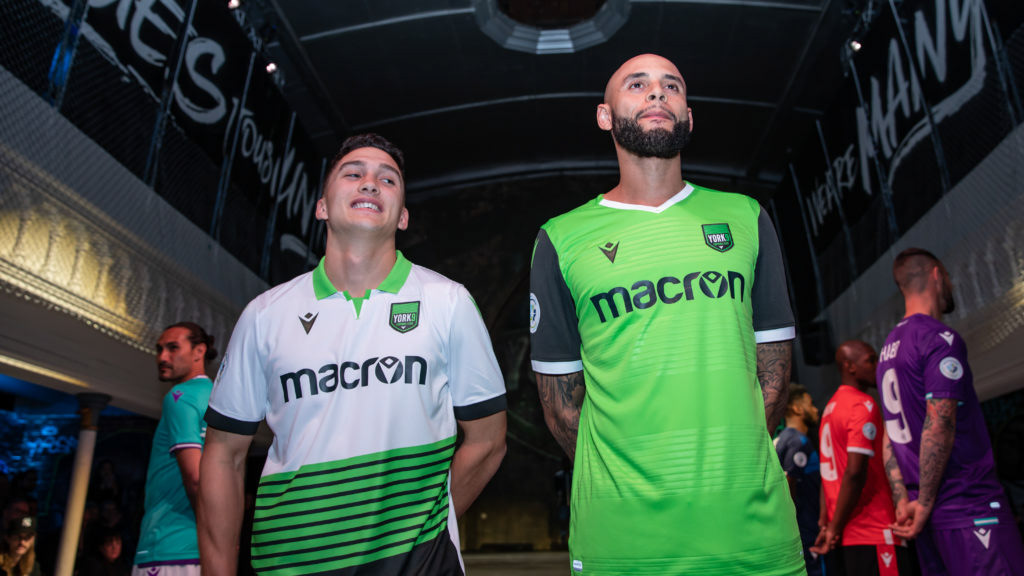 York 9 FC
Settled in Toronto, York 9 FC represents the 9 municipalities that make up York Region: Aurora, East Gwillimbury, Georgina, King, Markham, Newmarket, Richmond Hill, Vaughan, and Whitechurch-Stouffville. Audaciously, the club uses a bright, "acid green"-like colour as its primary hue and combos it with charcoal grey and black. There's something about that palette that feels straight out of a 13-year-old's sketch notebook, but I'll give them this: it's different!

Home
(White (Green+Charcoal Stripes)/White/Charcoal)
It's hard to say this kit is great, necessarily, but it definitely makes a statement, separating it from many of the kits above. The nine green stripes are a callback to both the crest and the club name, which is smart design. Honestly, the more I look at it, the more I'm a fan. I just wish the stripe pattern didn't stop so harshly at the edges of the front of the shirt.

I don't LOVE the shorts and socks, but it's hard to find much of anything that matches the wild shirt. Perhaps all-white or all-charcoal could work on bottom?

Away
(Green (Charcoal Sleeves)/Charcoal/Green)
Not in love with this kit. My issue: if you're going to have this bold, "acid green" colour as the base of your brand, why not go all-in with all-green? Here, it feels half-done, with enough charcoal grey that it lessens the impact of the exciting green. I do appreciate the sublimated stripes throughout the shirt, though. They're arranged (as far as I can tell) in groups of 9.

Verdict
The risks work! The non-risks don't.
*all images via CPL website*