Italian football is, without a doubt, the sexiest of its kind. Everything about the league is doused in beauteous amounts of romance, from the iconic clubs, to the cathedral-like stadia that they play in. It has been the stomping ground for a football hipsters' favourites for decades, more so since the league's heyday in the 1980s and '90s, which saw the Serie A boast vintage icons such as Francesco Totti, Gabriel Batistuta, Ronaldo, Zinedine Zidane, Paolo Maldini and Roberto Baggio, just to name a few. 

The Italian game, as a whole, mirrors the country that is so embedded in its importance. Italy is a beautiful nation, with a unique history and culture, idolised by many all across the globe - but just as is the case for calcio, there is a darker side to life in the Mediterranean. 

Italy is the birthplace of fascism. The late 19th and early-to-mid 20th century were extremely turbulent times for what was a fragmented nation, which provided scope for the infamous Benito Mussolini's rise to a despicable dictatorship. His far-right rule scarred an already conservative country, which never truly healed. There was (and still is) a nostalgia for a 'true leader', which left fascist pockets in all major cities and towns.

When 'ultras' first began to appear on the Curve Sud of Italy in the late 1960s and early 1970s, they were apolitical groups with eyes set firmly on the football - nothing else. But slowly, they began to mutate, and by the 1990s, Italian ultras groups were often criminal gangs, affiliated with neo-nazism.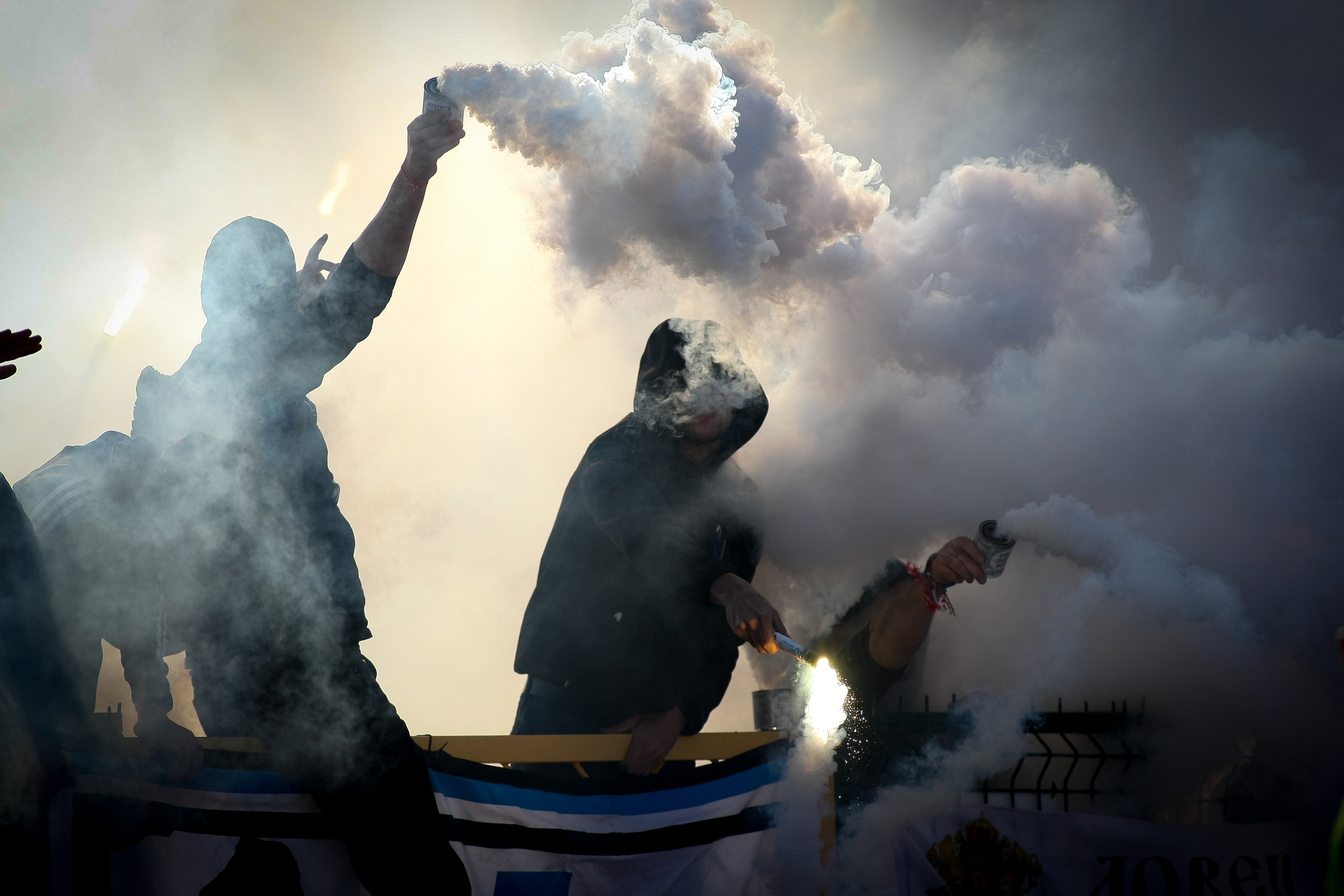 Upon closer inspection, it is easy to see why the far-right chose to infiltrate football. There is a sense of anonymity that comes with being a part of such a large group, which when you're performing straight-arm salutes and taunting others for being a 'jew', is particularly useful. Combine that with an opportunity for uniforms and violence, the 'them-and-us' mindset of football fan culture, and the use of stadia as an opportunity to defend and conquer territory, and suddenly things begin to make sense. It's not about the football for these groups, it's about "Lo stato d'animo" - "the mindset".

But what is most interesting, perhaps, is that these supporters are not amongst a minority. They are not being shunned or banned, they're thriving. Italy is providing a perfect setting for the clubs' hardcore to act upon their extremist ideologies. Several politicians, namely Silvio Berlusconi, have spoken admirably about Mussolini in recent years. The former head of the Italian Football Association, Carlo Tavecchio, once complained about the league having too many players who were "banana eaters". With nobody of significant stature to condemn their actions, Italian ultras have grown into a completely different beast altogether. 

Just recently, the Italian parliament released a report into the concerning link between ultras and mafia-like behaviour. It found them guilty of silence and secretiveness, holding illegal money, guns and drugs, ticket touting, and collecting funds for their jailed colleagues. The head of Lazio's most notorious group, the 'Irriducibili', was recently convicted for dealing hundreds of kilos of cocaine inside Rome. It is estimated that 30% of Italy's ultras are either small-level or major league criminals.

The 'business' aspect of being an ultra has become, arguably, the most important. In a phone call intercepted by the police as part of the aforementioned report into hardcore supporters and organised crime, one Juventus ultra was asked by a friend if he was to be attending the next home match. "If we're making money, yes," came the reply. "Why else should I give a sh*t?" 

Such a response confirmed what had been known for some time - that some 'ultras' were simply wannabe criminals, that had grown envious of the money that some fans were able to generate. They have no interest in the sport itself. Even members of select mafia gangs had began to form their own ultras groups out of jealousy. With the clubs themselves growing ever fearful of the dangerous nature of their most dedicated supporters, the relationship between the two has, at points, descended into one of hidden compromise.

The teams, desperate for their stadiums to remain safe and positive places, have provided ultras with vast amounts of season and matchday tickets for them to re-sell, which has seen some groups make more than €1M a season from touting alone. In return, the ultras promise good behaviour when in attendance. Such agreements have seen the ultras assume positions of genuine stature at some clubs, almost like that of an additional board member, who is to be consulted before any major decisions are made. 

They have been known to prevent the purchases of players that they don't like (namely Israeli forward Ronnie Rosenthal, whose transfer to Udinese was stopped by an antisemitic section of the club's supporters) and block the sales of the ones that they do. In 2004, Roma ultras brought an end to the Derby Della Capitale after just four minutes, after rumours trickled around the curva that a four-year-old boy had been killed by police outside the stadium. 
The scenes led to one of the most infamous pictures in Italian football's recent past. It shows Francesco Totti, surrounded by incensed home fans, who are calling for the game's early conclusion. It was a visual demonstration of the sheer power that ultras held over their teams. After talking to the supporters, Totti turned to face his team-mates, before calling to his manager, Fabio Capello: "If we play on, they're going to kill us". 

The match was abandoned.

Totti wasn't joking, either. Murder is an increasingly common section on the criminal curriculum vitae of Italy's most threatening supporters groups. Ultras have been responsible for a rising number of shootings, stabbings, arsons and even kidnappings in recent years. If you watch the 1st leg of last season's Champions League semi-final between Liverpool and Roma, you will see the travelling supporters wielding a banner that reads "DDS Con Noi" (Daniele De Sanctis is with us). De Sanctis was a Roma fan that shot a Napoli supporter hours before the two sides met in the final of the Coppa Nazionale in 2014. After committing such atrocities, the killers are being treated like war heroes - they have their names sung before every match, their names printed on banners and flags for all to see.

Italian ultras then, are no English hooligans. The violence is the only real similarity - and even that has reached unparalleled levels. Gone are the days of chaotic anarchy on the terraces, for we are now in an era where hardcore supporters operate with military precision on the streets, and mafia-like business acumen in the boardroom. Italy has not just a problem on their hands, but something which has become an irreversible power struggle, with no obvious solution.