'El Pibe de Oro' - 'The Golden Boy'. It was a nickname burdened upon the narrow, scrawny shoulders of a 10-year-old Maradona from the day he signed for Argentinos Juniors. A lot of pressure, no doubt, for a prospect plucked from the slums of Lanus Oeste, a notoriously penurious crevice of Buenos Aires. His poverty-stricken upbringing had bestowed Diego with two core values: the weight and demands of an introduction to such barren destitution, and the sanctuary that he found when a ball united with his blessed left foot. Born a true diamond in the dirt, a nation shackled by the socio-economic plight and panicked by the Falklands war was steadily illuminated by a passing word of sanguine glory. As hopeful whispers of this most gifted of 'pibe' spread throughout the land, a prepubescent Maradona, boasting maturity beyond his tender days, merely saw his signing as a chance to relieve his family of the shantytown that surrounded them.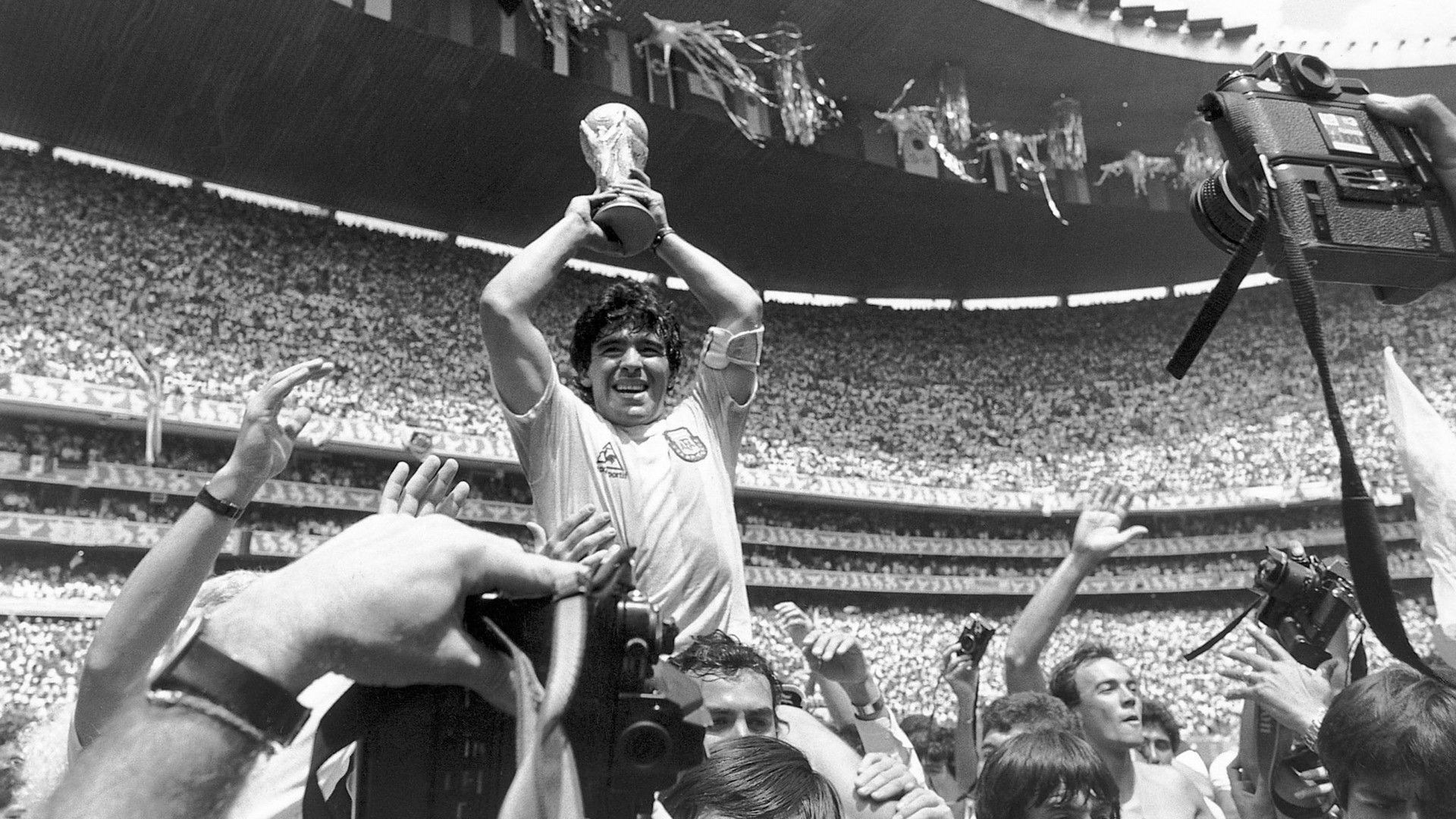 His scouting, meanwhile, felt almost like finding the cure for a nationwide illness. Francisco Cornejo, the man attributed with uncovering Diego, claims that once Argentinos Juniors had it proven to then that young Diego was just the boy his pinched frame showed him to be (as opposed to the seasoned professional that his talents contradicted) they "decided to devote themselves purely to him". Inevitably, such a solely-dedicated approach to his on-field development caused Diego to rattle through the youth ranks. Playing no more than a handful of games with each age group before proving his worth to the set above, the first team soon arrived on the horizon. Juniors had no hesitations. He was ready. 
So, aged just 15 and 355 days, Diego Armando Maradona was handed his full debut for the club they call "the cradle of stars". The moment he had long been waiting for had finally presented itself. Arriving from the substitutes' bench, he entered a stadium - which would later be retitled in his honour - to face Talleres de Córdoba, just 10 days before his 16th birthday, making him the youngest player in the history of the Argentine Primera División. 
Losing 1-0 when he was summoned, the adoring fans were sent into rapture when Diego scurried onto the field, bearing the club's iconic red-on-white sash. It took just a few minutes for the ball to be played in his direction, receiving a pass on the right-wing. The arena held its breath, awaiting confirmation of their prodigy's resplendent brilliance. And like the true showman he would grow to be, Maradona duly obliged. With his first touches of a ball as a debutant, he created a moment of Argentine footballing folklore. 
Channelling the game he had forged as a child on the arid, hard pitches of Villa Fiorita, Diego shimmied, then dummied, before poking the ball through the bewildered legs of the onrushing Juan Domingo Cabrera. "¡Olé!" exclaimed a jubilant crowd, as Cabrera turned to see a distant number 16 scampering towards the penalty area. This very moment, above any, proved that Diego had not the physique to compete with the men amongst which he was cast - but magic his brutish opponents simply couldn't measure. 
Though El Bicho would lose that game, afterwards, a beaming Diego poetically recalled: "That day I felt I had held the sky on my hands" - and from that moment, everything changed. A 15-year-old bonaerense, a meagre young slum boy, had announced himself to an already adoring nation. Such was his unbridled joy, it had put the skies from whence his gifts were sent, back in his righteous palms. But as Diego reached for the stars, the gods of the beautiful game smiled kindly on their chosen son, handing him a career that would settle in the stratosphere. And it started now. 
Two weeks after turning 16, he would score his first - and second - career goals in a game against San Lorenzo. Eleven first-team appearances followed that season, credentials deemed adequate to award Diego Maradona a first call-up to the national side in 1977. But his so-far rapid ascent was not without its significant setbacks. The scarring pain, rage and bitterness that Diego felt a year later, following his exclusion from Argentina's 1978 World Cup squad was a reality check. Forced to watch his teammates lay hands on football's ultimate prize (in his hometown of Buenos Aires, no less) from his living room, Maradona developed a mental skill that would prove useful throughout his career - the ability to channel seething anger into on-pitch performances.
In the wake of such a disappointment, he did just that. Diego orchestrated a 5-0 win for Argentinos Juniors over Chacarita, in which he scored two and assisted two more. These were just two of the 115 goals Diego would go on to score in the 167 appearances that he made throughout his five-year period with the club. He had grown, physically and mentally, to raise the profile of Argentinos immeasurably in that time, collating a ridiculous sea of personal accolades - both domestic and international - in return. But deep down, by the end of that half-decade, Diego knew his time there was coming to an end. The need to find a new club, one that could accommodate his nigh-global reputation, became apparent. 
River Plate was first in line. They were the most logical of all his potential suitors: wealthy, domestically dominant, boasting a squad that was already littered with superstars. To add Diego would have been the icing on an already-successful cake, giving them license to contest at an elite continental level. They were also the club providing the deal that Argentinos favoured, thanks to the fee that their financial competency could provide. For all parties, this was the perfect transfer at the perfect time.
Simply put, it just
made sense. 
But this was Diego Maradona. 'Making sense' was never on his agenda. This was a man who's entire career structure, his entire life, was built upon defying the odds. His playing style and stature mirrored the clubs at which he was the most successful: Those that were inherently smaller, weaker than those around, with an almighty challenge stacked ahead - but in the end, managing to overthrow the lot in a beautiful, yet inevitably turbulent blur. Diego, of course, being the pesky romantic, the lovable rouge, made the choice that nobody expected.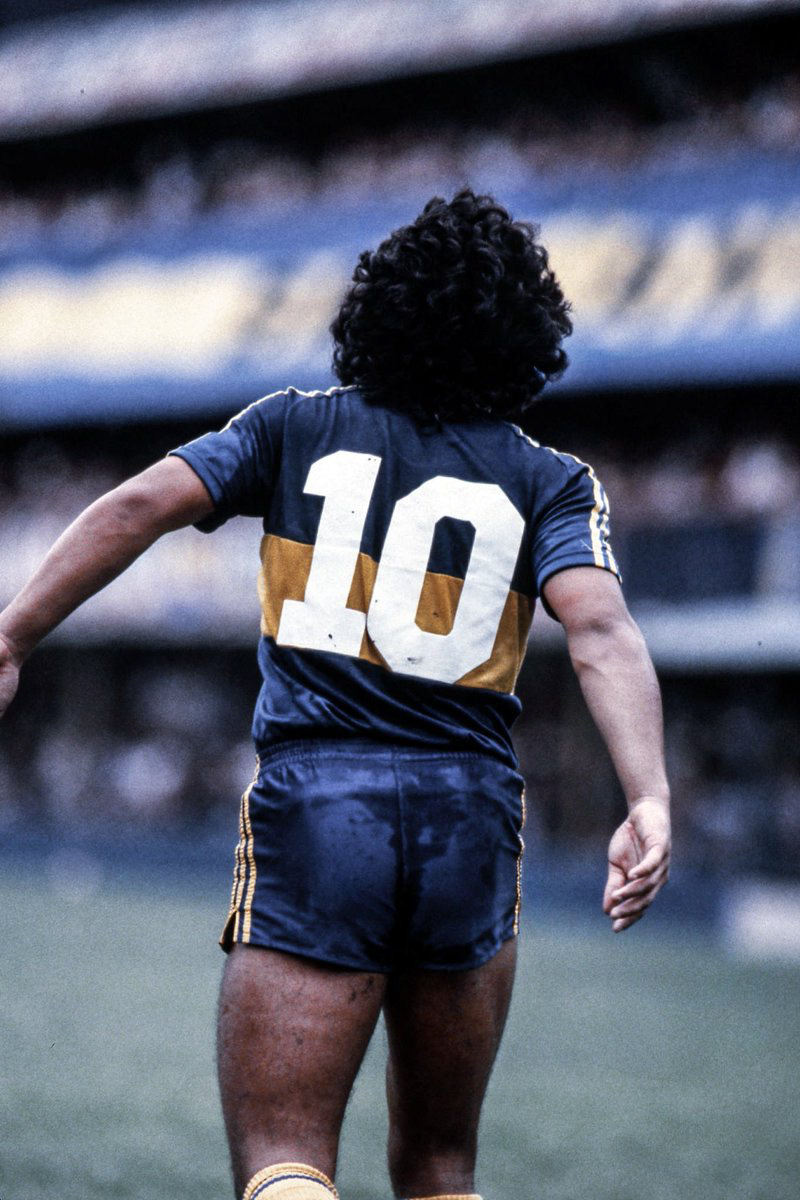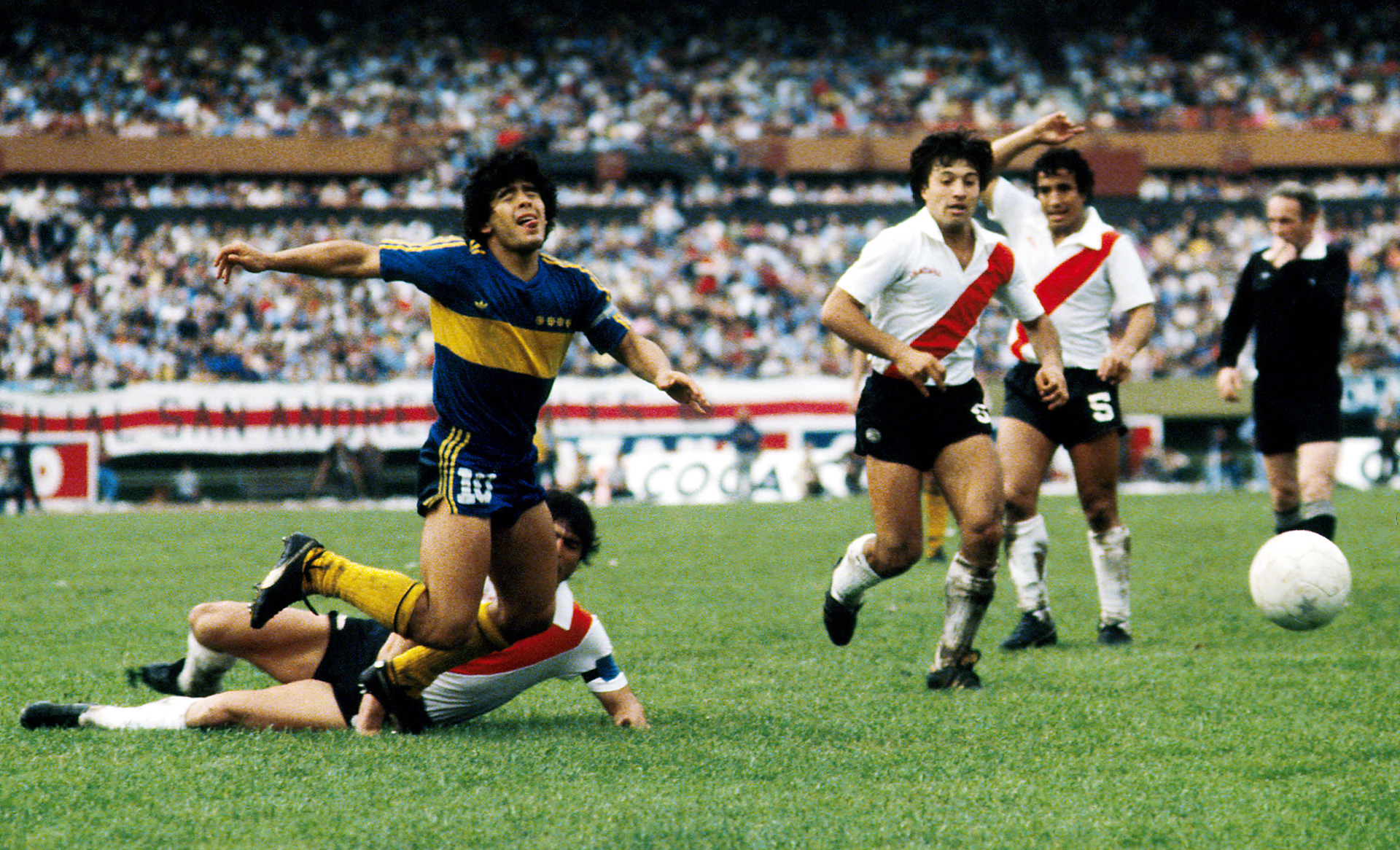 Boca Juniors was basking in the shadow of their eternal rivals. Teetering perilously on the edge of financial squalor, the club was performing poorly and had a debilitating position in the league table to match. Their squad was some way off the standard of River's, but despite Boca having the necessary desire to acquire Diego, they simply didn't have the funds. But Maradona knew that it was in these environments that he would thrive - where nobody expected him to. Five years as a professional hadn't diluted the fighter in him, the scrapping, plucky underdog from the barrio was still very much alive and kicking. As it would be in the future, Napoli was always better suitors than Barcelona in that regard, and so, Boca Juniors was better suitors than River Plate. Therefore Diego, regardless of the deal that Argentinos pleaded him to opt for, lead with his heart and signed for Boca Juniors.
He would spend just one season there, but it was a sublime tribute to the club which he had always adored. A brash, circus-like encore which (albeit unknowingly at the time) signalled the end of his time in Argentina, before he was catapulted into the Camp Nou and the brash European spotlight. In a season in which Boca was crowned champions, Diego was a carnival. The pulsating heartbeat of a La Bombonera reborn, Diego scored 28 times in 40 appearances, including a magisterial solo goal in the Superclásico. He created an immortal bond with the supporters almost instantly, to the point whereby the end of the season, departure felt almost as righteous as it was when he left Argentinos. There was, simply, no way he could better the season he had enjoyed, despite a fractious relationship with manager Silvio Marzolini. Once the celebrations finally calmed, a world-record bid from Barcelona was accepted and that was that. The festival was over; a new challenge and a new continent beckoned for Maradona. 
But the two years that followed were some of the most tumultuous of Diego's career. He arrived in Catalunya after seriously disappointing in the 1982 World Cup, a tournament hosted in his new country of residence. The culés' perceptions of Diego were tainted from that moment on, which coupled with an unfortunate streak of injuries and illness, prevented his Barcelona career from ever taking flight. Despite a more-than-creditable goalscoring rate and trophy haul to couple, Diego never settled. Still only in his early 20s, the perpetual demands of justifying a £5M transfer fee and his deficient World Cup performances simmered as frustration for two years, before in 1984, the heat rose a degree too far - and it boiled over into anarchy. 
Diego, after
that
mass brawl against Bilbao, was cast aside by the club almost as quickly as he could demand a transfer. But when he looked to the continent for potential suitors, the frightening nihilism of his final act was enough for teams to ignore his revolutionary talents. Branded a problem child, he was shunned by teams near and far. It is said that only one club in the entirety of Europe was willing to take a chance on the refractory 24-year-old. They were minnows of that time, no less, languishing in the doldrums of Serie A mediocrity. A directionless club, from an outcast region of Italy, beckoning to the heels of northern giants AC Milan, Internazionale, Juventus and Roma. Società Sportiva Calcio Napoli, out of nowhere, threw Diego a lifeline. With nowhere else to turn, he duly obliged. 
How much he knew of what that transfer would mean to Naples, only Diego will ever know. But for this outcast, mocked and impoverished region of Italy and their similarly disregarded football team, they had just attracted the Diego Armando Maradona in a (yet another) world-record deal. It was life-changing for the local population. Following his unveiling, one local newspaper stated that despite the lack of a "mayor, houses, schools, buses, employment and sanitation, none of this matters because we have Maradona". He was adored, like no other, from the first time he saluted San Paolo crowd on that fateful July afternoon.
The reception awaiting him on that day is that of hysteria because, for that coastal city, it was their saviour who had arrived. He wasn't wearing shining armour, a crown of thorns, or glistening white robes, but baggy blue sweatpants, unlaced Puma sneakers and a similarly-branded white t-shirt. This pint-sized, curly-haired Argentinian was a requisite subject for years and years of directionless regional pride. Finally, Naples had its icon - and for Diego, he had a home. 
In the 1984/85 season, Diego's first in Gli Azzurri blue, he injected a purpose and sense of passion into the very veins of the city. The ringleader and representative for Naples' regional redemption, he was promoted to captain almost instantly. Napoli's league finish that year was three places higher than after the prior campaign, leaving them in 8th. It wasn't a season for the ages, but still a significant and noticeable improvement. The following campaign, 1985/86, yet further improvement arrived - a dizzying 3rd place and thus, qualification for the UEFA Cup. It cemented that Naples was no longer the butt of a nation's jokes. They were a side and a city in bloom, the burning epicentre of a fervid emotional revolution, with El Diego at the fore. In just two seasons, Napoli had gone from 11th place to a podium finish, all thanks to Maradona. A starved population began to dream of an evasive Scudetto, of potentially bringing silverware to the gulf. But that would have to wait.
Because for now and for Diego, international duty called - the 1986 World Cup.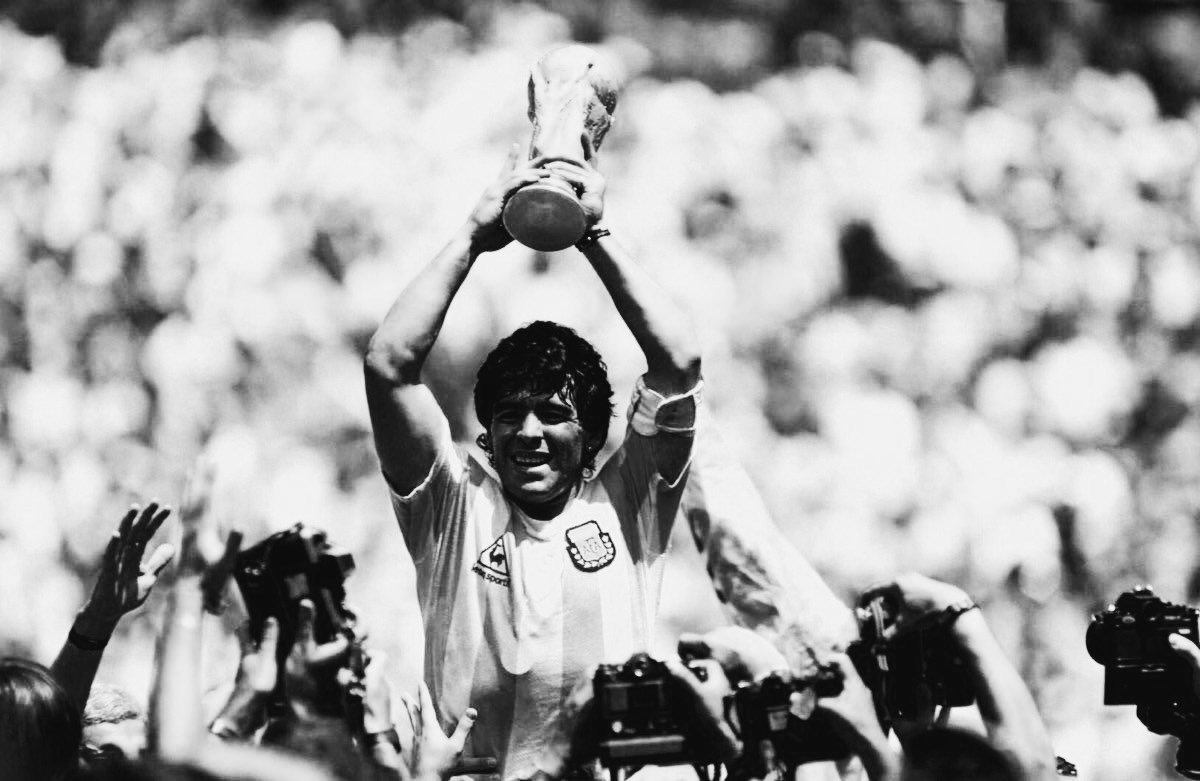 For Maradona, joining up with his Argentinian teammates must have been quite the culture shift from the progressive state of his newfound club. It was a young squad in disarray, that had clawed their way into the World Cup after a lousy qualifying campaign. Their warm-up games were similarly unsatisfactory and the decision to award Diego the captain's armband caused its former wearer, World Cup-winning icon Daniel Passarella, to abandon the squad before the first group match. 
La Albiceleste were, simply put, in crisis - but so was the host nation of Mexico, which had been rocked by a catastrophic earthquake in the September. To all, it looked like it was to be a chaotic tournament, especially for Argentina. But as he had proven, it was in the midst of such chaos and mayhem that Diego - who was entering the peak years of his career - could prosper. As captain, he put an inexperienced squad, the hopes and dreams of a watching nation and his own torment from personal experiences with the '78 and '82 editions onto his shoulders and saddled up to enter the lion's den. 
In their first game, a masterful Maradona laid on three assists as Argentina cruised to victory against South Korea. He then delivered a sublime goal in a hard-earned draw with the scourge of their previous World Cup attempts, Italy, which preceded another assist in comfortable 2-0 win against Bulgaria. Diego was in scintillating form, leading his side to the top of their group. This once disorganised, unfancied outfit was beginning to raise eyebrows, as tournament favourites like Brazil were struggling. Their first knockout game, however, would be a real test of their worth. A South American derby, the Spanish-speaking equivalent of England vs Scotland, was next up. The old enemy, Uruguay, stood in their way.
Maradona had been subject to abhorrent tackles all tournament, as opposition defenders desperately hacked and sliced at a player who was so much better than all those around, it was borderline unfair. In a game where football was played only sporadically, Uruguay - typically - were no different. But Diego dodged and glided past such waist-high lunges to deliver an electrifying performance in a fierce 1-0 win. It propelled Argentina into the quarter-finals, where a game holding even greater significance awaited them. 
It was, of course, England.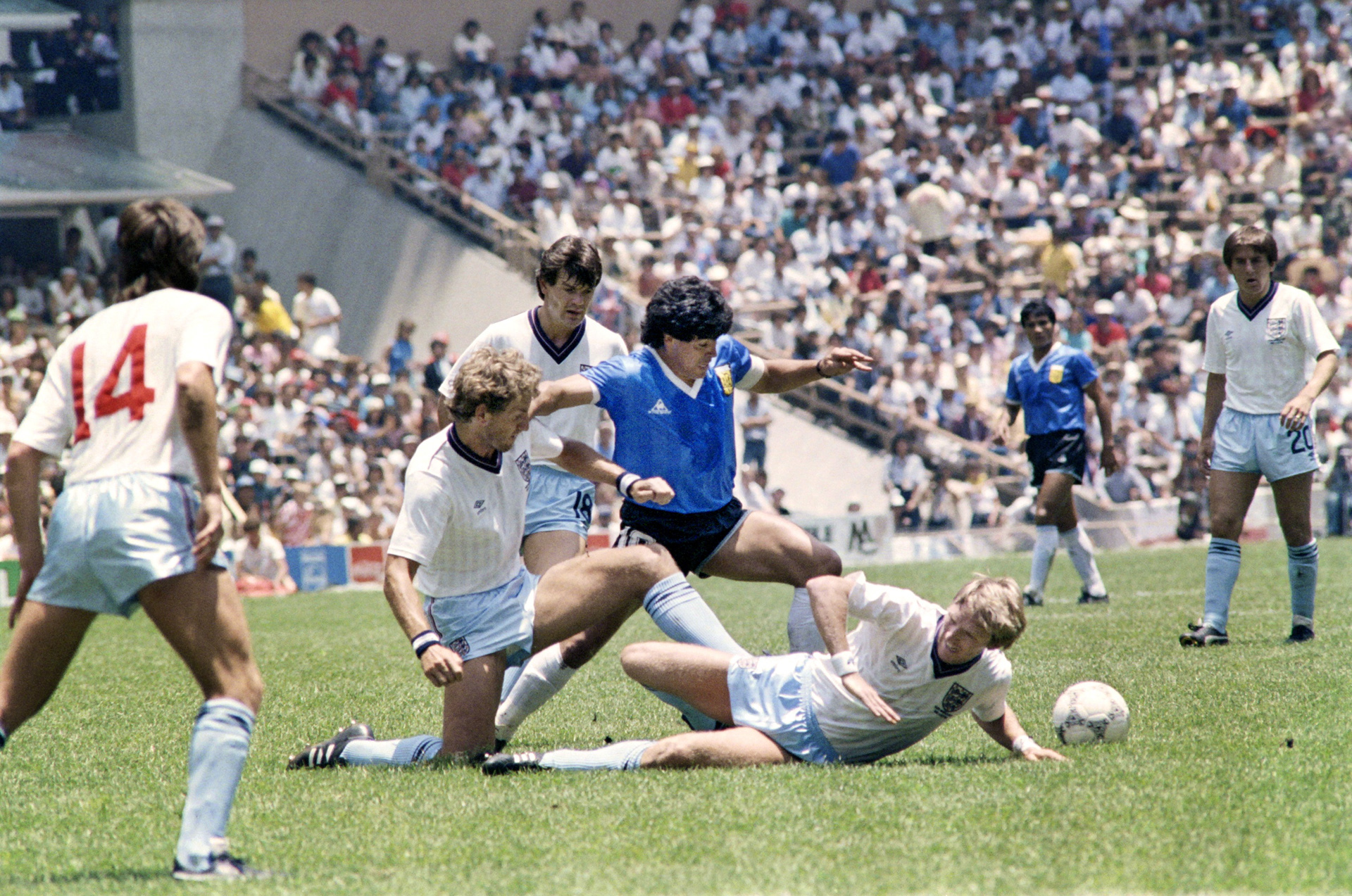 The Azteca Stadium, a mammoth footballing cauldron, with its mislaid playing surface scalded by the sizzling Mexican sunshine, was the setting. At midday, as the two sides enter this sweltering colosseum and 'God Save the Queen' begins to play, the camera pans to Diego. He, with a vengeance and a dark anger in his eyes, scans an England eleven innocently performing their national anthem. His face is determined, focused. His emotions, ominous and godless, told a tale of a nation still recovering from defeat in the Falklands war. Maradona, a missioned assassin, had already decided the full-time result. 
A dogged first half came and went, 0-0 the half-time score. It was a scoreline that England could be prouder of than Argentina could, as they had been the dominant force. It became apparent that in the second period, it would take something special - maybe something more - to avenge his county's battled woes.
It took just six minutes of restarted football for Diego to perform the act. An ever-replayed arch in footballing history so astonishing, so unthinkable, so despicable, it's branded a sinful demonstration of sporting dark magic. When you watch Maradona attempt a quaint one-two on the edge of the area, the ball spirals off an outstretched Steve Hodges and loops towards Peter Shilton. Diego then, seemingly, rises to head the ball, nodding it over a desperate Shilton who arrives a split-second too late. The ball falls into the net, Diego wheels off to celebrate and then the replays are shown. With every angle that is loaded onto the screen in-between enraged England protests, the emotions begin to set in. You see what he did. In gruelling slow motion, you watch his left hand depart from beside his waist as he leaps, contort into a fist, appearing beside his head to punch the ball into a gaping goalmouth. It is infamous, yet somehow, genius. Argentina lead 1-0 thanks to the ill-famed 'hand of God' and just like that, football was never the same again. 
Then, just four minutes later, the captained archangel picks up the ball again. England scowls, Argentina prays. What followed, was a goal that is almost as unbelievable as the one that had followed just minutes earlier, purely because of the inhuman level of skill involved. It took just over ten seconds for Diego to score the now-voted 'Goal of the Century' from well-inside his own half. At the end of it all, when you watch Maradona round Shilton to slide the ball into the goal, leaving a seething, bamboozled England side strewn aside in his merciless wake, it is hard to imagine anybody on earth doing anything but watching that goal when it meets the back of the net. Dancing to the beat of a drum that only he could hear, like a dirtied ballerina pirouetting across a battlefield, he glides - he floats - past man after crippled man, with a ball that is bouncing off unsettled turf, yet one that never leaves his possessed feet by any more than an inch, to deliver a spellbound nail into the England coffin. In just ten minutes of second-half football, Diego Armando Maradona had scored two goals that resided in football heaven and hell. Argentina won the game 2-1.
As xenophobia and hatred dominated the newspapers of England, Argentina now seemed destined to win the World Cup. A semi-final against Belgium felt like a formality now that Diego had famously claimed that God was flowing through his veins. His claims were justified by his displays in that match because again, they were scarce of this realm. He scored both for his country in a 2-0 win, the second a brilliant, yet forgotten tribute to his goal against England, just with less distance covered. Single-handedly, an enchanted Diego Maradona had dragged Argentina to the World Cup final, where they would do battle with West Germany. 
Just four days later, Argentina took to the pitch with confidence. It was confidence fuelled by a one-man fire, the flames of El Diego, who had galvanised a no-hope squad and spearheaded their march to the biggest game in world football. As expected, therefore, the Argentines took a two-goal lead just short of the hour mark, playing beautiful, expansive, progressive football which overwhelmed a functional Lothar Matthäus-lead West Germany side. Though, the cliché which warns us all to "never write off the Germans" rang true, with a quick-fire double from Karl-Heinz Rummenigge and Rudi Völler levelling the scoreline by the 82nd minute. The tides were turning, with Argentina regressing into their own half to resist a final German onslaught. With their hopes dwindling, a world in waiting turned to the man who could control the prophecy. Diego Armando Maradona had ten minutes to win Argentina the World Cup. 
And win Argentina the World Cup, he did. 
Whilst he didn't score the goal which would have rounded off an unreasonably perfect tournament, instead, the master goalscorer turned creator, dropping into midfield to deliver a pinpoint first-time pass that carved open the West German machine. Tearing onto the pass was Jorge Burruchaga, who slotted the winning goal into the back of the net. With five minutes to spare, Argentina had won the most dramatic, controversial, awe-inspiring World Cup seen to date, all thanks to their little magician. 
Watching Diego Maradona climb the steps of the Azteca to cradle, kiss and raise the Jules Rimet for Argentina is one of the most iconic sights in the history of sport. It is a perfect coupling, with every image doused in fate and battle-hardened glory. It was his game, his team, his tournament. Of Argentina's 14 goals in the competition, Diego had either assisted or scored ten of them. He proudly won the Golden Ball as a result of his peerless displays, finally killing off the ghosts of World Cups gone by. Diego had played a rare game of patience and had reaped a reward like no other. He had arrived a doubt, a 'could-be' and had left a world champion. To all, he left Mexico as the best player that the world had ever seen. 
Returning to his base in Italy shortly after, the eyes of the globe were fixed firmly on Maradona. Naples had gone from a city just daring to dream, almost to one with expectations after witnessing his heroics in the Azteca. But to gift the Neopolitans a first Serie A title meant shifting his attention to lifting the curse that had riddled SSC Napoli since its inception. Never had the club come anywhere close to winning the league, forbidden success by the hated domestic alphas in the north. But the population had smothered Diego in the hope and admiration that only a king could demand and with his gallant quest with Argentina finding its own forbidden city, there was a growing belief that maybe, just maybe, he could liberate the people of Naples. Already, his World Cup achievements were in the past.
Napoli started the season well, quickly turning the San Paolo into the fortress necessary to overthrow the establishment. Maradona himself paid for extra drums for the fans to beat at home, to crank an already deafening atmosphere to fever-pitch. It was a tactic that paid dividends, too - Napoli wouldn't lose a game at home that season, sealing key 2-1 victories against Milan and Juventus when both powerhouses visited the south. 
By the end of November, another decisive, Maradona-inspired victory against Juventus in Turin had his side top of the league table. They cemented this position with consecutive wins against Brescia, Udinese, Avellino and Ascoli. At long last, Naples was beginning to twitch. Aware of the growing pressure back home, Napoli continued their promising form into March, until title rivals Inter won a key San Siro battle in the 85th minute. It was a body blow for Gli Azzuri and one that threatened to derail their hopes of a Scudetto, with a draw against Empoli and loss against Verona coming shortly after. Limping towards a finishing line in desperate sight, Maradona & co were thrown a lifeline. 
A shock Internazionale defeat in Ascoli meant that Napoli needed one solitary point from a game against Fiorentina at the San Paolo to seal a monumental title victory. Naples held its breath, but when it really mattered, their band of eleven warriors delivered the gold. A 1-1 draw was all it took to extricate a city of their seemingly eternal hoodoo - mathematically, SSC Napoli were Serie A champions for the first time in their agonising 60-year history. The roar at the final whistle shook the city to its core. Their lord and saviour, Diego Armando, had provided 10 goals and 13 assists that bridged a chasm that separated the wealthy, business-driven people of the north and his rough, rural, lower-class south, less than 12 months after sealing the World Cup for Argentina. So long were Naples the subjects of racist, classist chants and derogatory jeers as their team crumbled on the pitch beneath them, but finally, it was no more. A new empire was built, but Diego was no longer their emperor - he was 'dio'. 'God'. 
For this lionhearted city of south-western Italy, a parish lying at the feet of its volcanic overlords Mount Vesuvius and Campi Flegrei, the celebrations were apocalyptic. Naples was turned upside down in an instant. Every street corner, every road, every alleyway and building was painted sky blue. Parties spread through the streets as though they were contagious, some lasting as long as a month. A carnival culture, an around-the-clock festival erupted in an instant, sending an entire region into bedlam. Fans danced on the roofs of houses and abandoned buses, with others coursing through the streets on Vespas below. Nobody within the city walls slept for a week, as mock funerals were held for the most hated clubs, with coffins and death notes set ablaze.
Derided by the northerners as donkeys, they now dressed as one, dragging Lombard and Tuscan devils by their tails through the gutters of the city. Murals depicting Diego Maradona as Christ graced the most ancient buildings, with mockup churches and shrines in his honour littering a city bellowing with noise. A banner, draped over the wall of the city's largest cemetery read "You don't know what you have missed!". 
The victory took the region's worship for Diego to religious levels. Towards the conclusion of the1986-87 Scudetto-winning season, when Napoli's form was stuttering, the words of the 'Lord's Prayer' were changed for many in Naples. From then on, it was cited as: "Our Maradona, Who Takes the Field, We have hallowed thy name, Thy Kingdom is Napoli, Lead us not into disappointment, But deliver unto us the title, Amen.". Every single Neapolitan household contained a photo of Maradona, with thousands of babies named in his honour (The boys 'Diego', the girls 'Diega'). Today, it is estimated that Naples is home to some 3,000 people bearing his forename. 
This love and adoration only skyrocketed when Napoli's success was furthered. Diego would deliver a Coppa Italia, a Supercoppa Italiana, a UEFA Cup and yet another Scudetto in the seasons that followed, but it was forever that initial league title that Diego remembered most fondly. It was the self-confessed highlight of his career, a success that ranked higher in his mind, than the 1986 World Cup. But perhaps why Napoli held him so dearly, above all else, is because of his imperfect incapacities. On the pitch, he was other-worldly. It was as though he had a divine blessing and abilities sent from alternative universes - but off the pitch, he was a human being, with struggles and strife like the rest of us.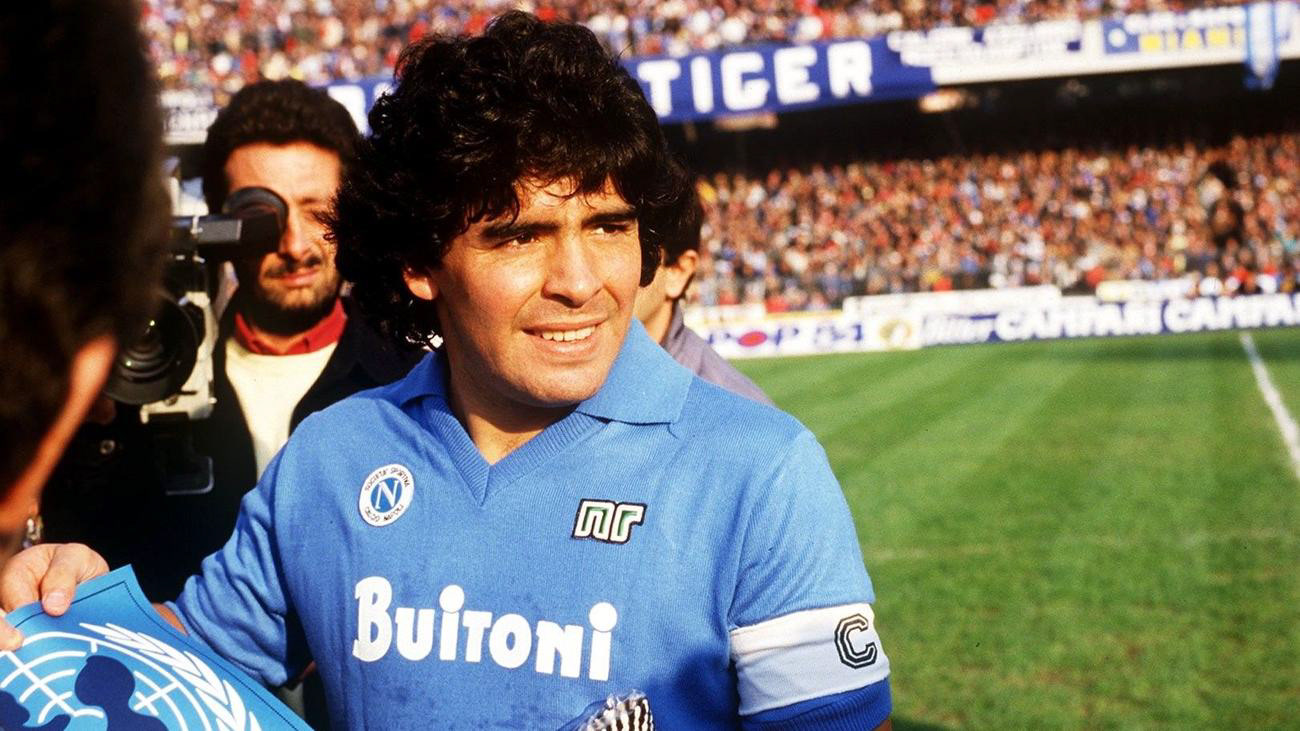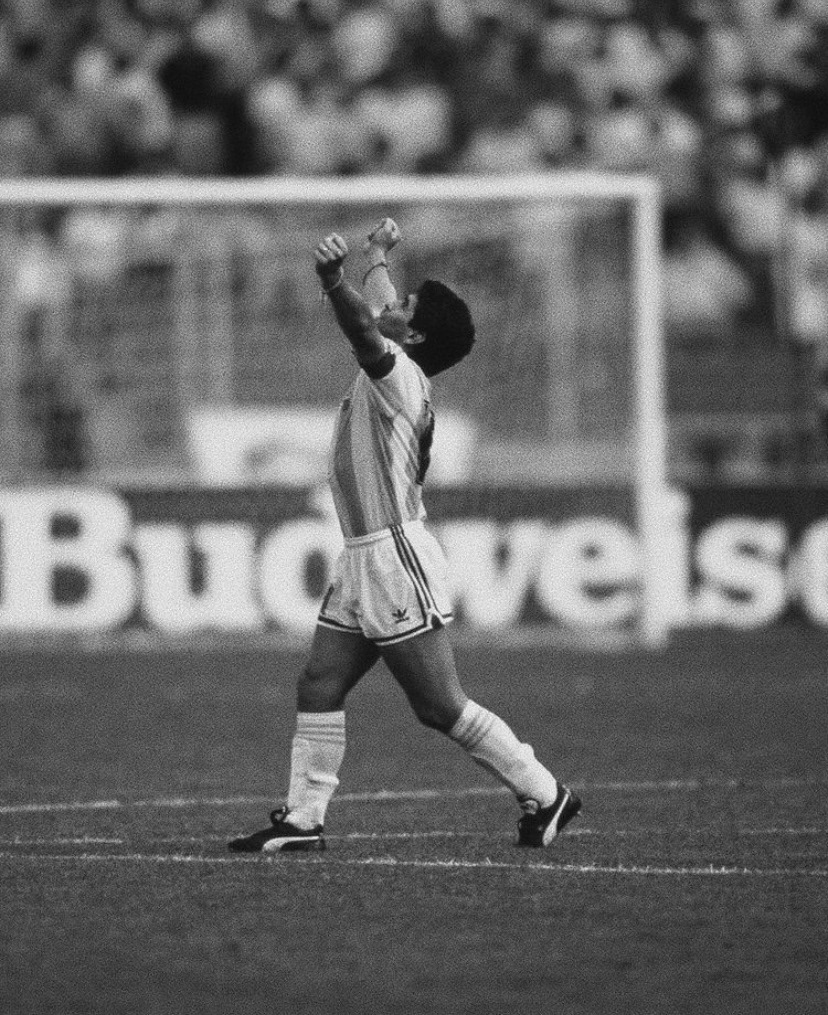 It was those aforementioned struggles and strife that left Maradona with no choice but to leave Napoli in 1991. "When I arrived here, there were almost 85,000 people welcoming me," he once said. "When I left, I was alone". It paints a sad picture, but the constant mobs and paparazzi that traced his every move had taken a detrimental toll. He would see out his professional days playing for Sevilla and Newell's Old Boys, before retiring at the end of a romantic return to Boca Juniors, where he would spend two beautiful years. But in truth, perhaps even by the end of his Napoli days, he wasn't the same player that he was just a matter of years prior. 
It is often said that 'Diego' and 'Maradona' were two different people. Fernando Signorini, his fitness coach, used to say: "I would follow Diego to the end of the earth; I wouldn't follow Maradona to the corner". It is why in this piece, written in his memory, I have only tracked the rise of 'Diego' not the fall of 'Maradona'. 'Diego' is the boy from the barrio. 'Maradona' is the professional product, a wannabe role model, an attempted corporate brand capable of maintaining an impeccable public image and attracting sponsorship.
But Diego wasn't any of those things. He was an artist. A rebel. Everywhere he went, the nullifying hands of the outside world would try to mould his raw, infectious spirit, but he would stick two fingers up at them, dribble round an entire team and dink one over the goalkeeper as he did it. A maverick, a lovable rogue, who captured the hearts and minds of an oppressed population and gave them the ability to dream. 
He changed the sport; he changed the world. Watching him play football is joyful. It is little wonder that the people of Naples flocked in their thousands to pay their respects to the man they consider God, once the tragic news had broken. In Argentina, they anticipated a million people would travel to say their farewells to casket containing their boy wonder. But as is the case with any human being, there is only so many hopes and above all else, livelihoods, that you can bear the responsibility for. It is of no detriment to the young man, who just wanted to live his life care-free, that he struggled under that pressure.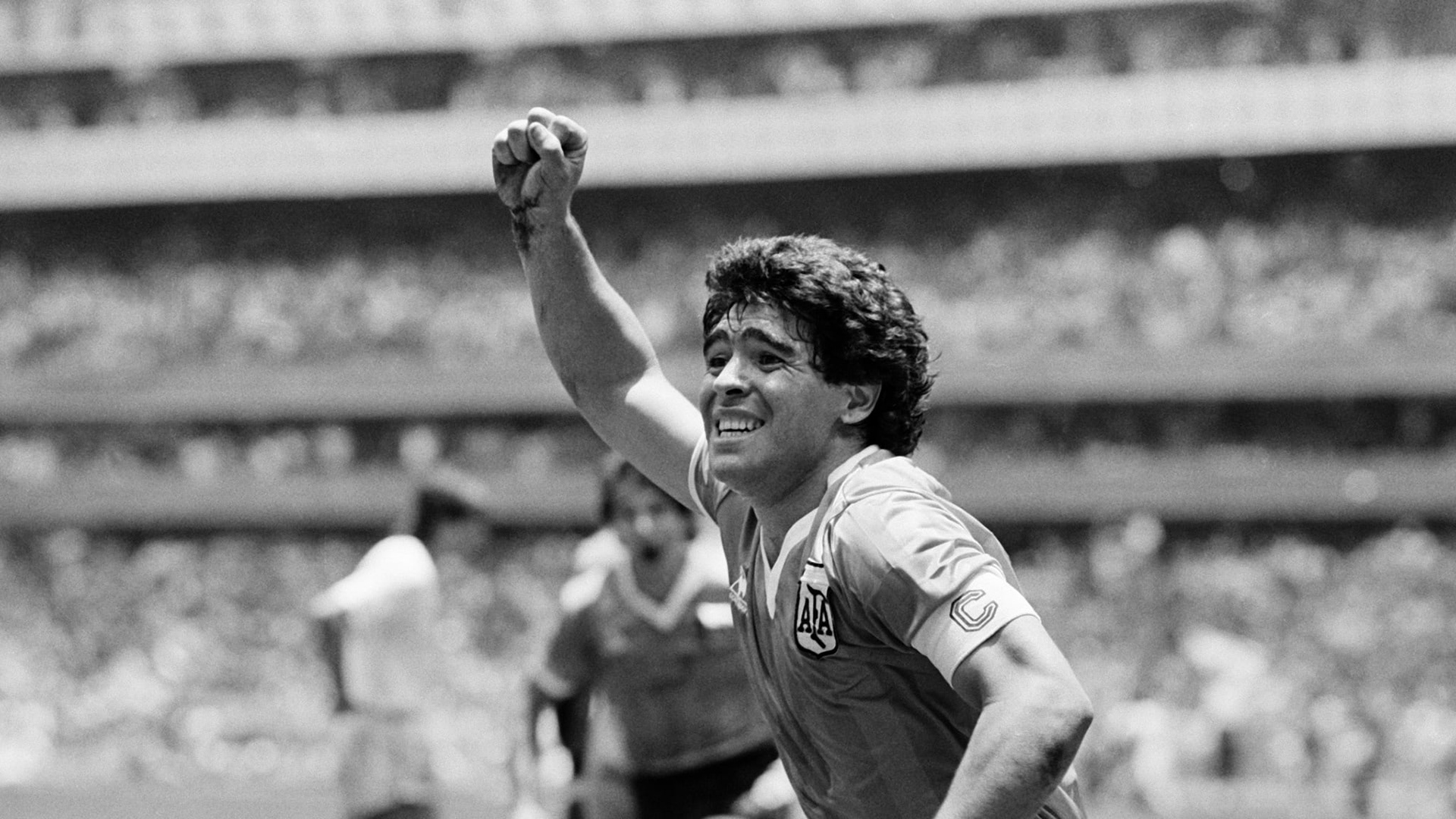 He was perfectly summarised by those ten minutes of second-half football, at the Azteca Stadium, on the 22nd June 1986. The classic devil-and-angel dynamic, the good and the bad - Diego was both. But the shadow that he will forever cast over his football-obsessed homeland, as well as the one that will hang eternally over Naples, will never be illuminated. There will never be another Diego Maradona. You get the feeling when you watch his diminutive, bellied, barrel-chested figure, poised and balanced between sainthood and insanity, drop shoulders that forever bore unfair weights and pressures, to leave an inferior marker gawping at the shirt number that defined a generation, that we will never his kind this again. 
The footballing gods conspired to bless us with Diego in 1960. Those same heavenly creators then blessed us with his spiritual son, Lionel Messi, but even so, he is a completely different entity. Similar? Yes. Comparable? No. 
A twinkling, 15-year-old Maradona once said, after his professional debut, that he'd held "the sky on his hands". But he was never born of the sky. He was born one of us. A working-class hero, a man of the people. A representative of we the public, that will reside amongst the pages of human history. He was a product of poverty, of hope, of individuality, that dribbled, passed and shot his way to the stars. It is from his box up there, where he will stand, chanting and waving - a bottle of ice-cold Quilmés in hand - to cheer on the beautiful game forevermore. 
Rest easy, Diego Armando - you're the most gifted footballer to have ever lived. 
all images belong to the respective photographers. if you have any queries, please contact us first.