Throughout my 21 years, I have had the privilege of watching football develop in Australia, and tonight was a testament to that. Ever since I was young, I have been intrigued by a national lack of desire for football - I live in a country settled by the British and built on the backs of migrant cultures and communities, after all. Logic would tell you that Australia should have been a footballing heavyweight from day one. So how did this self-proclaimed sporting nation come to reject the world game for more than a century?
It is known that football has been played in Australia since the late 1800s. However, it wasn't until some 90 years later that Australia's first premier division, the National Soccer League (NSL), finally came to fruition. The league was largely made up of clubs formed by migrant communities such as l'itialino Marconi and Maccabi Hakoah. With that proud heritage came hostility, bigotry and a smear of racism from the mainstream. This was a game played by 'Sheilas, Wogs and Poofters' writes the late Johnny Warren, an Australian footballing icon who rebuked this perception of the game.
My childhood was spent as an in-betweener. Football still wasn't the norm, but it was no longer looked down on. I didn't have access to support a professional team until I was eight or nine. The old NSL, now the glamourised Hyundai A-League, and a home match for my "local" Sydney FC was just shy of a ninety-minute journey. As I transitioned from childhood to adolescence, the league grew with me and in 2012 a new club was announced. Football, finally, was set for a return to its heartland. 
Sydney's West plays host to a plethora of migrant communities. A Crock-Pot of language, art, religion, food, fashion all slowly coming together over years and years to make one greater landscape. Football has always ran through the blood of Western Sydney. It is apart of the wider culture which makes this vast area so vibrant and eye-catching. The establishment of the Western Sydney Wanderers (WSW) encapsulated the power and beauty of football. A club which has had its fans at the forefront, involved since day one. The terraces chose the colours, name, kits and crest. A football club for all. But this wasn't the truth, not according to the Sydney United Supporters (SUS) anyways.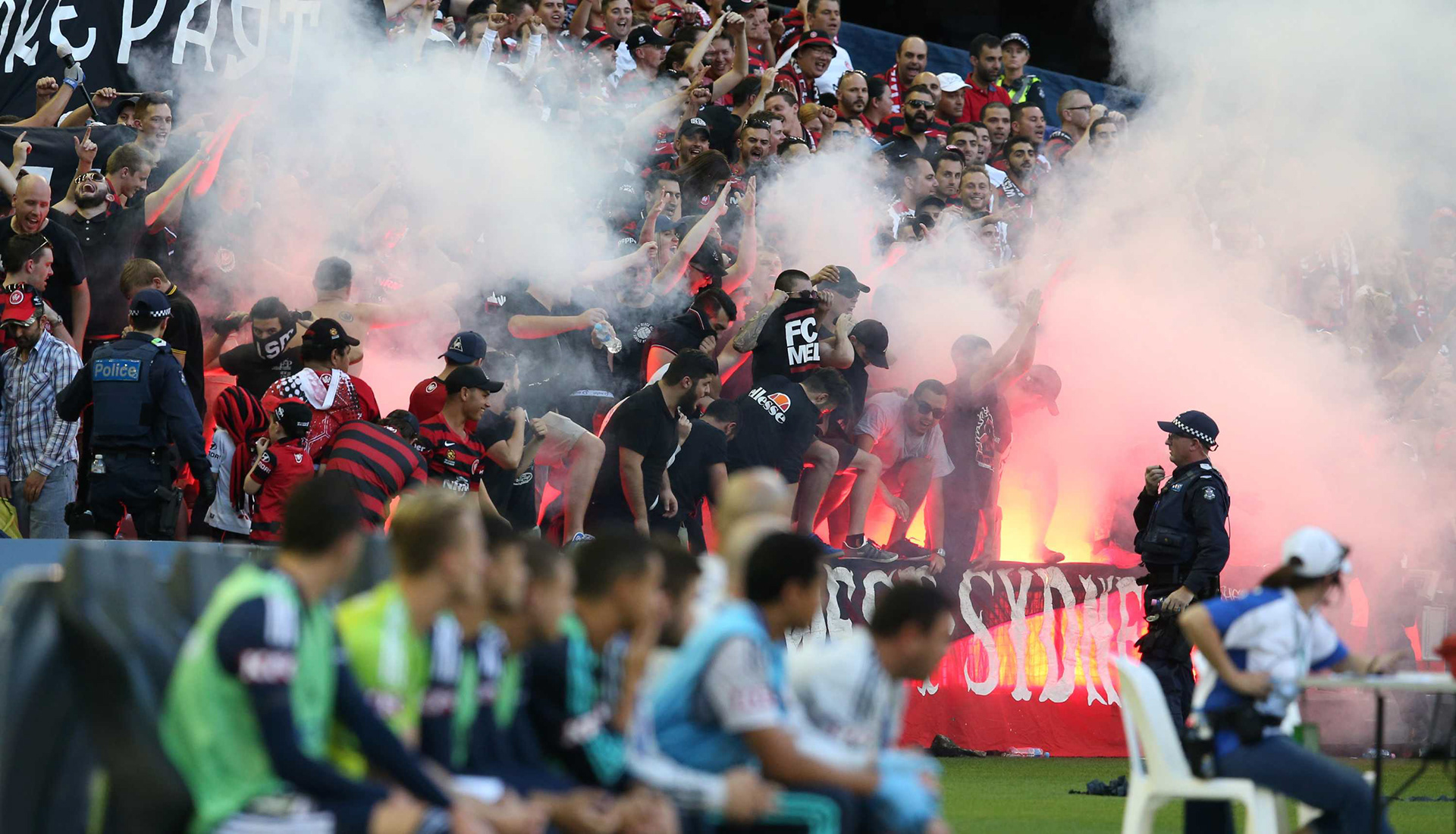 SU58 (SUS) were formed in the 1950's. Donning red and white, they were originally named Sydney Croatia (now known as Sydney United) in respect of their heritage. A heritage which they remain proud of, and that was evident in the lead up to this cup tie as a 'Call to Arms' was sent out across the nation. This was set to be a historical evening for their brothers and sisters. An evening of SUS proclaimed: History vs Money, By the People vs By the Federation, Tradition vs Industry.
Attending an Australian League Cup tie would have been a laughable concept no more than a decade back. As there is no second tier of professional football here, this is the chance for your local part-time players to have a crack at the glitz and glam of the top clubs around the country. You can understand why the conception of the FFA Cup was a welcomed addition. See, a cup competition is a mistress who glamours for the attention of all and will stop at nothing to stir up drama, until just one is left to enjoy all she has to offer. That idea rings out around the stadium as I stand among thousands of supporters who resemble past vs present. Although the full time scoreline between Western Sydney and Sydney United was not as much of a contest, with West Sydney winning 7-1, the battles on the field were - and it felt like a real derby. Fierce challenges flying in, heated conflict, chances upon chances and non-stop energy.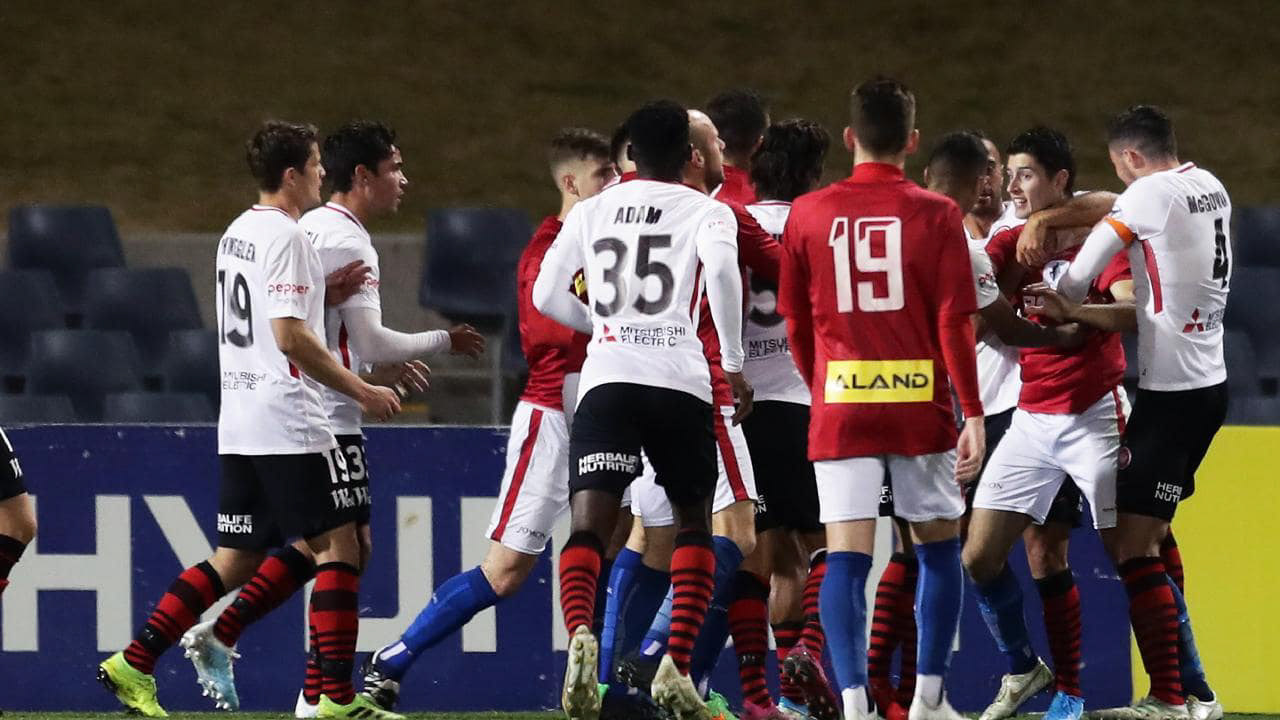 I was more interested in the fans, the cultural viewing on display and the terraces which didn't disappoint. Western Sydney's RBB in full voice. Waving flags, orange clouds of flare smoke, back and forth songs of insult, passion and pride, until well after the final whistle. A collective beating heart, yet on different sides of the fence. This game was deemed as this distortion of ideas and values, but there was always a common link, a common language that everyone knew how to communicate fluently with. Football culture. 

I heard a man laugh next to me as I made my way out of the ground, 'There was a lot of conflicted Croats here tonight!' He wore a Wanderer's shirt and began to sing 'R-B-B! olé, olé, olé!' whilst holding his son on his shoulders. As we walked further toward the exit, he was met with cheerful embrace from who I can only assume was the man's family. They were decked out, head to toe, in SU58 gear. 

I smiled and must have said to myself out loud, 'Football extends well beyond the pitch.'