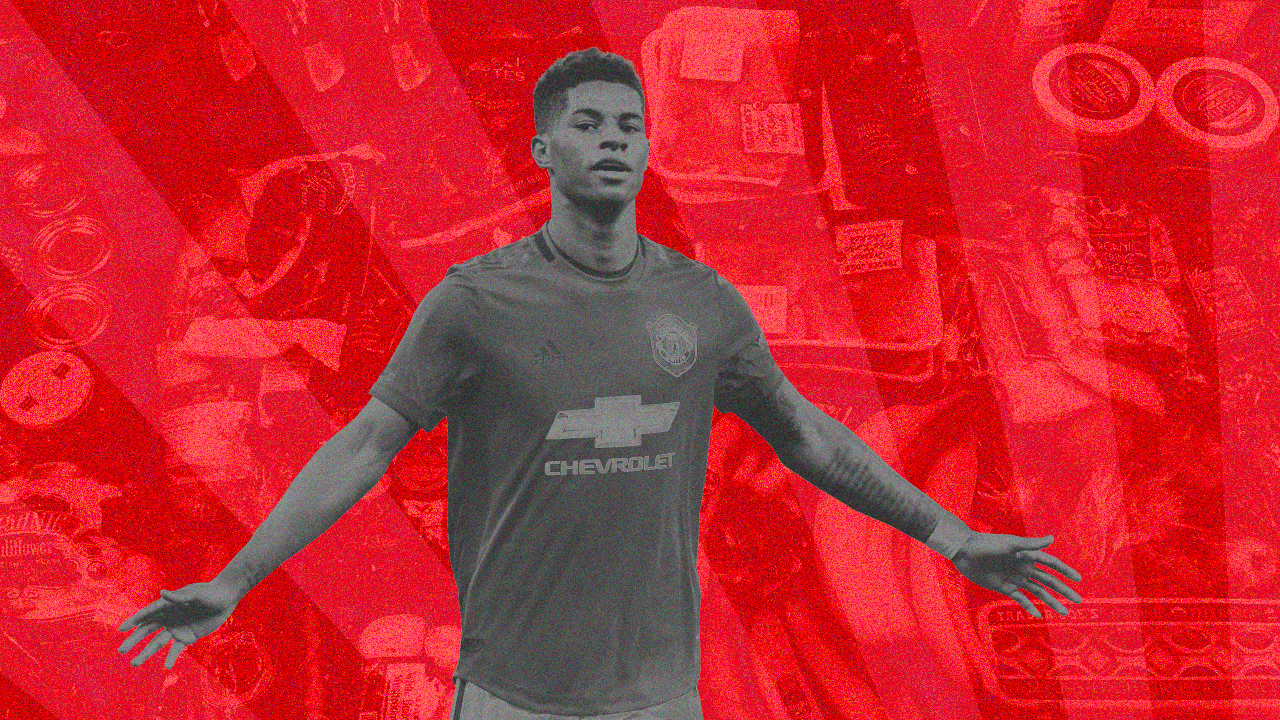 Back in June, when the government performed its party-piece and U-turned on its decision not to extend the free school meal voucher scheme, the powers that be conceded to a new reality of which it should be very wary: the old dismissive maxim 'stick to football' is dead. Footballers can no longer be simply cast aside as unimportant symbols of an over-indulgent sport that doesn't know how good it has it. Most remarkable of all, Marcus Rashford is nowhere near the end. 
Three months later and in the midst of the shortest pre-season in living memory, Marcus has spent his time meeting disadvantaged children and lobbying major supermarkets. For him, the summer-holiday voucher scheme was just a 'sticking plaster.' In writing another eloquent and fierce open letter to MP's, Rashford is at it again. His efforts demonstrate an even more incredible shift though: that a black footballer in a country with a media built on character assassination has the courage to be defined by his character, not his football. 
In an unequal society the lottery of birth tends to determine your proximity to power and influence. So as backgrounds go, Marcus Rashford could not be further from that circle. As a young black male from Wythenshawe - one of the largest public housing estates in Western Europe, and one of five siblings guided by his single mother, the odds have always been stacked against him. But Marcus Rashford is accustomed to breaking the mould. Growing up in the shadow of Manchester - a city beguiled by the beauty and passion of football and made famous by a behemoth football club - Marcus was outside, looking in. His bravery at smashing through the barriers of power is therefore no coincidence: Marcus has been breaking down barriers his entire life.
A powerful element of Rashford's campaigning is the galvanising effect it has had across the cultural, political and sporting landscape. It is also representative of something that has been bubbling under the surface for some time now - that footballers can be vessels of real, actionable change. There is nothing more tangible than putting food on tables for vulnerable children. That is not to belittle efforts that preceded this turning point at all. Countless footballers have risked careers or financial interests in speaking out, even symbolically, about issues ranging from racism to human rights abuses to fan violence. Behind all of this, however, is a trend that has unfortunately curbed the outspokenness of players for a long time - the centralisation of campaigning in football. 
Running alongside the very real sense of local politics that is embedded in those clubs which still hold a sense of community, is a genuine reluctance to engage in political debate in and around football grounds. And let's face it, this is completely understandable. For so many, football offers respite from the news, the complexities of modern life and a chance to revel in pure art and drama. Previously, the extent of the politics that had found its way into football came from its big institutions: wheeling out platitudes via toothless 'awareness' campaigns that either ran out of steam or went no further than making players wear slogan-laden t-shirts in the warm up. For fans watching at home and in the grounds, this is easy to acknowledge, applaud tentatively and ultimately ignore. 
Take the Premier League's Rainbow Laces campaign back in December 2019, an attempt to support the LGBTQ community in the game and reiterate zero-tolerance for abuse in grounds and on pitches up and down the country. How far did the altered logo and pre-game, on-pitch flag waving go to battle homophobic chanting in grounds? How much courage did it instil in active players to come out? Take another example from the same month: Dave Jones being ushered by producers in his ear live on air to distance Sky Sports from remarks made by Gary Neville about the proliferation of racism by the Prime Minister and how it has trickled down to football grounds and onto pitches.  
The packaging of impossibly complex and nuanced issues into viewable, marketable content by broadcasters is not only an inherently cynical attempt to uphold the Premier League's image, but entirely misses the intentions of the well-meaning groups that partner with the Premier League in raising awareness of such issues. It is far too sanitised and comfortable for a viewer to think anything other than that their mere consumption is in some way helping the  nominated cause. Mostly, this is all done without the need for much player involvement at all. Things would have turned out pretty differently if Socrates had entrusted the Brazilian TV networks to campaign for wider voting rights back in the 1980's. 
Meanwhile, grass roots campaigning by fans on the issues of club ownership, the waining power of supporters' groups and fair ticket pricing take place on the periphery, just outside the sphere of influence to be able to generate widespread debate and action. 
This is why Marcus Rashford's achievement has morphed into something of a watershed moment for politics and football alike. A player stepping beyond the carefully crafted image bestowed upon them by their clubs to pinpoint an issue, speak eloquently and passionately about the injustice, write to their local MP, liaise with government representatives and force a genuine change of direction - in the context of modern football - is simply unthinkable. As demonstrated by Socrates, footballers can be powerful and influential vectors for change, a feature that has been emboldened by Rashford to the extent that his peers have begun to follow his footsteps. 
The overwhelming feeling of difference in the Black Lives Matter campaigning that characterised the restart of the Premier League is that it ultimately feels player-lead. Yes, the sloganeering and advertising is there. But Aubameyang's raised fist, Sancho and Thuram's goal celebrations, Alexander-Arnold's boots, Bellerin's podcasting - that is where the soul of this movement lies. Even fighting back against Matt Hancock's infuriatingly pathetic derision of footballers by collectively agreeing a wage reduction to protect wider staff members was a monumental step forwards in recognising the true potential of 'player power.' 
Moments after being crowned as a European Champion just a few weeks ago, David Alaba removed his Bayern shirt to reveal a message. 'Black Lives Still Matter' read his t-shirt. There is a doggedness in this movement, driven by the players, that won't let this fade away. 
We may not fully understand the size of Marcus Rashford's campaigning until fans can return to stadiums and rightfully serenade him with applause, but his courage in taking on the corridors of power will be remembered for starting a ripple effect to be felt in years to come. 
Power to the people, power to the players, and power to Marcus Rashford.