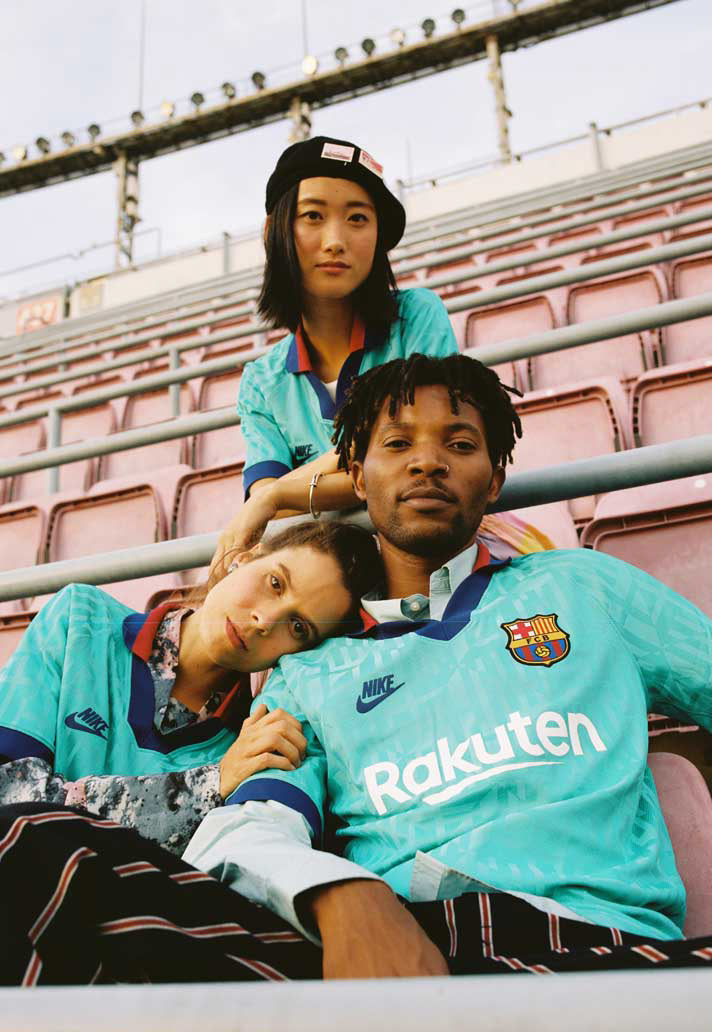 History is a big informer of future decisions and rightly so. It helps us learn and grow, ultimately allowing us to develop as human beings. We can take what we've done in the past and make it better. But taking all the good things from yesterday, before rinsing and repeating isn't the most innovative and inventive way of doing things.
I get it. The 90s is full of nostalgia and I am all for dipping into it and getting on board with *most* of it. And so are many other people, clearly. It's popular culture. The movement in fashion and music is being inspired more and more by the 'good old days' from time gone by but the biggest advocate of remixing past creations is football.
Look, I wasn't even born until '97. I'm young, despite how I feel when I wake up from playing 90 minutes on a Sunday morning. I get it. The '90s had a lot of cool things popping off, not only in the UK but in the US. You had Oasis, Blur, Wu-Tang, Tupac and Dr Dre, you had the increased rise of the internet age, cinema was producing some fantastic films, the hit show F.R.I.E.N.D.S came about, a little dude called Harry Potter found out he was a wizard and the whole thing smelt a bit like Teen Spirit. But in footballing terms? Well, reflecting on the time, it was a fascinating and wonderful time for the game. The birth of the Premier League, Italia '90, France '98, Il Fenomeno, the crazy era of the Serie A, the Manchester United treble and football not quite making it home. Whilst all this was going on, most teams were rocking some pretty incredible kits which are now cemented as icons in the game's history. 
The issue I have with the '90s is that none of us have really let go. For me, the best time for football came between 2002 and 2012, probably because it's what I grew up with and all that I love. My favourite players belong in this era, my favourite manager, my favourite time watching football and I got to see Hatem Ben Arfa wear the shirt of my beloved Newcastle United.  But this is most likely an opinion that isn't held in high regard and most definitely disregarded by many. But avoiding being sidetracked, no-one has come to terms with the fact the '90s are no more and we're now in hitting the 2020s, especially not the people working on the design team for major kit makers such as Nike and Adidas. 
Yes, the whole craze of using inspiration from past years is smart. It's tapping into the emotion of football fans and manipulating that as a chance to sell them products. Make a shirt inspired by a time of glory for a club then 90% of the fans are going to eat it up and swallow it whole because it reminds them of that time they were good. In a broad sense, it's all for the cashola. Making something that's going to sell and oh boy, does nostalgia sell. Recycling past greats is 100% a less risky idea than coming up with brand new, brave and individual ideas. However, when comes the point of stopping this and looking to create our own icons? 
Lately, we've seen some pretty sick releases from Nike. The new third shirt range for their main clubs have been pretty cool and have been received stupendously by fans. Spurs, Barcelona, Chelsea, Atletico Madrid, PSG. Seeing these shirts is good, it's a nice change from the 2018 releases which genuinely hurt my heart at times (not you China away, I'll always love you). The question that arises for me and puts doubts in my mind for the kit industry is how much more can we squeeze out of the '90s? It's like we've took an orange and made some delightful OJ, enjoying ourselves drinking it but then wanting more and more from this orange that's out of juice. We can't take anymore sips. It's time we planted some seeds and grew our own oranges. Write off the '90s. Thanks for coming and for the good times but we, as a culture, are here now to takeover and make our own history, but who is ready to take the leap?