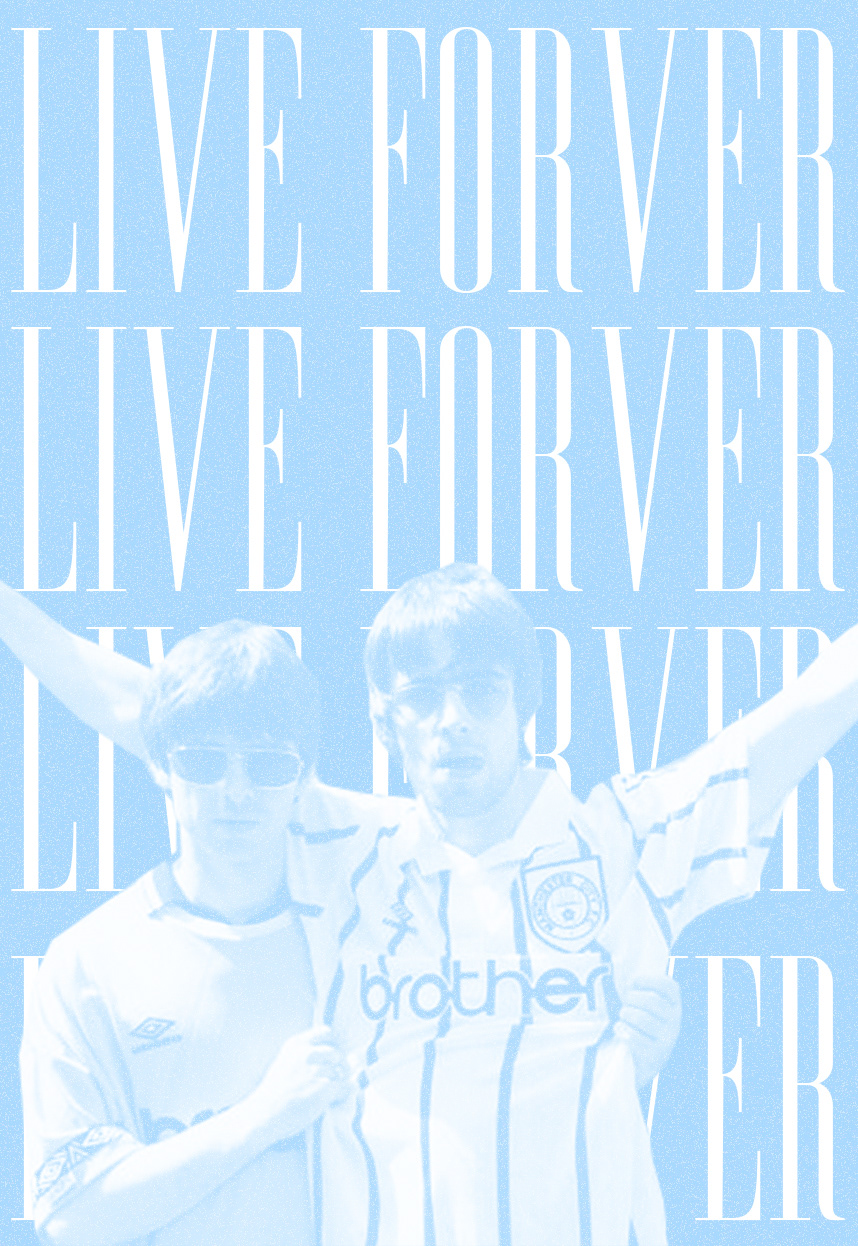 "Yeah. maybe football is part of it. Bands like Oasis openly talked about supporting Manchester City. Look at The Stone Roses, they are huge United supporters. But in the beginning, nobody knew that. It was not important at all."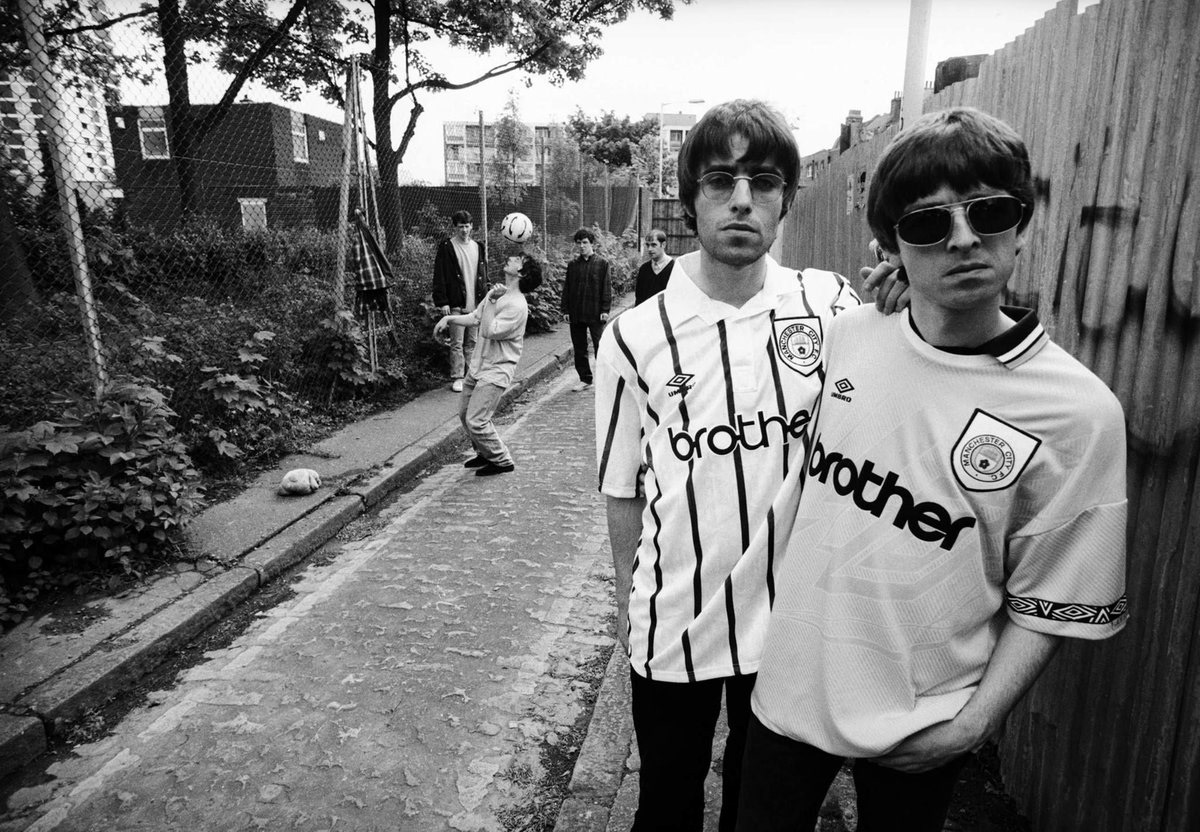 Every person on the planet knows Oasis. These working-class kids from Manchester were the kings of the English hill. Loud and arrogant. "We like annoying people. It's a Manchester thing." It's a trait. They hung out with Kate Moss and got this reputation as being hard-drinking and drug-snorting geezers who could easily fill up a football stadium with one of their gigs. So if you have everything under control, all the money you want, what could be your passion; a non-material thing that makes you happy but unable to control and predict as well? That's football, of course.

Before Alan McGee spotted them at King Tut's Wah Wah Hut club in Glasgow, they shared a bedroom and lived in Burnage, a suburb of Manchester. They used to play football, fight and listen to music, like me or you. Nothing special, a normal childhood… with one exception. Their father – a construction worker and occasional country music DJ. Always at the pub, fighting and beating his wife, beating Noel. As they call him – the cunt. But even he has played an important role in their lives, introducing them to a small club from Maine Road. Well, at least, that's what Noel thinks: "My dad moved from Dublin to Manchester and went to Maine Road. I'm glad he took us to City, though. Living in Burnage, it's like fifteen minute walk." But Liam has a different story, "there was a teacher, Mr Walsh I think, he used to take the kids up to City at Platt Lane. My Dad was a bit of a City fan as well, but he never took us."
In the '70s and '80s, England was beginning to go through a very tough time. Margaret Thatcher was doing her best to make the rich richer and the poor poorer, the miners were on strike and there were battles between the guts on the picket line and the police violence seemed to be part of the day-to-day. A lot of people were just pissed off and unemployed so they did what they had to. This, of course, had an impact on the Gallagher's. At 18, Noel got caught burgling a house and then soon after, he escaped home and become a roadie for the Inspiral Carpets. Liam, at 15, was kicked out of school for a fight and landed a job building fences where he'd make £70-a-week. So, they weren't necessarily the typical 'hooligan' but they were a part of and inspired by a new emerging society and culture in England at the time.  

During this societal shift, football just gave groups of lads a way of identifying with each other. They could take out their frustrations on others. The fashion and music just helped with that, giving a lot of these guys a purpose in life. Like Simon Harsent, my friend said: "I think the hooligans of that time were greatly misunderstood, the papers at the time would have you believe they were a product of their environment. And that's how this new subculture was born. It wasn't just about fighting, it was a very rich culture based around fashion, music, and finding an identity. With Oasis leading them."

In the 90's, everything was changing. Music, culture, football… England in the mid-90s felt like the epicentre of Earth. The Premier League was coming, we were able to see the first generation of supermodels with Naomi Campbell and Kate Moss, McQueen was appointed chief designer at Givenchy, and bands like Oasis were emerging… it was a truly extraordinary phenomenon but as Noel said, it was nothing special for them, besides that they wanted to entertain people: "I know, I know, I get lazy. I'm not John Lennon. I'm not trying to say anything. I'm just trying to entertain people. Sometimes you don't care about trying to make the lyrics make sense. Fuck, it's only lyrics."

Fashion. You have to look smart. Come on, it's obvious. Liam wearing a parka 24/7 set the trend for Stone Island. Of course, he was not the first one, you'd seen it before, but he was like Drake with his SI badge now. And when Saturday comes it is very important to look your best. The music was important as well because it came with fashion. It's not a coincidence that English fans have the best football chants. They listen to a lot of music and go to concerts. In Manchester, the Hacienda was just as important as United. Even City fans were singing Wonderwall after City won the league for the first time, and Noel Gallagher joined the players in the changing rooms when they won it again in 2019. When you look at the artwork for Definitely Maybe, there is a small photograph of Manchester United legend George Best in the window, which was guitarist Bonehead's defiant reminder. But of course, the Gallagher brothers were going to have a bigger picture of a Manchester City legend Rodney Marsh on the cover as well. ​​​​​​​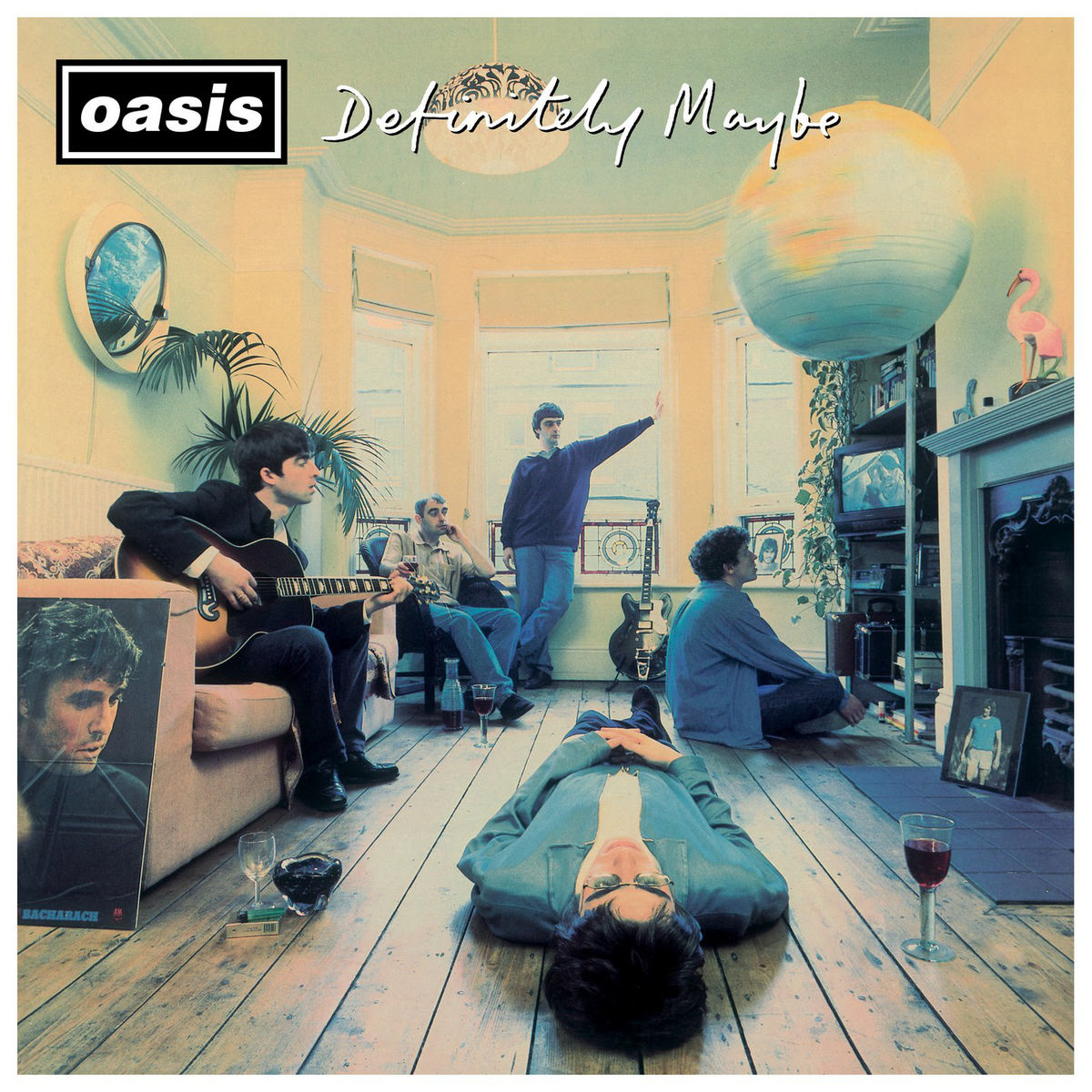 And now, after all this time, Liam and Noel are still incredibly close to football. Especially Noel. He once signed a guitar for Gary Neville with the friendly message: 'Dear Gary, how many caps have you won for England? How many do you think you deserved? I'll tell you: Fuckin' none!' He met new Manchester City manager Pep Guardiola for a historic first interview as well where Noel dived into why one of the greatest managers of all time would come to his team. He was also recently invited by Sky Sports to serve as a pundit for the Manchester United v Manchester City fixture – he did a great job albeit being a massive risk from Sky getting him on for such a game. He's not the most partial when it comes to commenting on the game. Just look at when he verbally attacked Arsene Wenger and Sir Alex Ferguson because of their opposition to the City transfers and money spend: "Fuck morals. Fuck Arsene Wenger and his socialist football nonsense. Fuck all that bollocks about the club losing its identity. What identity? The fact that we've been skint for 30 years?"
It's true, a strong identity is an oxymoron for City fans. But the culture and relation between music and football that Oasis and other bands created, that identity and even more becomes a lot more vivid.