For a generation of football fans who were too young to remember Diego Maradona and Marco van Basten, Ronaldo is probably the first name that comes to mind when recalling truly great players.
He is remembered fondly, as much for what could have been as for what he actually managed to achieve. Statistics don't lie, both Messi and Cristiano outstrip the Brazilian in almost every regard and putting Ronaldo (the original) in the same category as them would be churlish at best. But there is something altogether more ethereal and romantic about him.
We remember him as a raw freak of nature, a man in possession of every conceivable attribute a striker could hope to wish for, as if he had been assembled by a rogue scientist. He was a cut above everyone else during a time when the world class debate wasn't so tedious and the media wasn't so eager to bestow every player with that title.
Ronaldo had a mysterious quality that has seldom been matched; he above all others, was the one who left us wanting more. Ultimately the four years between 1998 and 2002 took their toll on Ronaldo, the mental trauma of the '98 World Cup final and a couple of catastrophic knee injuries meant that he was unable to achieve as much as might.
In Paris, in the summer of 1998, his garish blue, yellow and silver boots were outshone by Zinedine Zidane's gleaming dome as the latter powered two headers past Claudio Tafferel to set France on their way to World Cup glory. While Zidane made a menace of himself in the opposition box Brazil's talisman and Balon d'Or holder was out of sorts at the other end of the pitch.  A seizure before kick-off blunted his threat and he was meek and ineffectual as the hosts put his team to the sword.
There is an iconic image of il Fenomeno, which was taken after the game, in which the striker stands with his boots draped around his neck, a garish emblem of a missed opportunity.  He stares off into the distance, demons dancing in his eyes.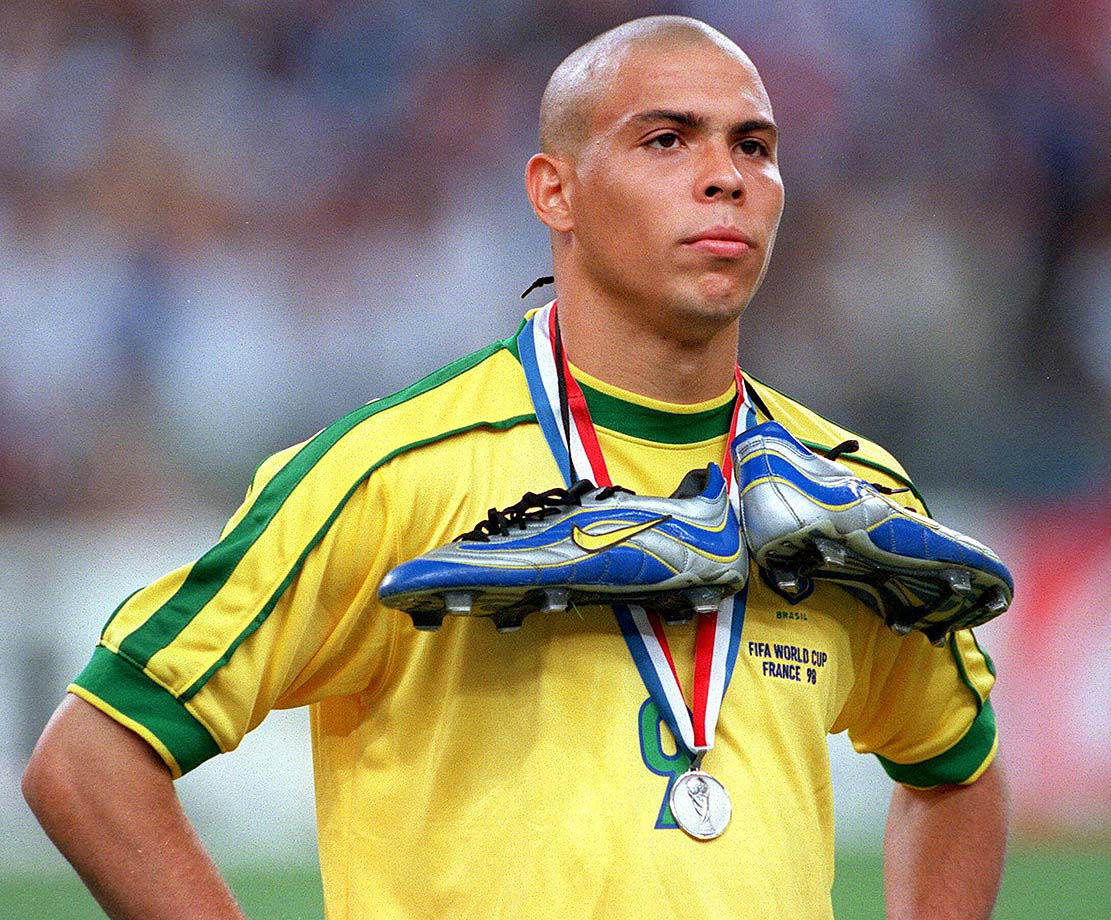 Those boots will forever be remembered for that final.  It was one that Brazil were expected to walk but without a fit and firing Ronaldo they stumbled and got trampled on.  
Less than a year on in a cup match for Inter Milan against Lazio, Ronaldo suffered what his physio Nilton Petrone described as the worst injury he has ever seen. Running at the Lazio defence Ronaldo planted his right foot and his knee-cap exploded.  He was stretchered off, his face contorted in pain. He didn't play again September 2001.
Indeed, between the ill-fated '98 World Cup final and the beginning of the 2002 edition in South Korea and Japan he played only 52 times for Inter and there were times during his 17-month absence when it was feared he would never return.
He watched on as Brazil laboured their way through qualification. Ronaldo was conspicuous in his absence; Brazil struggled and finished 13 points behind Argentina who topped the qualification group.
News of Ronaldo's inclusion in the Brazilian World Cup squad was met with universal joy but many people questioned whether his reconstructed knee would buckle under the expectation of his nation. He hit the ground running with a goal against Turkey in Brazil's opening match and went on to score in their next four games, including a brace against Costa Rica.  He then notched the winner in a 1-0 semi-final win against the Turks to take his tally for the tournament to six.
For the second consecutive tournament Ronaldo had propelled his team to the World Cup final.  In 1998 everybody expected Ronaldo to be the star but in 2002 expectation turned to yearning; everybody outside Germany wanted to see Ronaldo exorcise the demons that had followed him from Paris for the previous four years.
To do so he would have to breach a German defence which hadn't conceded a goal since the 1-1 draw with the Republic of Ireland in their second group match.  The black-booted Germans were resolute and organised, Brazil were free-flowing and destructive, something had to give.
As many had predicted the game boiled down to a duel between Germany's talismanic goalkeeper Oliver Kahn and a rejuvenated Ronaldo.  Whoever could hold their nerve longest would prevail. Those watching the match may have feared that history was repeating itself.  Ronaldo looked out-of-sorts, spooked by the big occasion. Three times he found himself one-on-one with Kahn and three times he failed to find the net.  Was it 1998 all over again?
Germany soaked up the pressure in the first half and early in the second Oliver Neuville smacked the post from almost 40 yards and it looked as if the tide was turning in the Germans' favour.
Then on, 67 minutes, Kahn did the unthinkable: he blinked.
Ronaldo was easily dispossessed on the edge of the box to groans from his adoring public but he bounced back up and out-muscled Dietmar Hamann before passing to Rivaldo.  Ronaldo continued his run and Rivaldo could have passed it, should have passed it.  Instead he unleashed a tame effort which would normally have been bread and butter for Kahn.  But having the eyes of the world scrutinising your every move can do funny things to even the strongest personalities.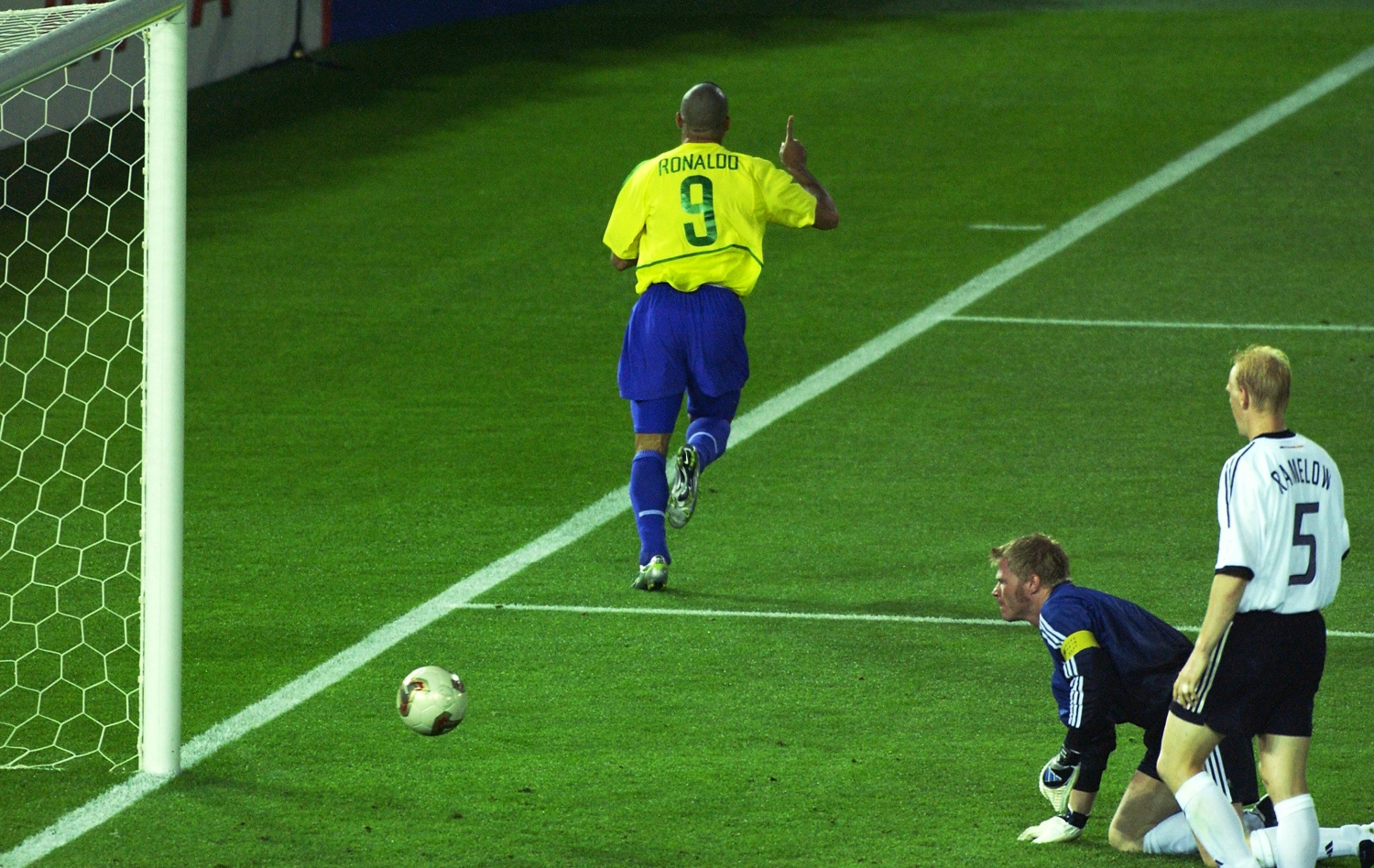 He spilled it and as the ball bounced off his heaving chest into the chasm of space between him and the lurking striker the billion people watching around the world rose as one in anticipation. A rising murmur, then silence as Ronaldo struck the ball and Kahn threw himself in a vain attempt to block it.
When the ball hit the net the demons of the last four years left the striker and found themselves a new home in the head of Germany's iconic goalkeeper.  Living rooms all over the world celebrated Ronaldo's freedom, his spectacular comeback.
The memories of 1998 dissipated into the Yokahama night, no longer a living nightmare, merely a vague recollection of a bad dream.
He scored again after 79 minutes to seal his side's victory, the famous bucktoothed grin had returned after years of immoveable frowns and pained grimaces.