Coca-Cola is to the soft drinks arena, what the World Cup is to football. The pinnacle, the crème de la crème, the pièce de résistance - both are simply a somewhat indescribable, yet definitely undeniable, cut above the competition in their respective fields. Twinned in legacy, iconicity and in fame, the inevitable relationship that the greatest show on Earth has forged with the world's most-renown beverage has seen the two become almost synonymous with each other whenever World Cup season rolls back around.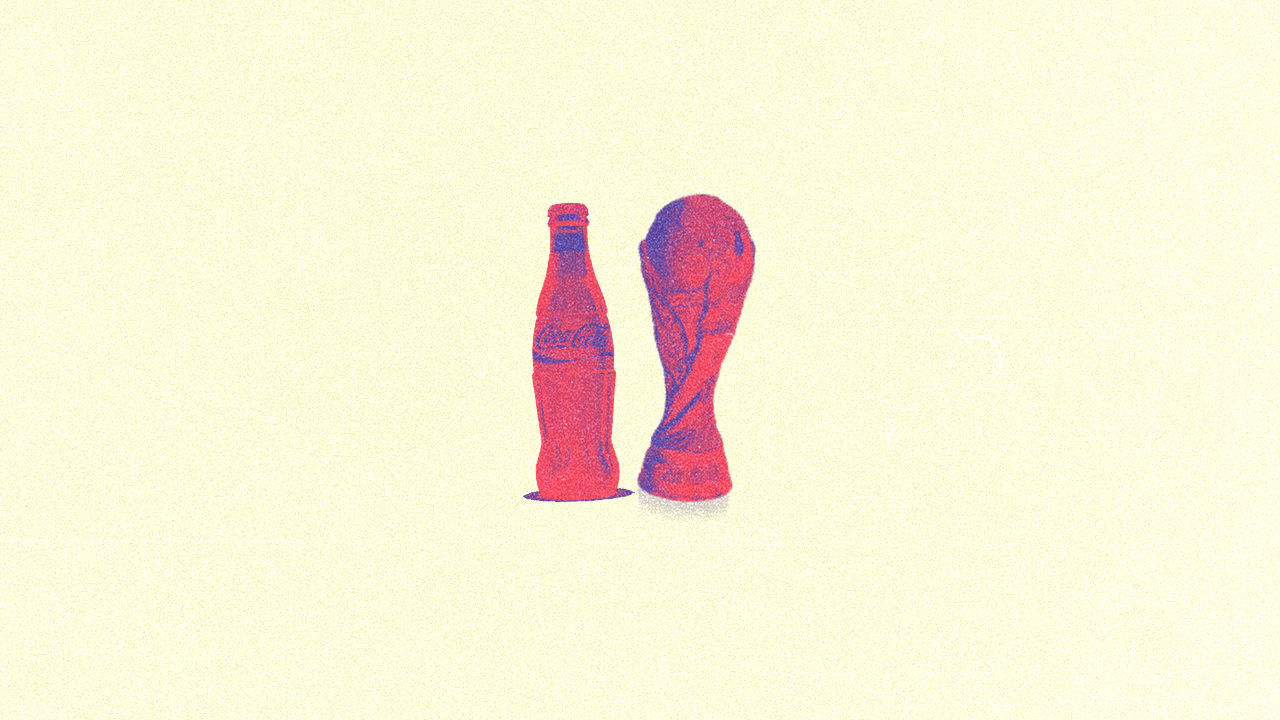 Coca-Cola is one of FIFA's oldest commercial partners, with in-stadium advertising hoardings bearing Coke's famous branding being found at every single tournament since the 1950 instalment in Brazil. However, the company's official association with FIFA didn't begin until 1974, making the 1978 tournament in Argentina the first to list Coca-Cola as a major sponsor. This was the start of Coke's stratospheric involvement with the most-watched sporting event on the planet - and it's been there ever since. 
Nowadays, the brand has a contract that will see it retain such a responsibility all the way through until 2030. It is a deal that will see Coke remain at the forefront of every single FIFA-organised event, from the World Cups themselves (at senior and youth levels from U-17s upwards) to the Beach Soccer equivalents, the Interactive World Cups, as well as all of the Confederations, Club and Futsal World Cups that will all take place in every corner of the globe. It is a marketing ploy, perhaps like no other that ever has been seen, that has given way to truly masterful advertisements, collectables, memorabilia and songs, that has seen Coca-Cola - in some form - somewhere in the background of all of our favourite World Cup moments, from childhood, to the present day. 
But before I get into all of our favourite examples of each of those things - and where you can find and buy the best of 'em - we can't talk about FIFA's ties with Coca-Cola without mentioning the 2014 tournament in Brazil and Coke's 'The World's Cup' campaign. Right from when Brazil was granted the hosting rights in 2007, it looked set to be a tournament for the ages. It was, too. Watching the nation of Brazil - at a time when the country was in economic and social crisis - rally around their team, injecting their trade mark "joga bonito" energy and passion into the entire tournament, made it feel as though every World Cup should be played there. And to give credit to them, Coke saw all of this coming. "The World's Cup", perfectly named and perfectly deployed, was largest marketing programme in the history of the Coca-Cola Company.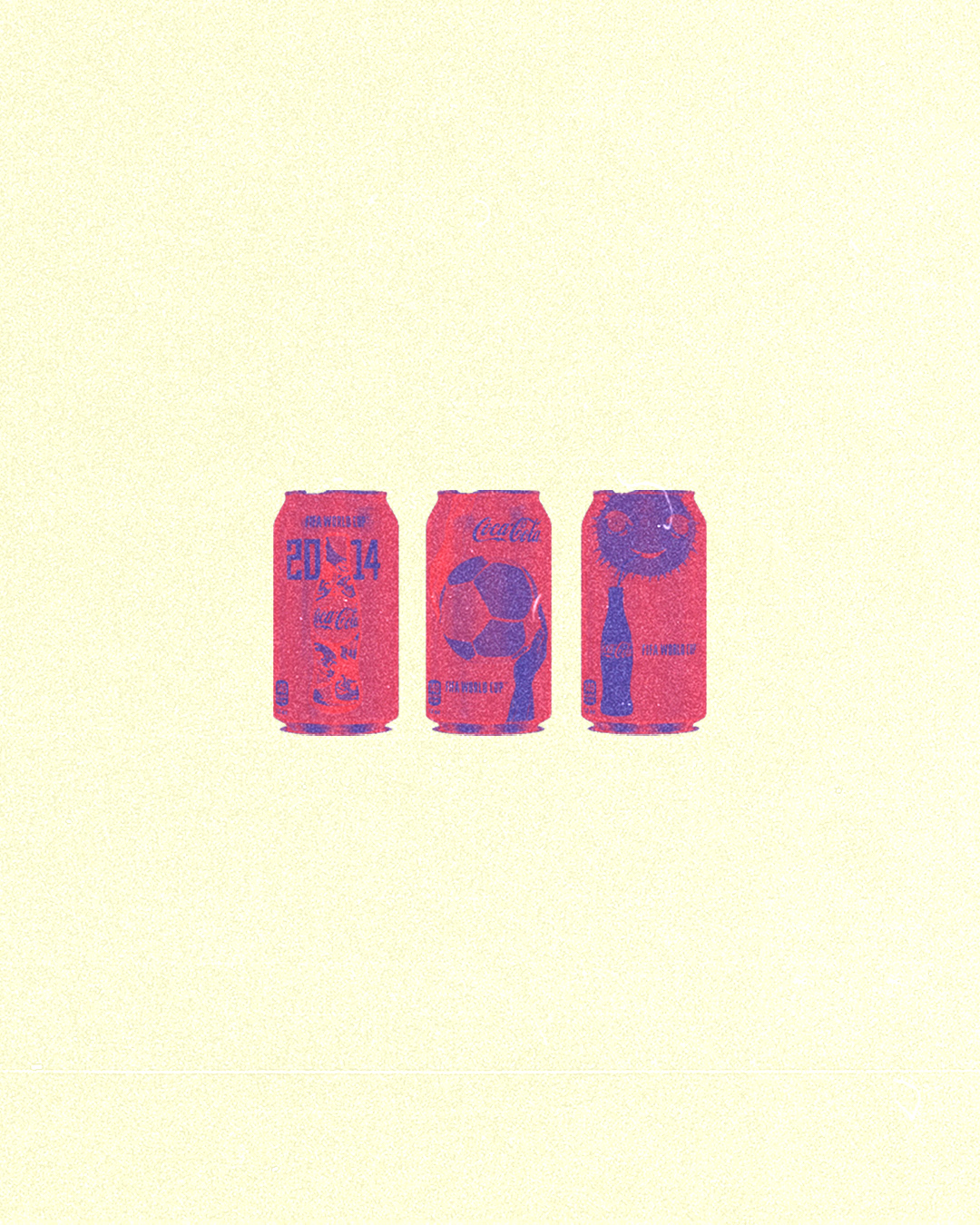 "Just as Brail is everyone's country and Coca-Cola is everyone's drink, the FIFA World Cup is everyone's cup," said Joseph Tripodi, Coke's Chief Marketing and Commercial Officer. This was an ethos that was reflected across all aspects of their multi-dimensional campaign, starting with "The Happiness Flag" - potentially the most inclusive element of all. The largest fan mosaic ever created was a giant, 3,015 metre-squared flag, featuring 3.5 million photos and tweets submitted by fans from 207 different countries, that was displayed across almost the entirety of the pitch ahead of Brazil's opening match against Croatia. 
It was designed by Brazilian street artist Speto, with the help of an Argentinian counterpart named Tec, and it gifted supporters around the globe a genuine chance to be a part of one of the Selecão's most important games in their recent history. Interestingly, it didn't actually feature the Coca-Cola logo, but the signature red colouring that made up the background, told you all that you needed to know about who was responsible for this grand gesture. A nice touch, though. 

But typically, it didn't stop there. Coke also produced their own anthem for the tournament featuring Aloe Blacc and Brazilian artist David Correy, to go alongside the official World Cup song by Pitbull and Jennifer Lopez. They sponsored the official Trophy Tour, which saw the Jules Rimet and the Coca-Cola brand travel 92,000 miles and visit over 90 different nations, reinforcing the idea that this truly was, the world's cup. In partnership with Panini, Coke provided exclusive collectable album stickers as well as an online collector's album. They produced documentaries and short films detailing the most inspiring stories that surrounded the tournament, as well as releasing limited edition mini-bottles - produced exclusively in Brazil - selling about six million units. 
It was, yet again, another masterstroke by Coke. The design, the production and the implementation of 'The World's Cup' was absolutely sublime. So many elements of that 2014 campaign have been added to eclectic collections of Coca-Cola's World Cup-themed merchandise everywhere, none more so than those limited edition mini-bottles, which can still be found (in full sets) on the web.

But if we're gonna be talking all of our favourite Coke x FIFA WC collectables that can be found online, then the soundtrack to our journey into the carbonated and caffeinated depths of Coca-Cola's merch, is obvious. One word. 
K'naan.
'Wavin' Flag' is possibly the greatest example of Coke harnessing the excitement, anticipation and magic that builds globally ahead of a World Cup. By re-recording an already-released song by Somalian artist K'Naan, adding in a few World Cup-themed lyrics and subliminally sneaking in their famous jingle, Coke created a genuine (and possibly the best) World Cup anthem. Instantly, for me at least, hearing that song elicits pure joy and a burning desire to just play football. Perhaps it is because it came out during my pre-teens, so nostalgia is in play here, but the song just seems to perfectly capture the euphoria of a World Cup summer. I'm clearly not the only one, however. The song reached number one in Germany, Switzerland and Austria and managed number two here in the UK and in Italy.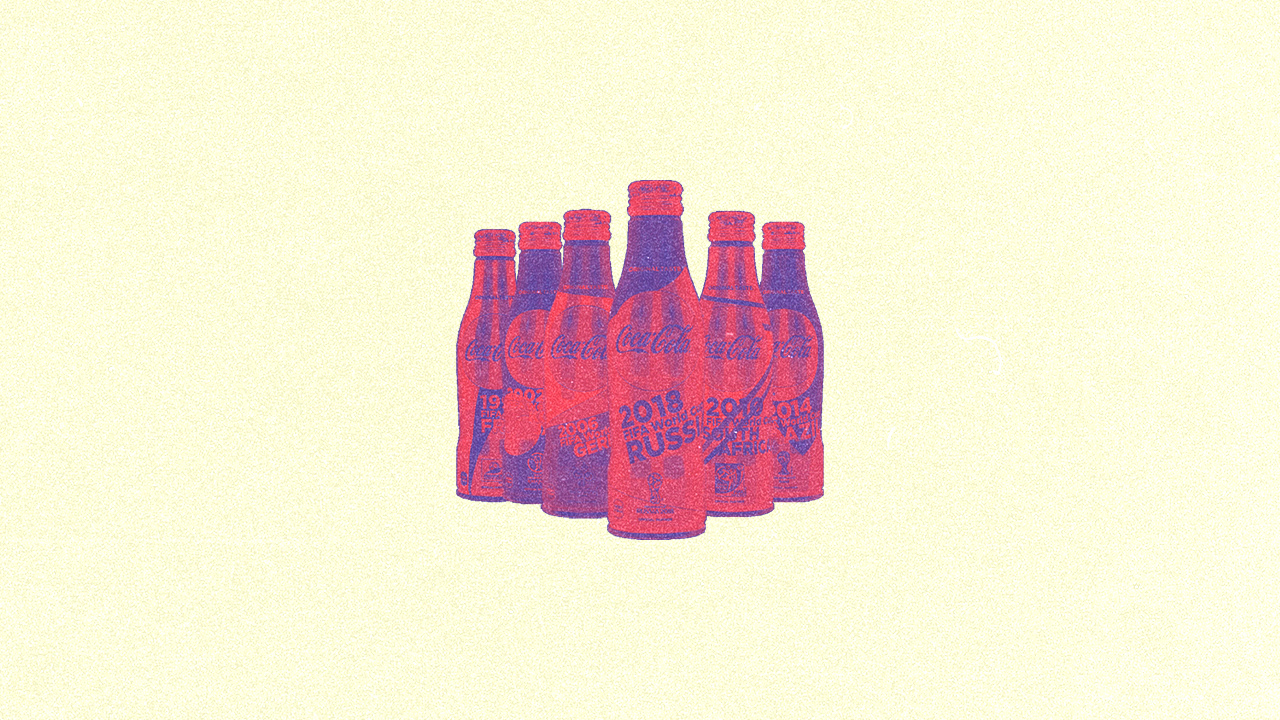 But going back to finding and buying the best of Coca-Cola's World Cup collectables, the best place to look for such memorabilia - as is the case with a lot of football stock - is eBay. From tees to tumblers, balls to bottles, pin badges to Panini stickers, eBay has the best range of Coke goods that can be found all in one place, both first and second hand (for the fussier amongst you). Look hard enough and you can find them at some really great prices, too. We found those signature-style Coke glasses brought back from the '06 World Cup in Germany for £2, pin badges from France '98 for £2.50, 15 packs of Panini stickers from South Africa 2010 for £5, heck, we even found an authentic Coke ashtray from Mexico '86 (featuring an engraving of the mascot, Pique) for just over £30 - which if you ask us, is an absolute steal. We advise getting onto eBay and start buying.