Translation: 'See Naples and Die'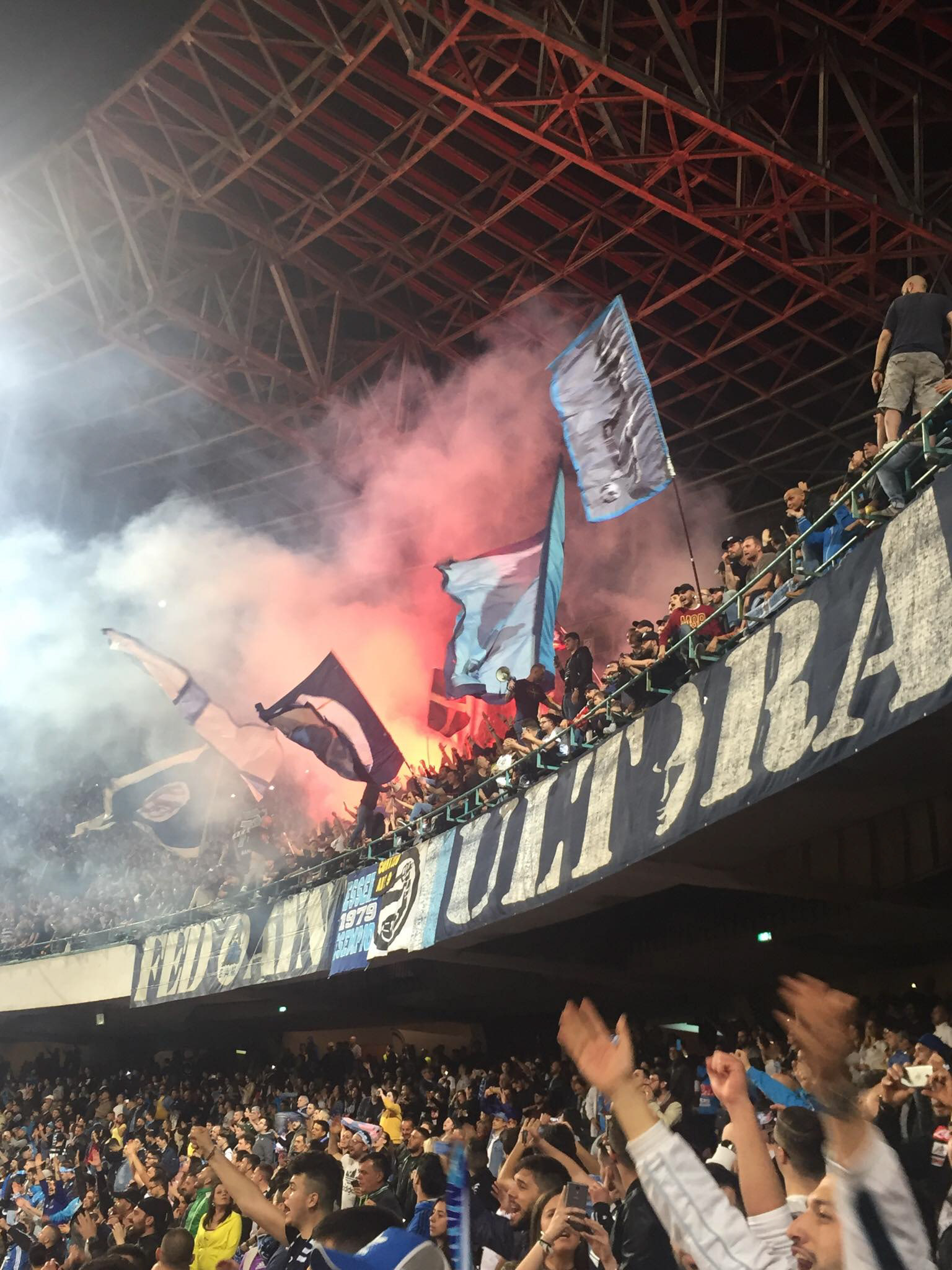 As we emerge from Fuorigrotta station and weave our way through a dense maze of apartment blocks, I get that feeling. That feeling you get when you turn a corner and the stadium unexpectedly looms into view, its floodlights beckoning you over. As we get closer to this cathedral of football, the atmosphere builds, fans in bars, pizzerias and peoples' living rooms spill onto the street, Peroni and Moretti are drunk and pizza and arancini are devoured. As we join thousands of others in queueing up to get through the turnstiles, all around us there's fellas selling everything from scarves to cigarettes, to little bottles of god-knows-what homemade liquor. We wait in line, kick off getting agonisingly closer, when suddenly a voice comes booming over the tannoy.  

"Numero ventiquattro, Lorenzooo… INSIGNE! LORENZO! INSIGNE!" 

The team line-up call and response, typical of European football, drowns everything out and rattles around our eardrums. The sound of 50,000 fans screaming the names of their heroes gives me goosebumps. Eventually, we make it inside, just as the teams emerge from the tunnel. Running along the concourse of the Distinti Inferiore, we find our block and dive in. Immediately, we stop and stare. We forget about trying to find our seats, or buying a drink, or going to the toilet. We're just mesmerised by the scene in front of us: the gigantic bowl of the stadium is submerged in the brilliant shine of the floodlights, as two of the most iconic teams in Italian football line up to do battle. Behind each goal, the curvas are already in fine voice, a sea of flags, banners and typical Italian gesticulations. We're all buzzing. The Stadio San Paolo is shaking. Naples waits with baited breath. Just a normal Saturday night then. 
Me and my mates are in Naples to experience mass at the city's largest place of worship: the Stadio San Paolo on matchday. This is our second visit and we're desperate for another hit of the pyro-fuelled atmosphere that the Napoli tifosi are famous for. When deciding which game to attend, our attitude was 'if it's worth doing then do it properly', so we've come to the big one: Società Sportiva Calcio Napoli vs Juventus Football Club. Does it get any bigger?
The pair share one of the most bitter and hate-fuelled rivalries in Italian football. What started as a regional rivalry between the economic hub of the industrial North (Turin) and the main metropolitan area of the poor, agricultural South (Naples) has only intensified with years of warfare, insults and violence.

For years, Napoli could only dream of matching the success of northern giants, Juventus, Milan and Internazionale, as they yo-yoed between the divisions. But everything changed in the summer of 1984, when a 5ft 5" Argentinian arrived from Barcelona. Diego Armando Maradona made Napoli a competitor, one which twice beat Juventus to the title in 1987 and 1990. His relationship with the club, it's fans and the city is both one of the greatest romances - and tragedies - of football. As his nickname, Dios (God) suggests, Maradona was, and still is, worshipped in Naples. 

But Neapolitan dominance was short lived, and decline soon set in after Maradona's ignominious departure in 199. Cue a period of constant financial turmoil, 2 relegations to Serie B, bankruptcy and reformation as Napoli Soccer in Serie C. The past 10 years have seen Napoli return to prominence, both at home and in Europe, but they have been powerless to prevent Juventus' run of eight consecutive Scudetti. In 2017/18, they came agonisingly close, winning 1-0 at Juventus to put them one point off top spot with four games to go, but in the end, they came up short. This has only increased resentment. With all the history and bad blood put under the microscope of the San Paolo's Saturday night lights, we knew the match would be anything but boring.

It's Sunday, matchday, and we wake up slightly fuzzy-headed thanks to a few too many €1.50 Peronis. Kick-off isn't until 9pm local time, so we've got most of the day to immerse ourselves in Neapolitan culture. Like everywhere else in Italy, food and drink forms an integral part of day to day life in Naples, alongside religion, family and football. Whether it be discussing the weekend's calcio over un caffè at the local bar, visiting the pizzeria on the corner with the family or enjoying a birra or Aperol Spritz at the edge of a piazza, almost everything that Neapolitans do revolves around it.  

In need of a late-morning caffeine-kick, our first port of call is Bar Nilo, home to all manner of SSC Napoli memorabilia and killer espresso. Oh, and a shrine to Diego Maradona. Yep. The bar is a few minutes walk down Via Benedetto Croche from our apartment, slap bang in the middle of Naples' historical centre. The outside of the place is adorned with pictures of the players, stickers and amusingly a mocked-up picture of Gonzalo Higuaín in a toilet. The Argentine's move from Napoli to Juventus in 2016 certainly hasn't done his popularity much good in these parts. 
We go inside and find the shrine, the Altare di Maradona. Inside a glass case is a photo of Diego, and staggeringly, stuck to a poem written in his honour, there is a single strand of hair. The café's owner Bruno says (in an interview with Mundial) that he took the hair from the back of Maradona's seat on a flight home from a loss away at Juventus. Next to it there's a vial of blue liquid: "Napoli's tears". It was added to the Altare when Diego left Napoli in 1991. To some this may seem obsessive, but to me it shows just how much Maradona meant to the people of Naples. He made them proud to be Neapolitan, when little else did.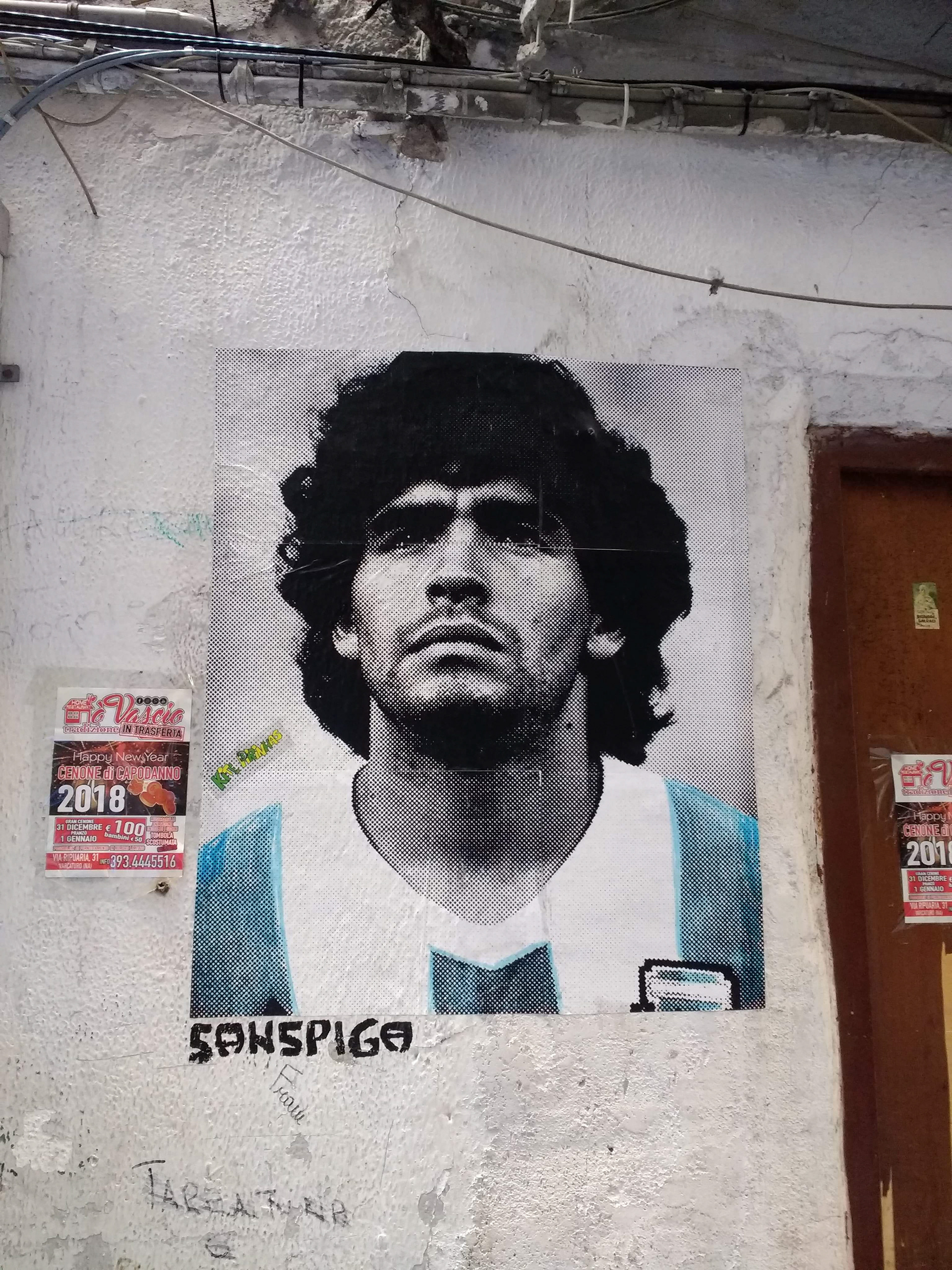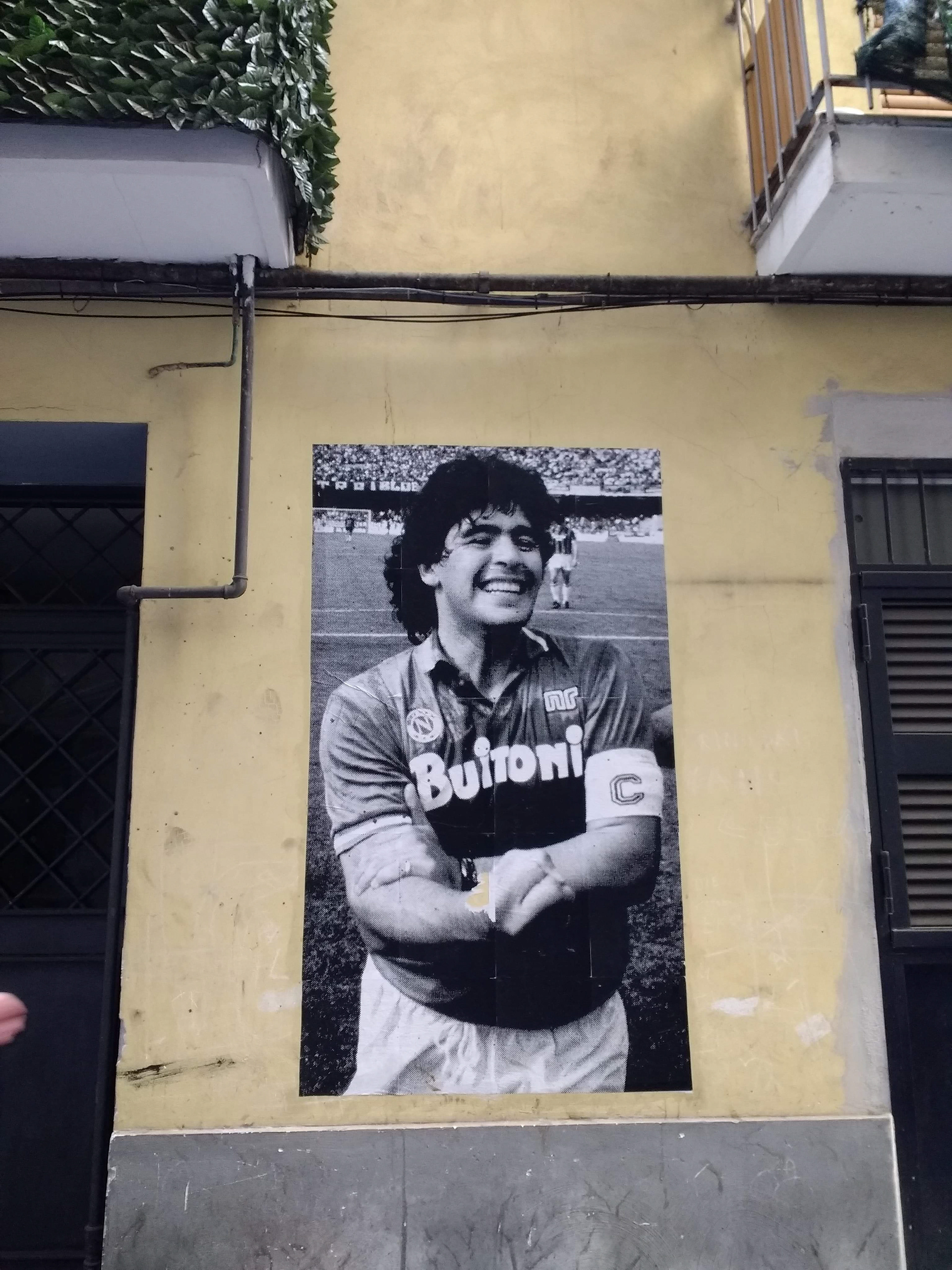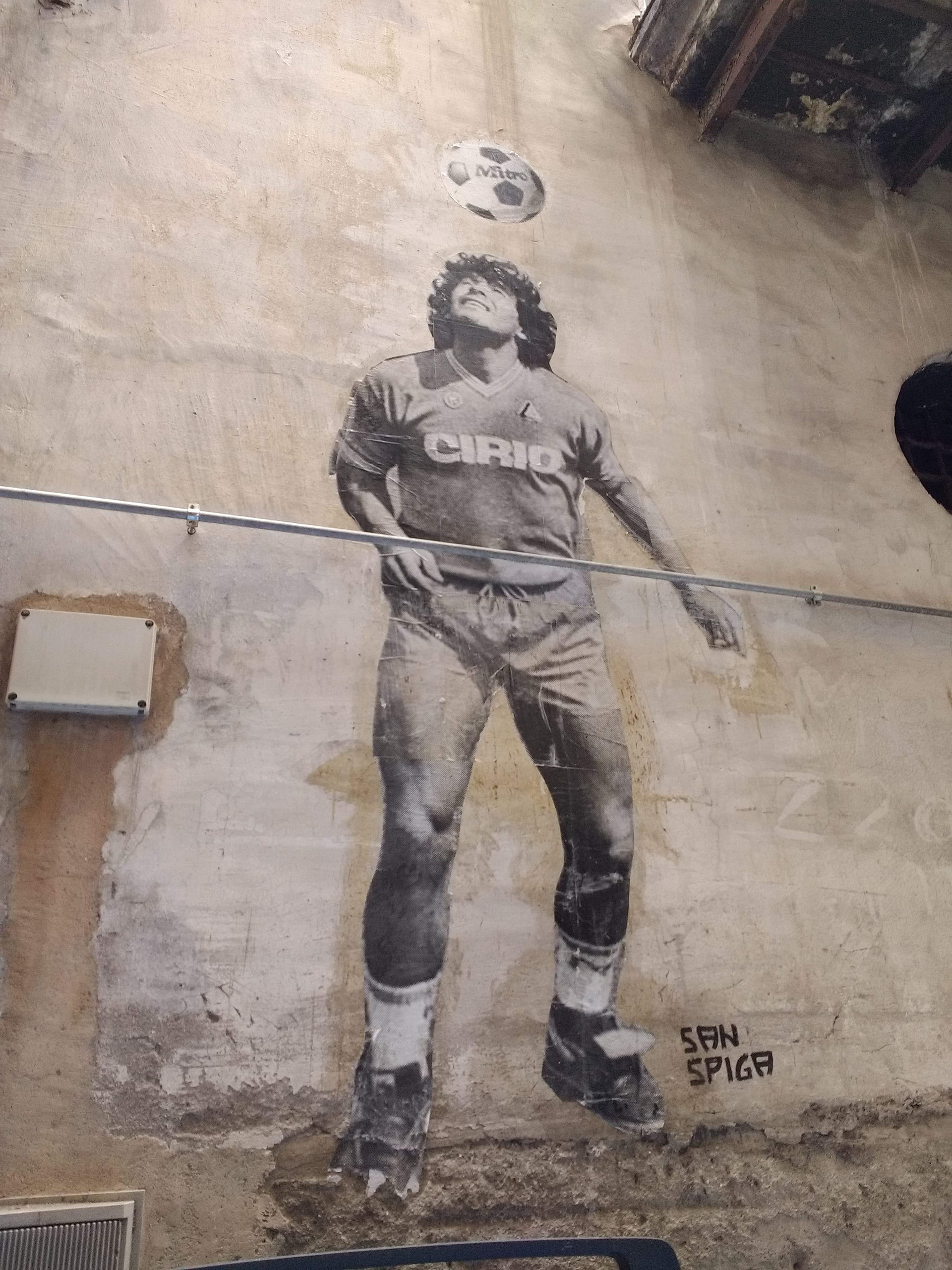 After a quick espresso, we leave the café to explore the beating heart of the city. We wander along narrow, bustling streets lined with stalls selling everything from Maradona figurines to Juventus branded toilet roll. At every turn, there's a neo-classical church or a beautifully carved statue. Even the crumbling apartments, high above the busy streets, are decorated with the most intricate stonework. Take away the cars and motorbikes and the year could be 1819 not 2019, such is the absence of modern developments. 

We continue our exploration in the Quartieri Spagnoli, Naples' Spanish Quarter. It's a gritty residential area offering a glimpse into traditional Neapolitan life, worlds away from the flashy high-street shops of Via Toledo just a few hundred metres away. Any available wall space is adorned by street art much of which is, predictably, of Dios. Who else? We pass not one, not two, but three murals of Diego on the same street, of him juggling a ball, of him posing heroically, of him celebrating the first scudetto. There's just no escaping his influence, it's just constant. 

Here, residents go about their daily business amidst a warren of cobbled streets criss-crossed by washing lines and scooters zipping about. The are may have a dangerous reputation, thanks to heavy Camorra influence, but there's a chaotic, yet safe atmosphere; everyone's front door is open, as old ladies lean out of their windows and smile and families eat in their open-to-the-world dining rooms. We half expect to be invited in for dinner like old family friends. It feels like a community.

With a few hours until kick-off, we grab some beers from an Alimentari (small neighbourhood grocery store) and head up the incredibly steep Via Pasquale Scura to find surely, the best pre-match drinking spot in the world. We arrive at the Belvedere San Martino to find an incredible view. Situated below the Castel Sant'Elmo, the terrace offers sweeping views of the city, the Gulf of Naples and Mount Vesuvius in the distance. The area is full of teenagers and couples all chatting and enjoying drinks. The twilight casts a soft pink glow on everything, and as dusk falls, we sit and watch the sun plummet into the fiery orange horizon. It beats the local boozer, hands down. ​​​​​​​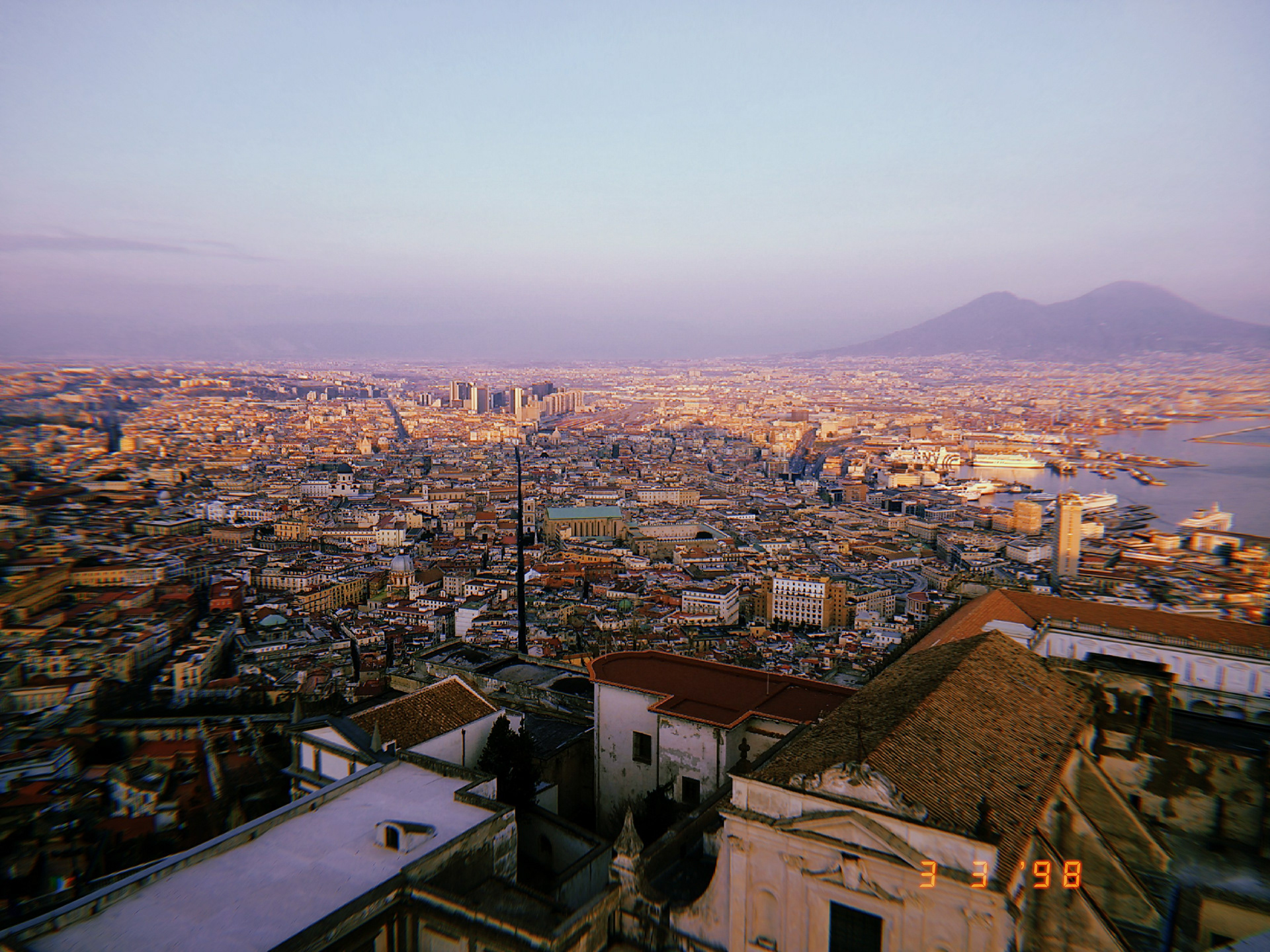 The game turns out to be a complete emotional rollercoaster, the likes of which I've not experienced before. From the off both curvas are in fine voice, engulfed in a sea of flags, red pyro smoke and typically Italian gestures. The sense of occasion is palpable as 50,000 people are sucked into a whirlpool of adrenaline, all excited by the spectacle before them yet also apprehensive. So much is at stake. The action on the pitch does little to calm things down. Juventus run out 2-1 winners, with the help of a Ronaldo dive, and early red card and a missed Lorenzo Insigne penalty. Juventus are now 16 points clear at the top of Serie A and the title race is all but over. You could forgive the Napoli fans for being dispirited, even angry with their team, as they could've very easily won this game. But they're not. That's not the Napoli way. As the final whistle sounds, small pockets of fans break into song, more joining in until the whole stadium is singing in unison. The anthem is Sarò con te, translating as "I'll be with you". 
"Sarò con te, tu non devi mollare, abbiamo un sogno nel cuore, Napoli torna campione!" (I will be with you, you must not give up, we have a dream in our hearts, Naples returns to the champion!)
It's a defiant display of unity and epitomises the deep-rooted bond between the team, the fans and their city. It visibly plucks at the heart strings of all involved. SSC Napoli represents its community like nowhere else. The relationship will be fundamental in a bid to win a long overdue third Scudetto. ​​​​​​​