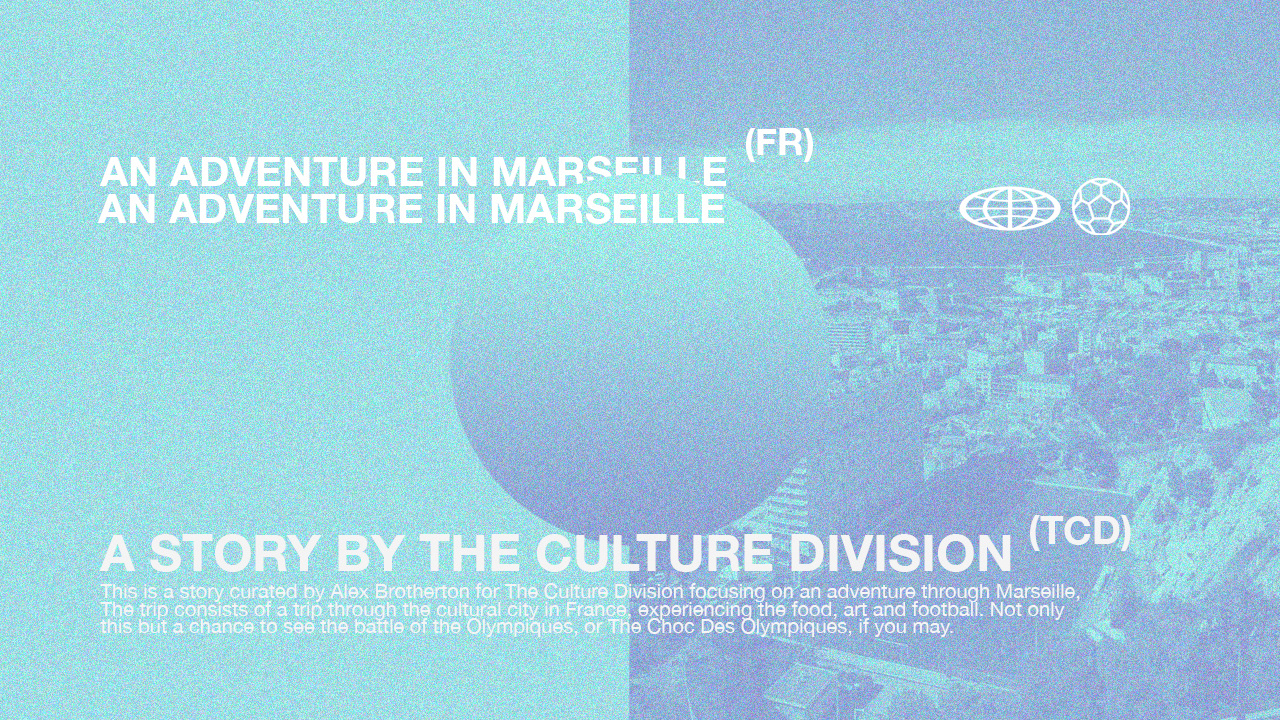 It's about 7:30pm local time as we climb the steps out of the metro stop. It's a good 90 minutes until kick-off, yet a few hundred metres down the street, all hell is breaking loose. From afar, it looks and sounds like a warzone, and as we hesitantly approach the steps leading up to the turnstiles, hundreds of people emerge from a cloud of thick smoke. It's a party. Illuminated by the red glow of flares with the UFO-like curves of the Vélodrome looming over them, men, women and children manically jump up and down and sing to the rhythm of explosions. Like waves hitting the Mediterranean coastline, each chant is followed by another, belted out in unison by a congregation of different faiths, ethnicities and ages. The excitement, adrenaline and nerves all mix into a lethal cocktail that washes over everyone; it's a ridiculously intoxicating atmosphere. There are few romances between a city and its football club than Marseille and OM.
Me and my mate Luke are in Marseille to see one of the biggest games in French football: The Choc des Olympiques (the Clash of the Olympics). Olympique de Marseille (OM) and Olympique Lyonnais (OL) are behemoths of European football. Hailing from France's second and third largest cities, both have the weight of history and fanatical support behind them.
OM is one of French football's most successful clubs. 'Les Phocéens' have nine Ligue 1 titles to their name, and the 1993 European Cup triumph remains the only time a French side has won Europe's premier club competition. The list of legends that have donned the famous white jersey, including Chris Waddle, Jean-Pierre Papin, Eric Cantona and Didier Drogba, is endless. But if the 90s was Marseille's golden age, then the 2000s belonged to Lyon. Les Gones dominated the 2000s, as new owner Jean-Michel Aulas turned the club into a powerhouse that romped to seven straight League titles between 2002 and 2008, while producing talents like Karim Benzema, Alexandre Lacazette and Hatem Ben Arfa. 
There hasn't always been a huge rivalry between OM and OL – in fact, for years the biggest fixture in France has been Marseille vs Paris Saint-Germain, known as 'Le Classique'. A narrative of bourgeois, image-conscious Parisians vs poor, working class southerners, as well as a myriad of socio-economic factors, underly that derby, but the developing rivalry between OM and OL seems to be based largely on sporting grounds. Both clubs regularly fight head-to-head for Champions League qualification, meaning that every meeting has that little bit more riding on it. A few cases of players moving between the two, scuffles between ultra groups and a continuous war of words between the club presidents, has only added fuel to the fire. Journalist Mohammed Ali tells me it all kicked off big time in 2015. 
"Both sides were gunning for the Champions League. A fiery 0-0 draw at the Velodrome should've ended in victory for OM, as Lucas Ocampos' strike crossed the line. It wasn't given. It proved fatal as come the end of the season, OM missed out by a point. There's been suspicion about favouritism towards Lyon since."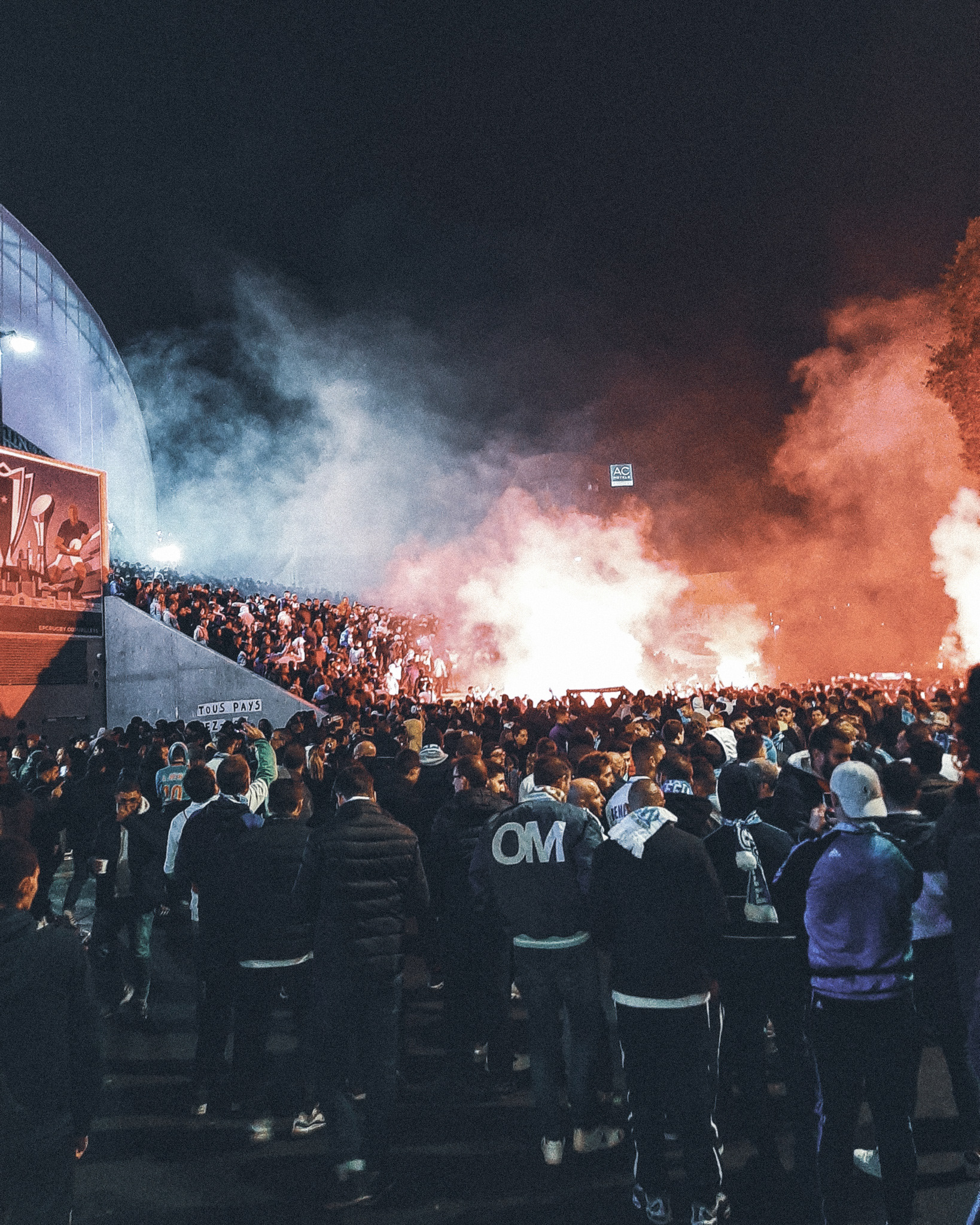 Later that year, when former Marseille hero Mathieu Valbuena returned to the Stade Velodrome with his Lyon side, tensions went off the scale. "It was a heated clash, a full-blown arena of war, as the OM players whipped themselves into a frenzy with some crunch tackles on their former teammate. Even effigies of Valbuena were hung in the stands. Subsequently the match was halted for over 40 minutes, with Lyon president Aulas calling for his team to be awarded victory and for Marseille to be penalised."
Each time the pair meet, it seems like there's a little bit more at stake than the previous time. Which brings us to the present day - it's OM's 120th birthday. We've heard rumours that the fans are going to unveil a pretty special choreography before kick-off, so the atmosphere promises to be electric. But there's a very real chance that Lyon could spoil the party; OM hasn't beaten Lyon in the league for over five years, and have lost the last four meetings. With the game falling on such a monumental day in the club's history, Lyon struggling for form, OM looking to capitalise on other results to move into second place AND a sold-out partisan crowd behind them (the French Ministry of the Interior has banned away fans from entering the city for fear of violence) the stakes couldn't get much higher. 
It's well documented that Marseille has its fair share of problems. The gap here between wealthy and poor is extreme for a major European city, the high rates of inner-city poverty juxtaposed by the shimmering yachts in the Port Vieux harbour. The crime-ridden northern districts are a hive of gang activity, and have long given the city a no-go tag. Looked upon with scorn by French nationalists who see the city's large immigrant population at fault for the levels of deprivation, citizens here have long felt like outsiders, unappreciated and unwanted in their own country. As many of them will tell you, they are Marseillais first, French second.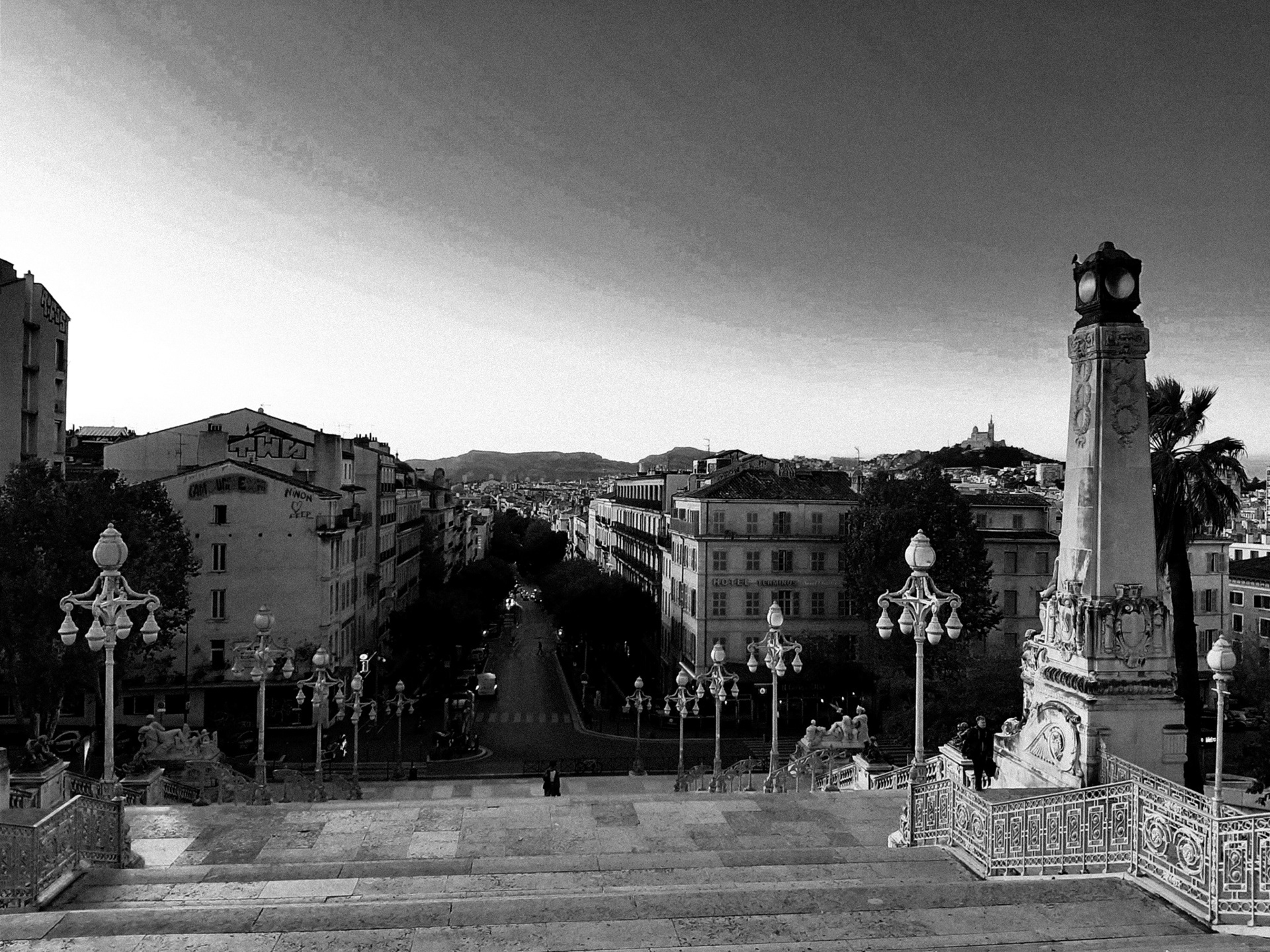 But, upon walking around the city, it becomes clear that Marseille is about so much more than crime and poverty. Owing to its location on the Mediterranean coast, the city has for centuries been a hotspot for immigrants, traders and travellers. French, Italians, Algerians, Tunisians, Moroccans - you name it, everyone lives here. What has resulted is an eclectic mix of cultures, cuisines, lifestyles, art and languages. Where else in France can you grab a croissant for breakfast, mint tea and oriental pastries in the afternoon and aromatic Tunisian couscous for dinner? There are contrasts right across the city - the grandeur of the Cathédrale La Major, the brutalism of the MUCEM museum, the hustle and bustle of the North African markets in the Noailles neighbourhood and the serenity of the harbouring boats in Vieux Port. But it just works. Dancing to a different beat than the rest of the country, Marseille has a swagger and attitude that is hard to resist. 
One common issue facing sprawling, multicultural and multi-ethnic cities is how to unite people, to limit divisions and ease tensions. This, it appears, is where OM comes into it. OM is everywhere. We walk through Le Panier, a centuries-old hillside neighbourhood filled with winding cobbled streets, ridiculously Instagramable buildings and bakeries aplenty. In any other city this neighbourhood would be squeaky clean, dressed up for busloads of tourists and devoid of any signs of real life. But this is real; graffiti covering everything from OM to left-wing politics adorns walls, old blokes sit around shooting the shit and teenagers on mopeds zip by. Turning a corner, we stumble across Franck Conte's incredible murals of club captain and goalkeeper Steve Mandanda and former midfielder Luis Gustavo. Both painted on the sides of cafes, the former is portrayed as a cross-legged panther, while the latter is looking pensive in a brown three-piece suit. Très cool.
Admittedly a bit lost at this point, we discover a footy cage hidden in the middle of an intimidating 70s apartment complex. Two young lads in OM trackies are playing longies and the court, with its graffiti, red and white striped goalposts and huge wire fence, looks like it's straight out of FIFA Street. The scene encapsulates inner-city football culture; the youth element, the graffitied apartments and the sense of toughness that concrete pitches exude. We snap a few photos and leave, before the lads can destroy us with their tricks and flicks.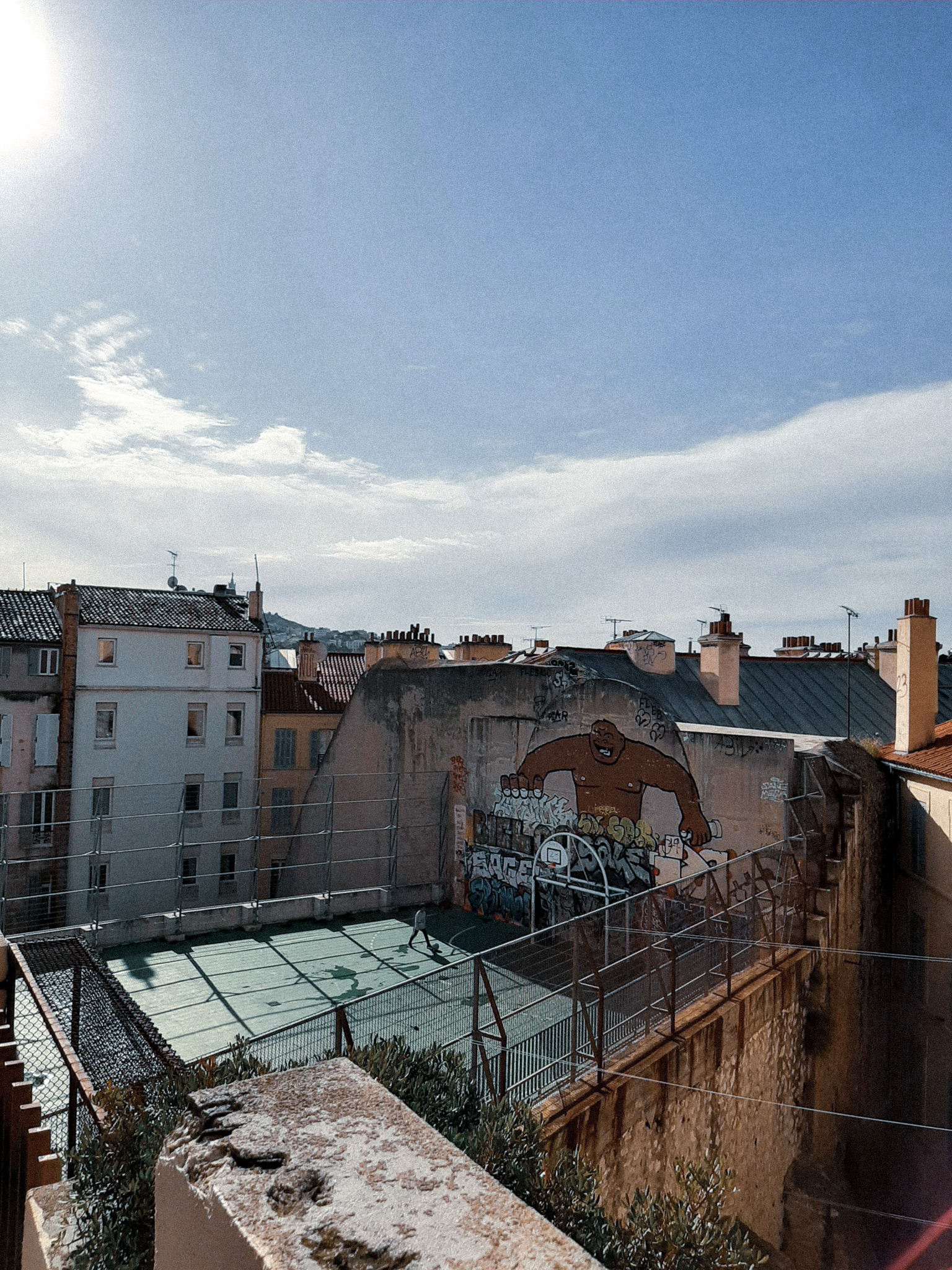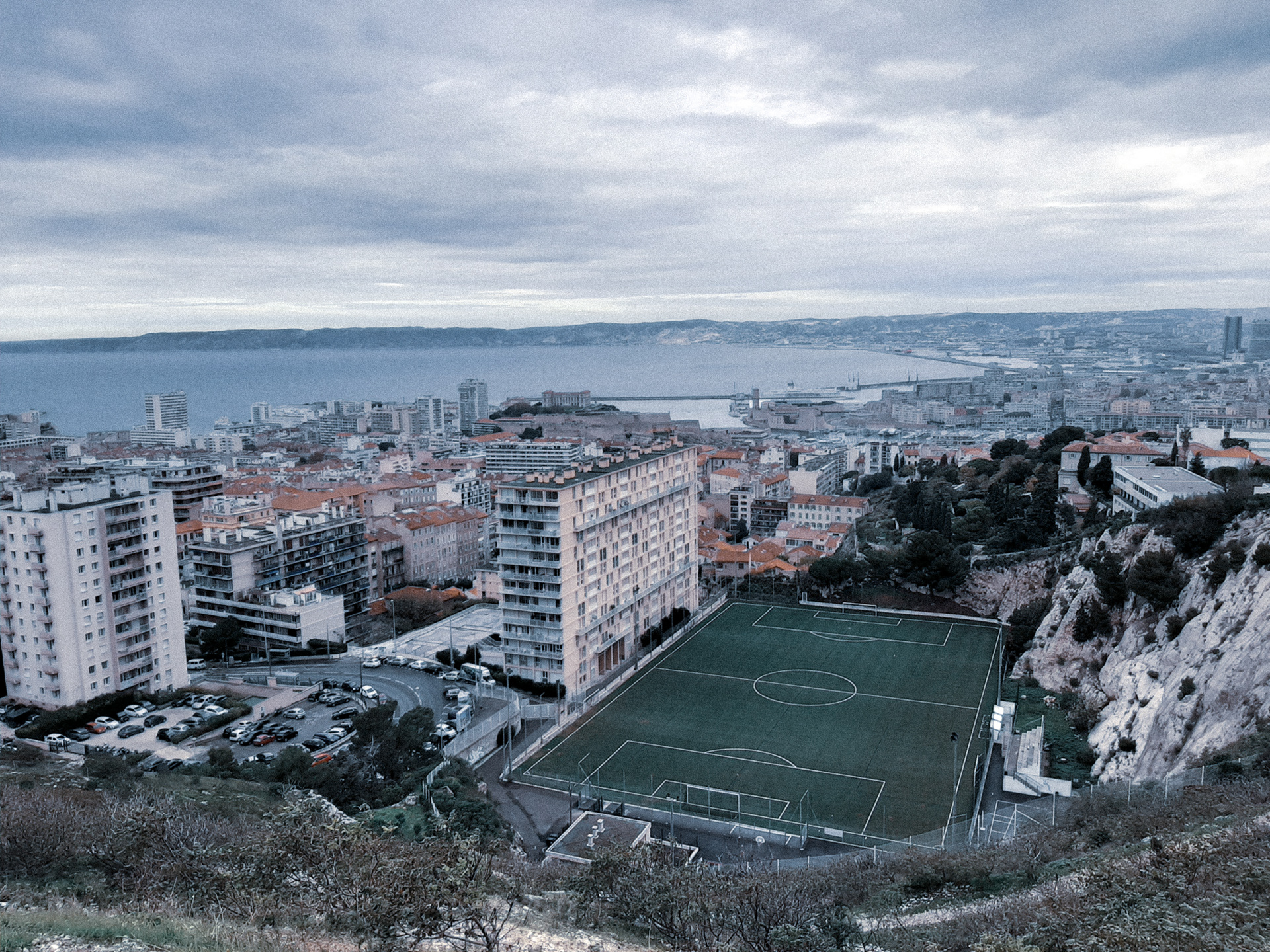 After strolling around the glamorous 19th century Palais Longchamp, we unexpectedly find our next hit of L'OM. Having finished our café au laits outside an unassuming café, we nip indoors and find that the walls are completely covered with all things L'OM. Shirts, scarves, pennants, newspaper clippings, photographs of Waddle, Cantona, the lot. Now we're really, really excited for the game. 
For pre-match grub in Marseille, there's only really one option. We head to one of Marseille's hundreds of Tunisian restaurants to have couscous, and oh my god I didn't realise that couscous could taste so good. In Restaurant Le Palmier we stuff ourselves with lamb tagine, bowls of couscous topped with sausage and all sorts of Mediterranean veg, before finishing off with mint tea and baklava. Thoroughly satisfied with our alternative to soggy hotdogs and warm pints, we head for the ground.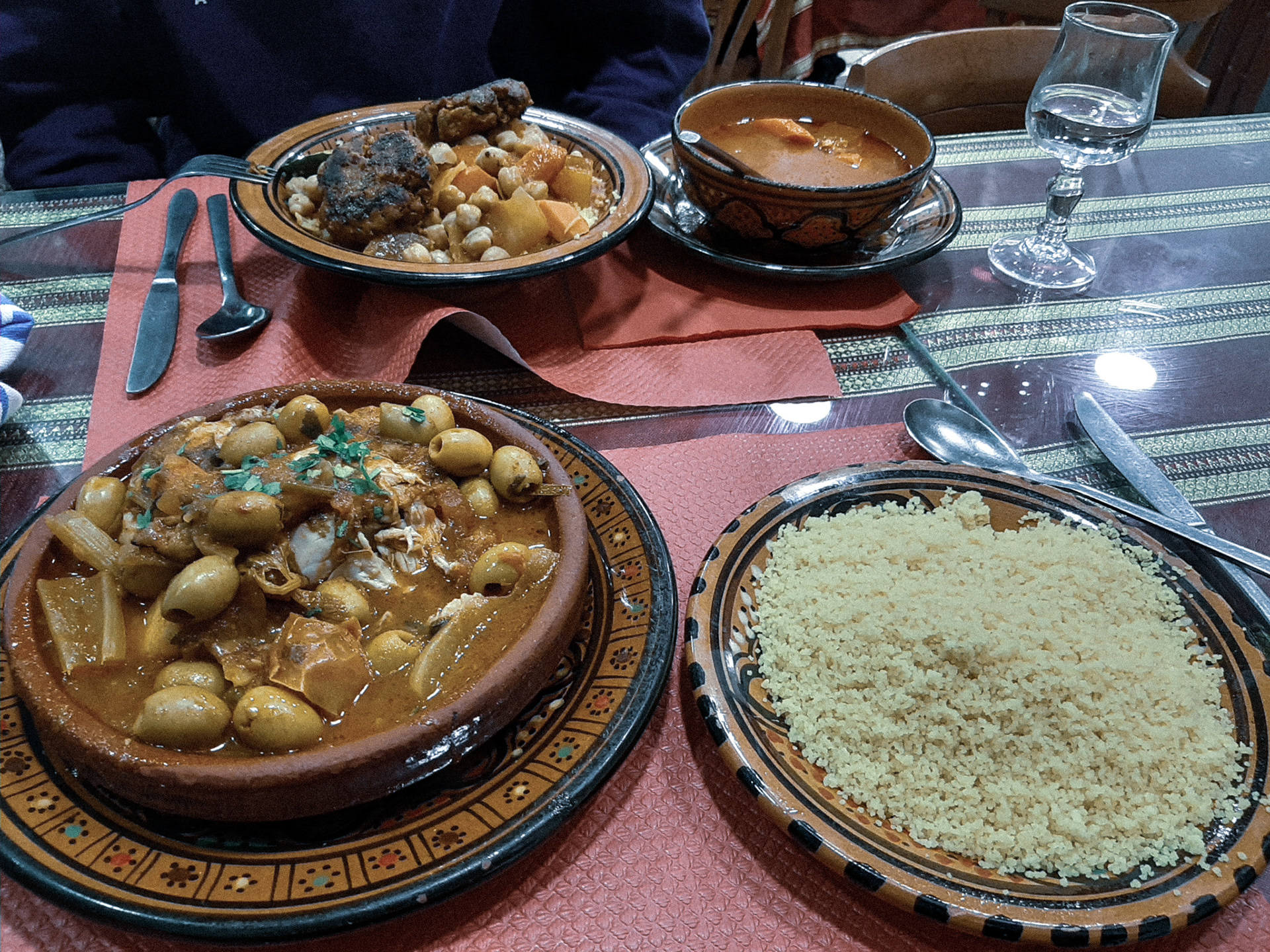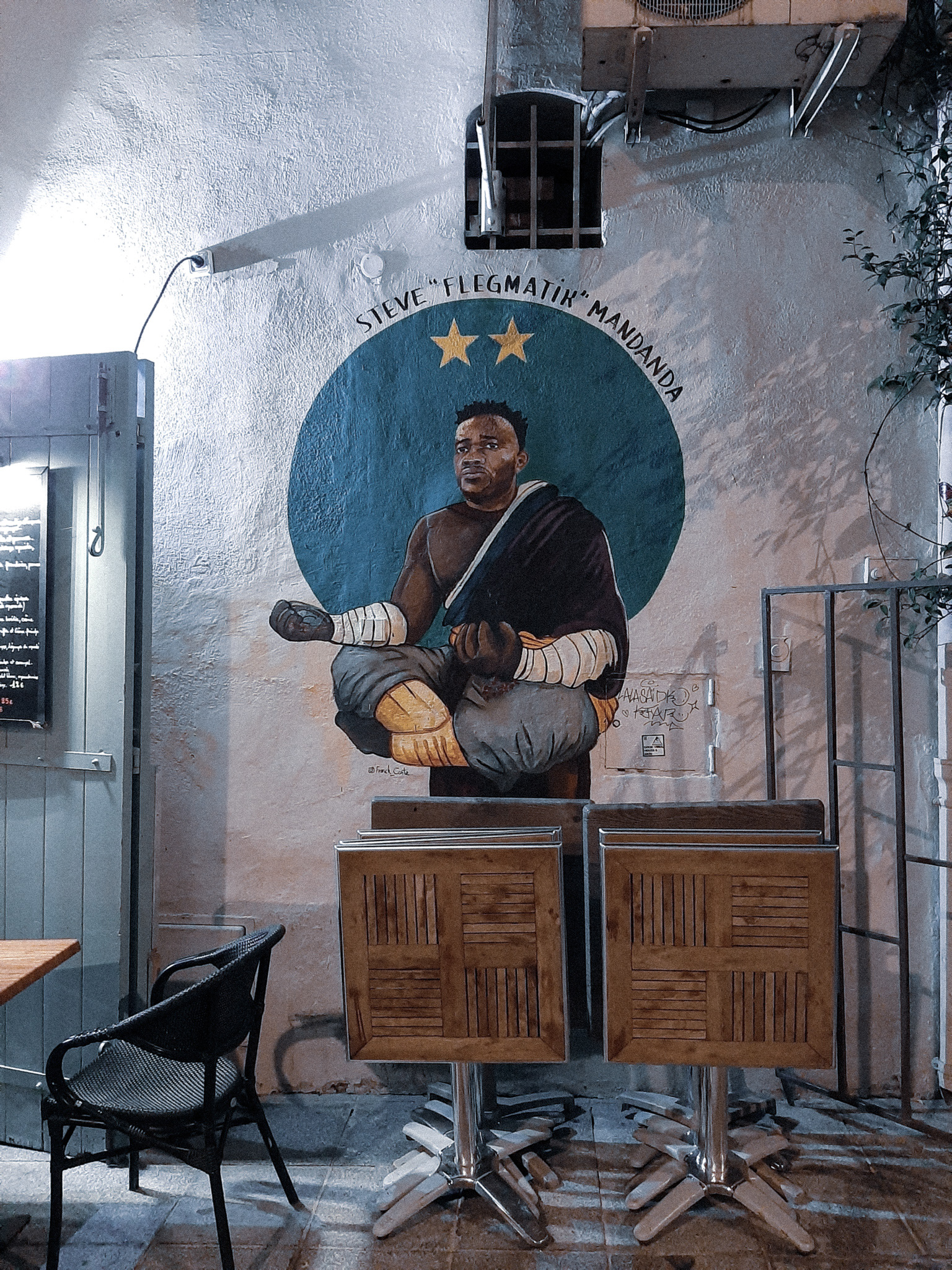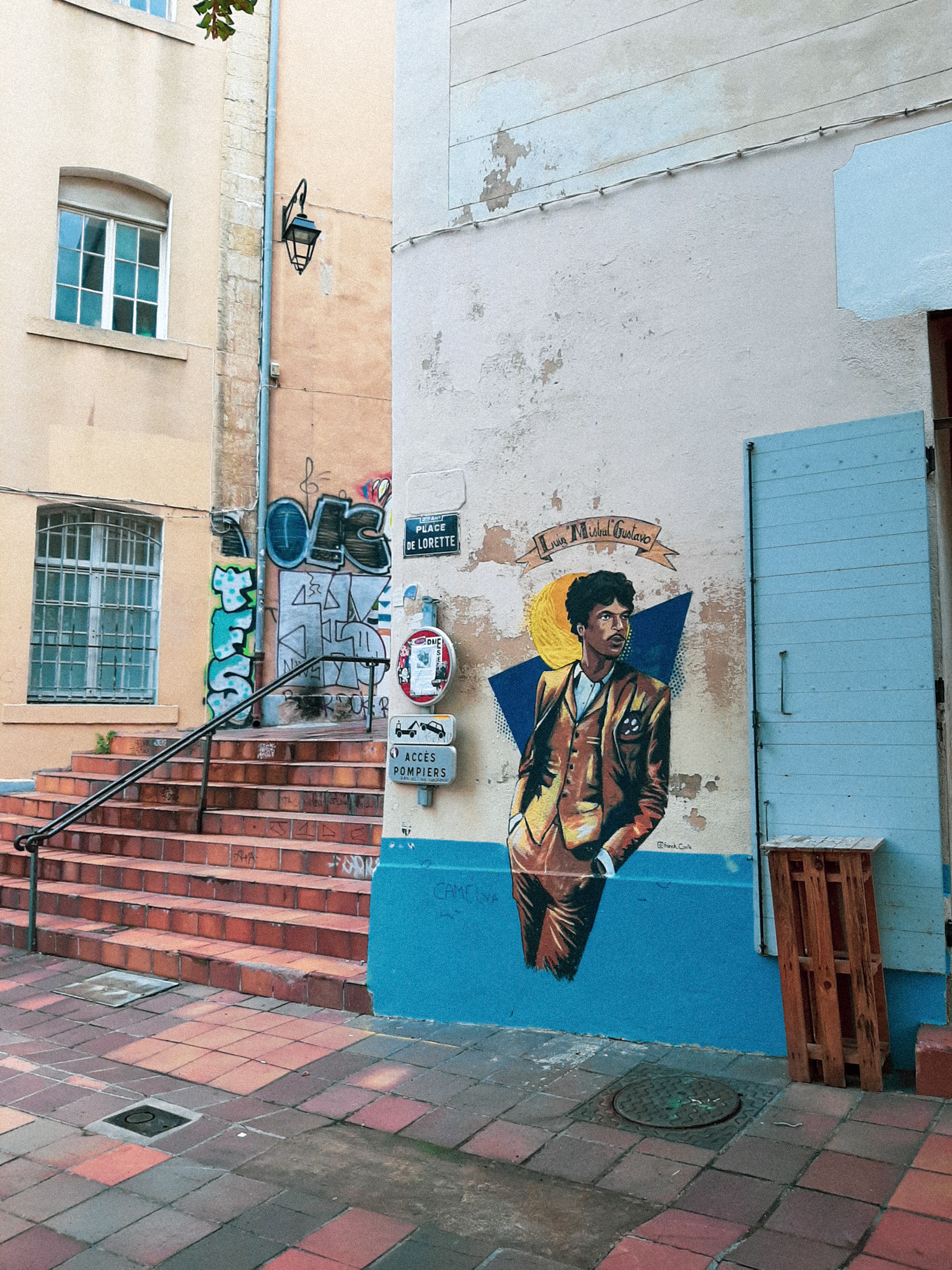 Marseille is France's second largest city, yet has only one professional football club. Over 860,000 people live here. That's a lot of people that are absolutely fucking mental about Olympique de Marseille. It appears that all of them are stood at the bottom of the steps leading up to the Stade Vélodrome. It's nuts. 6,000 fans have just arrived having marched from the beach a few kilometres down the road, and they're really up for it. After downing an obligatory pastice at a local bar (aniseed drink and water, would not recommend) we join the throng inching towards the turnstiles, our eardrums ringing from the constant bangers, firecrackers and non-stop chanting. 
What we witness as the teams emerge in front of a club record 65,369 crowd is simply incredible. We'd heard about a special choreography (or tifo) to celebrate the club's 120th birthday, and it didn't disappoint. Opposite the main stand an image of the club's founder, René Dufaure de Montmirail, was raised, along with a replica of the iconic Notre-Dame-de-la-Garde cathedral in the Virage (curva) Sud and the Marseille coat of arms in Virage Nord. At the top of each virage was a banner depicting the evolution of OM's club badge, illuminated by pyro. It may just be the best European tifo of the season.
The match itself is a whirlwind; fast-paced and bad-tempered, there's quality, drama and suspense. For ninety minutes the ultras behind each goal chant non-stop, led and orchestrated by their capos, creating an atmosphere so loud and intense that my heart is pounding and my ears ringing for hours afterwards. So many flares are lit that at one point I can't see the bloke sat in front of me and the game is halted for a good ten minutes. But despite me obviously not knowing the words to the songs and not sharing the same die-hard passion for OM as those around me, I don't feel excluded or looked down upon. Despite him not knowing a word of English and me unable to speak French, the guy sat next to me anxiously grabs my arm every time Lyon have a chance, looks at me in disbelief when OM balls it up and hugs me when they score. It's cliché, but you do feel part of a family here, no matter whether you're a tourist or an ultra, rich or poor, white, black or Arab.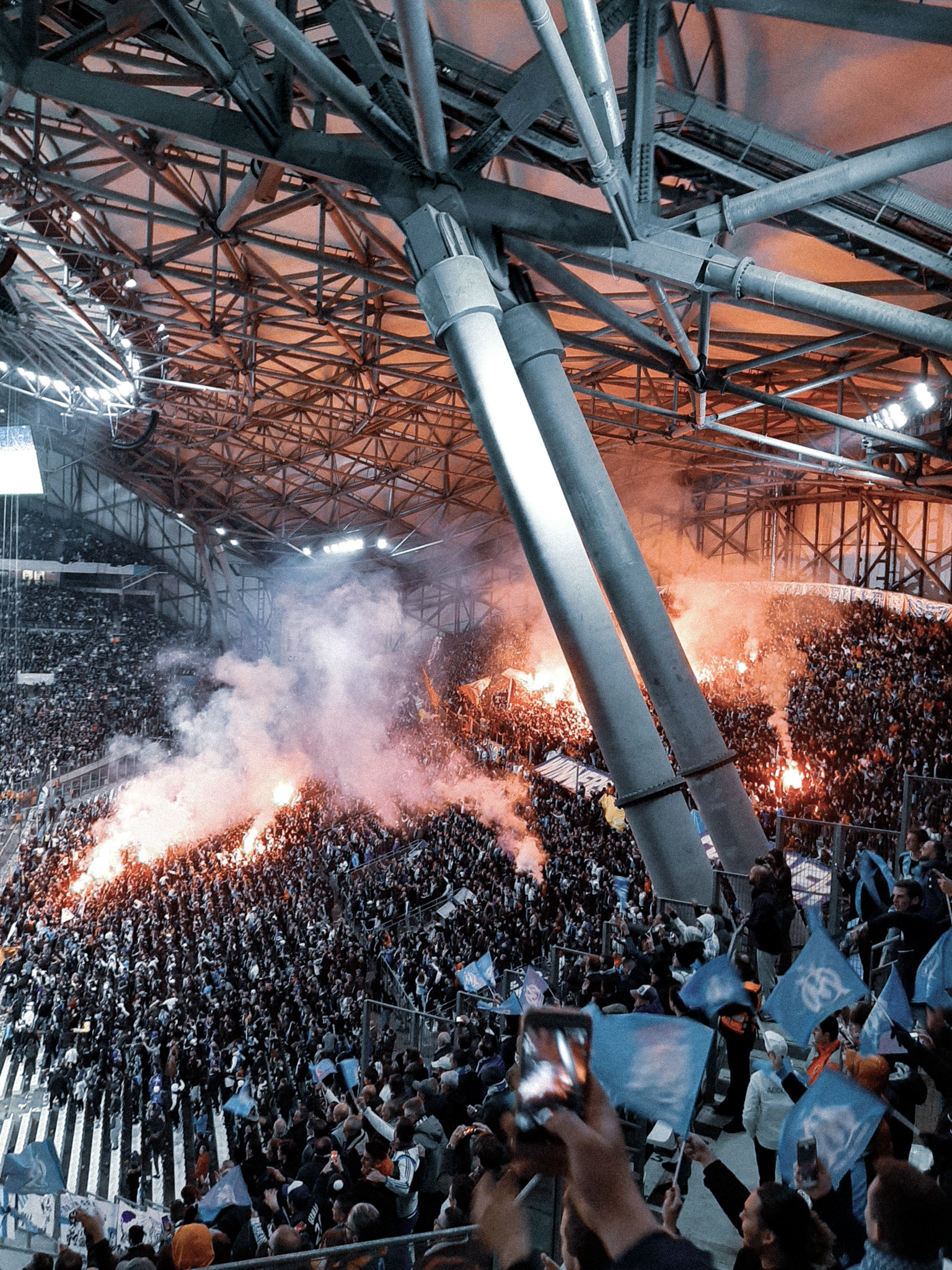 I'm also reminded just how good Dimitri Payet can be. The drawn-out and bitter saga that saw him leave West Ham after an incredible 18 months sullied his reputation amongst English fans, but seeing him in the flesh tonight reaffirms his otherworldly ability. He's a class above, always one step ahead of his opponent, always asking for the ball and always creating space where there is none. Early on OM win a penalty for a blatant handball and, after a six minute (!?) VAR delay, he buries it. 
20 minutes later, Payet gallops after a breaking Bertrand Traoré and scoops the ball away with a perfectly timed slide tackle. He then dribbles to halfway, before lofting an exquisite ball with the outside of his right boot to Maxime Lopez on the right wing. As Lopez drives forward Payet busts a gut to get up in support, and when the ball is fizzed into him at the edge of the box he takes one touch to control, another to fake shot, and a one more to slide it through the legs of Jason Denayer, brilliantly using the defender's body to block the goalkeeper's view. He celebrates in front of a delirious Virage Nord with the big cojones celebration. In 14 breathless seconds, Payet has converted a Lyon counter attack into his side's second goal of the night. He epitomizes this city and its team; chaotic, haphazard but truly magical. OM weather a late Lyon storm to win 2-1, a first league win against their bitter rivals since 2014.
The next day, admiring the sprawling views from the hilltop Notre-Dame-de-la-Garde, we're still drunk on the passion, the ecstasy, the anxiety and the relief that us and 65,000 others felt last night. Our time in Marseille has opened our eyes to the core values of a game that means the absolute world to millions of people across the globe. In this crumbling and often-neglected city, its football team offers locals pride and hope when little else does. Olympique de Marseille is a unifying force, bringing together people of different ethnicities, religions and social backgrounds under one banner. 
It is how football should be.